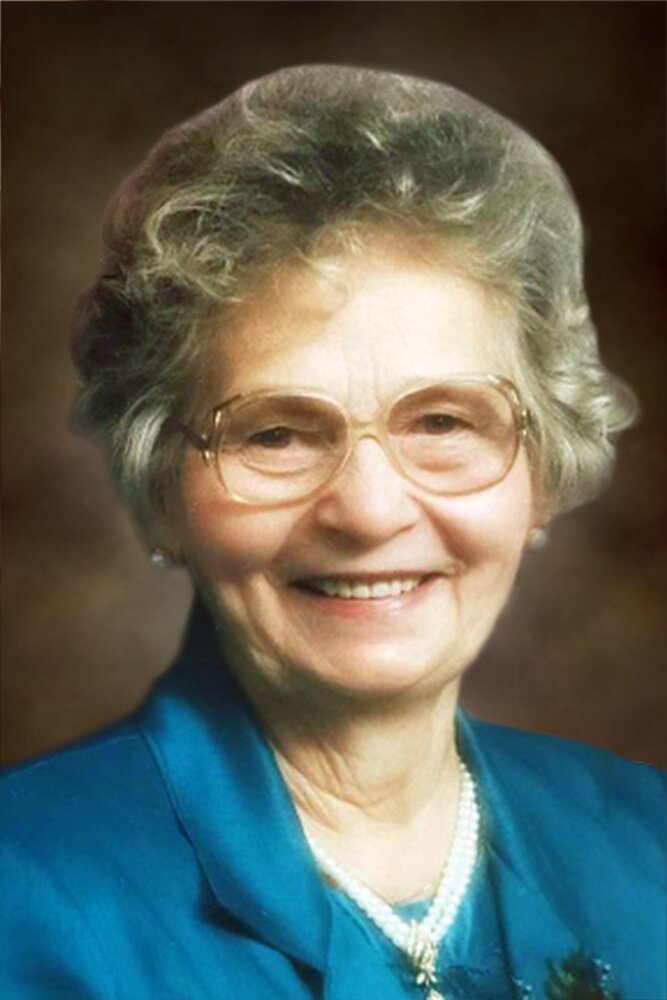 Obituary of ELIZABETH OROSZ
Elizabeth Orosz was born in Nyirkarasz, Hungary on January 30, 1926, to Andrew and Barbara Matyi. In 1946, she married Louis Orosz and together they had three children: Andy, Elizabeth, and Judy.
Elizabeth's parents immigrated to Canada, meaning the idea of moving her family of five to Canada was always on Elizabeth's mind. With the deteriorating political and economic situation in Hungary, she orchestrated her family's successful move to Canada in 1963. Achieving this goal was almost impossible in a communist country; she considered this her greatest earthly achievement. In Canada, the newly arrived family settled on a small grain farm near Stockholm, Saskatchewan, transferring their experiences from Hungarian orchards to Canadian prairie. They continued to live on this farm, and later in the town of Stockholm, for many years. This was a real blessing, as the church there, St. Elizabeth of Hungary Roman Catholic Church, had a predominantly Hungarian speaking membership. With Louis by her side (or in the choir loft), Elizabeth was an active member of the congregation for over 45 years and participated in many church activities, including the Catholic Women's League. She was a kind neighbour who celebrated her many friends at their many "Birthday Club" gatherings; an avid gardener with an enormous and pristine garden plot that she tended well into her 80s; an adept homesteader who created incredible homemade soaps, jams, pickles, and preserves in her simmering summer kitchen; and an involved grandmother who instilled a great love of tradition, cooking, and the Hungarian language in her grandchildren. She loved sewing, playing cards, watching curling and was keenly interested in politics.
After Louis' passing in 2008, Elizabeth moved to Winnipeg. In 2010, she took up residence in Villa Cabrini in Osborne Village. She loved this place, and everyone who knew her, loved her. As her social circle expanded, so did her English language skills—and her very quick wit. However, due to failing health and mobility issues, she moved to St. Joseph Residence at the very end of December 2022. Elizabeth was a woman of faith and prayer. Watching the Roman Catholic mass daily and attending the local mass was very important to her. Above all this, she loved her family, who will think back fondly of her Sunday chicken soup (sós? nem sós?) and her Good Friday/Easter feasts (complete with Hungarian staples like babájka).
Elizabeth will be lovingly remembered by her 3 children and their families:
Andy (Ildiko) Orosz; David (Samantha) Sophia; Michael (Kari) Gwyneth; Helen (Jason) Edward, Jacob;
Elizabeth (Charles) Kovach; Liz (Jeff) Teagan; Charles (Krysia) Bence, Halina;
Judy (John) Szilagyi; Katie (Andrew) Luka; John (Alysha) Rhys, Lyam;
relatives and friends in Canada and Hungary.
She will be buried in the St. Elizabeth of Hungary cemetery in Stockholm, alongside her husband and parents.
May she rest in peace, and rise in glory.
Funeral Liturgy will be celebrated on Friday, June 23, 2023 at 10:00 a.m. at St. Anthony of Padua Roman Catholic Church, 365 Burnell Street with Rev. Fr. Diosdado Parrenas officiating. Interment will follow on Saturday, June 24, 2023 in St. Elizabeth of Hungary Roman Catholic Cemetery in Stockholm, Saskatchewan with Rev. Fr. Tomy Mandapathil, MST presiding.
Funeral Liturgy
10:00 am
Friday, June 23, 2023
St. Anthony of Padua
365 Burnell Street
Winnipeg, Manitoba, Canada
Interment
St. Elizabeth of Hungary
401 Elizabeth Street
Stockholm, Saskatchewan, Canada