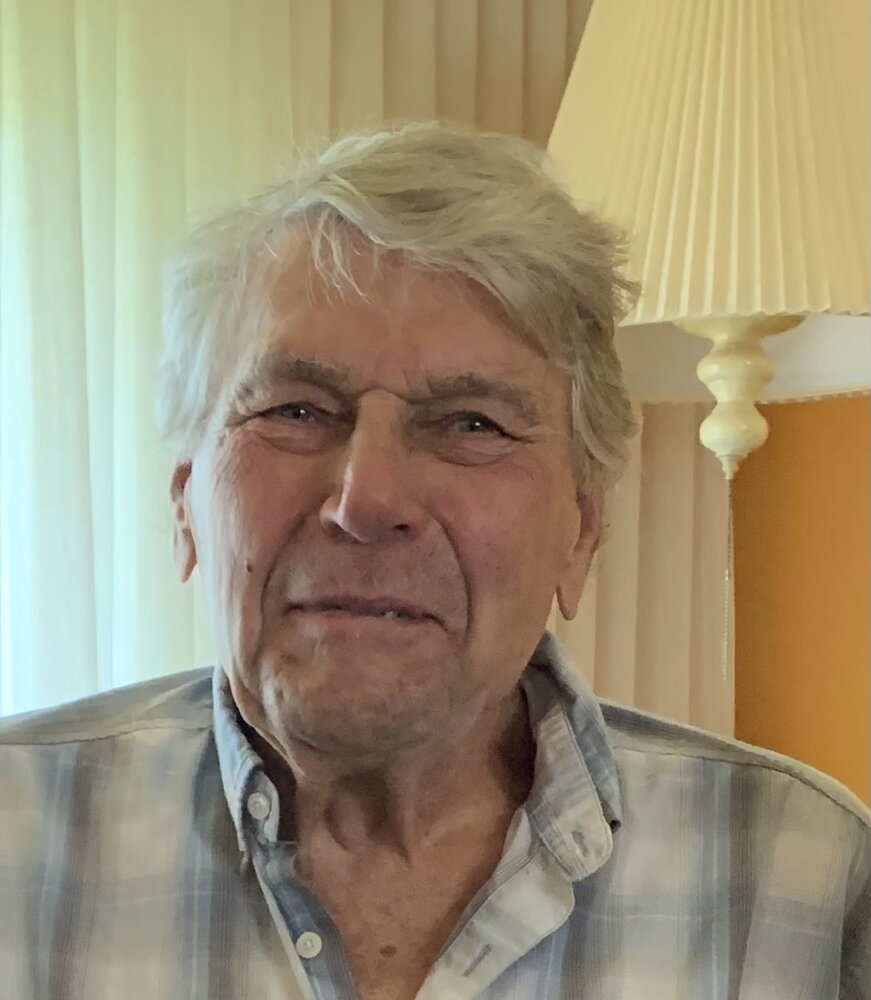 Obituary of RICHARD LYLE GRANTHAM
Obituary For Website
Richard Lyle Grantham 1940-2022
Dick, age 82, passed away peacefully with family at his side. He will be lovingly remembered by his wife, Sylvia, daughter, Sheila (Bill), and grandson, Lucas, of Toronto, his son, Martin (Corrie) of Edmonton, as well as many in-laws, cousins, nephews, and nieces. He was predeceased by his parents, Jim and Martha Grantham, and his brother Rollie Grantham.
Dick was born and raised in Gladstone, Manitoba in 1940. He completed his full schooling there and after graduation moved to Winnipeg in 1958. He first lived with his Aunt Elsie and Uncle Ernie. Later he lived in a boarding house. Soon he and his cousin Barry and friend Wayne moved into an apartment. Dick liked to clean and it was said that he polished the hardwood floors every. Saturday. Around this time, he met and married Sylvia Martin in 1966. They had two children, Sheila and Martin.
On their first date, Dick took Sylvia to Chan's restaurant. He wore a white shirt. When the food came, she reached for the soya sauce, the bottle was so full that as she tilted it, it shot across the table all down his white shirt. He wiped his shirt and calmly said 'Don't worry, the laundry will get it out.' That was when Sylvia decided to continue to date him because he had such a good disposition and a fine sense of humour.
After marriage they lived in Transcona, first renting then purchasing a home on Walden Crescent. In 1973, the family moved onto their 25-acre property in St Andrew's, Manitoba. Together they transformed a heavily wooded area into a beautiful landscaped property with numerous flower beds and large vegetable gardens. No one really appreciated the work that was required until we had to take it over ourselves. He shared his garden abundance with everyone and regularly donated to the food bank and soup kitchen as well as feeding the family year-round. He loved to help Sylvia pickle and can. In fact, the first year they were married, he brought tomatoes home from the garden and even brought the jars and canner and Sylvia got her first lesson in canning. In later years Sylvia called him the "canning Nazi" because he didn't like to see the vegetables go to waste. One year she canned 99 jars of tomatoes. Dick ate a bowl of them almost every day.
Around 2001, Sylvia convinced him to join The Selkirk and District Horticultural Club. He became a very active member serving as treasurer for many years and hosting garden tours through the elaborate flower gardens he and Sylvia had created.
Through his career Dick worked at Bearing Supply (where he met Sylvia), Matthews Mechanical, Goodyear, then spent his remaining work years at Industrial Rubber Supply, officially retiring in 2007.
Dick was active with the Institute of Power Engineers for many years, holding all positions within the executive. Through friends he met there, he became involved with the Santa Claus Parade. He drove the tractor that pulled the Santa float. At Christmas, Dick and son Martin dressed as clowns and visited Senior homes, the Children's Hospital, and the St. Amant Centre distributing candy.
Dick was an avid golfer, and for twenty years he regularly golfed with his brother-in-law Ken in the '6:30 Club'. In later years, he formed a foursome with friends: Earl, Morris, and Larry, for weekly golf games, not at 6:30 am. While his golfing slowed down in the last few years, he recently joined the Garden City Senior Golfers and managed to get in a few rounds.
Dick got real joy from travelling. He and Sylvia loved the fun they had on trips and cruises. Alone or with family and friends, they always had a great time. Mexico was their favourite destination. Dick really enjoyed their timeshare in Mazatlan, with the most recent visit at Christmas of 2021. They regularly visited their children in Toronto and Edmonton. Dick and Sylvia finally made it to Europe in 2001, to visit Sheila in Ireland, followed by many more trips to explore the rest of Europe. They also travelled to visit Sheila in Australia in 2005 and to join Sheila, Bill and Lucas in Thailand, Cambodia, and Laos in 2017.
Dick loved to dance. He could polka like there was no tomorrow. He really liked to jive to rock and roll and swing music. Glen Miller was one of his favorite bands. On one of their first dates, Sylvia casually mentioned that she loved to dance and wouldn't really want to date anyone that didn't. When they went to their first social and the music started, she invited him to dance. Dick got up and danced. Sylvia thought he was pretty clumsy but he eventually got pretty good. Years later he confessed that he couldn't dance, but wasn't about to admit it at the time.
Dick was a real handy man. He could fix anything. We rarely had to hire anyone. Dick was never too busy to offer a helping hand. He went out of his way to be kind to his family and friends.
Dick loved to celebrate holidays. He hosted many Thanksgiving feasts in the garage. It was so rustic with all the gourds and pumpkins. The leaves were always so beautiful with their autumn colours. He always carved at least three pumpkins for Halloween and loved to see the kids when they came in their costumes, even if there weren't many who made it out to Lockport Road.
Christmas was very special. It started with making a bushel of nuts and bolts, followed by baking dozens of different cookies to go with all the different slices Sylvia made. He later boxed the cookies, bagged the nuts and bolts and gave them to his kids and sisters-in-law as Christmas presents. Dick decorated the house from top to bottom. Sometimes a tree was cut down, other years it was bought from a lot, but always the biggest that could be found. There was a lot of Christmas company and house was always full of action.
Dick will be missed by a large extended family and many friends. Family and friends were very important to him. He rarely missed a family gathering. He hosted yearly get-togethers so that extended family could keep in touch. We are so grateful to have had the annual family chili and corn roast this August to bring everyone together. There are so many great memories of hay rides where sometimes there were so many kids and adults that two hay wagons had to be joined together and pulled by Dick with the tractor. Everyone piled on, from babes in arms to grandmas. We had so much fun and will treasure the memories Dick helped create.
He will be dearly missed by everyone who knew him.
In lieu of flowers, donations can be made to Siloam Mission, Winnipeg Humane Society or a charity of your choice.
The Grantham family invites all family and friends to attend the Celebration of Life for Richard on Sunday, October 16, 2022 for 1:00 p.m. at Cropo Funeral Chapel, 1442 Main Street, Winnipeg.
A Memorial Tree was planted for RICHARD
We are deeply sorry for your loss ~ the staff at 1442 Main Street