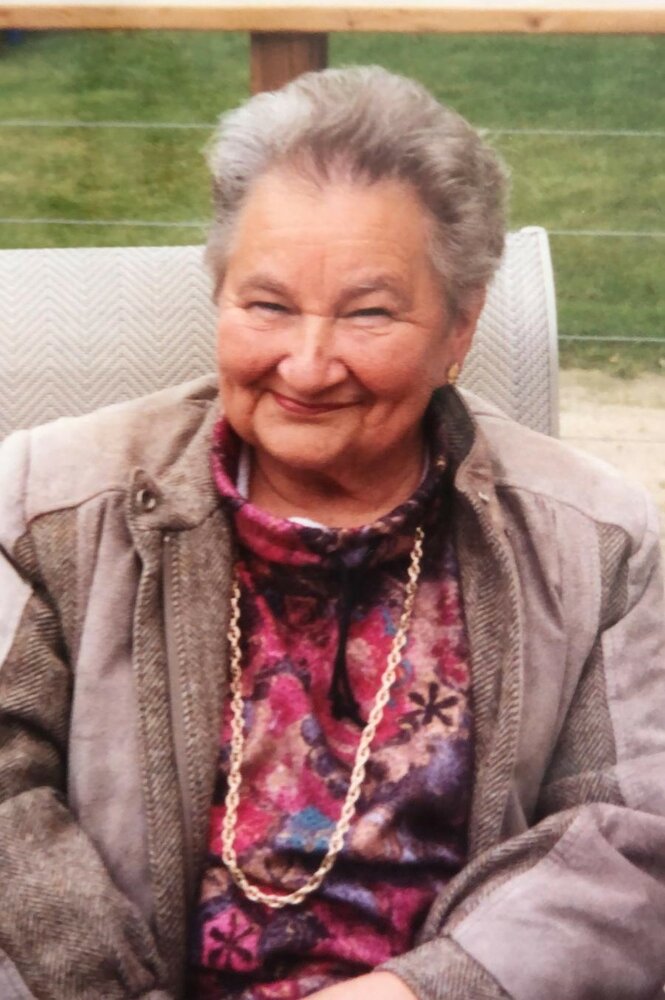 Obituary of IRENE SLOBODIAN
Peacefully, with a smile on her face, Mom passed away on Wednesday, August 17th. at the age of 91.
She is predeceased by her loving husband Roy and her daughter Sharon, sisters Helen, Clara, Mildred, Grace and Elsie, brothers John and William, parents Mary and Andrew Yaldernick. Mom will be forever remembered by her children, Dale Bruzell (Chuck), Peter (Susie), Glen (Brenda), David Angie), Ted, Richard (Leanne), Carol Tulner (Pieter) and her 14 grandchildren and 12 great-grandchildren.
Mom was born in Winnipeg on December 29,1930. She grew up in the North End where she met and married Roy on August 25, 1951. Together they shared a life of love for 47 years before he passed in 1999. Mom had a full life rooted around family, she was proud of her children, grandchildren, and great-grandchildren.
Mom may have been small, but she was full of life from the get-go. She grew up in one of Winnipeg's oldest neighbourhoods; Point Douglas, in the heart of the North End. She attended Norquay School, David Livingston, William Whyte and graduated from St John's High School 1949. She was a very active athlete, she participated in all the school sports, all through high school her nickname was Owie or Little Owie, she was called "our dynamic little sports captain." Her favourites sports were baseball and basketball. After graduation she worked as a data entry clerk before meeting dad. They were married and started to grow our family. As the family grew mom still enjoyed her sports, she was an avid 5-pin bowler, swimmer, and lawn bowler. Mom enjoyed knitting and was a great seamstress. Over the years mom would sew all our costumes for Halloween and Christmas pageants. Oh, we can't forget the underwear she would make for the boys from their old t-shirts.
As we kids became active in our sports and other interests, mom was always there, her participation wasn't just from the sideline or the bleachers. She joined the Parent Teacher Association at Centennial School, Brownie Leader, Badge Secretary for Girl Guide of West Kildonan, Treasurer for the Boy Scouts. Council Member for St. Anthony's of Padua Church Ladies League, Treasurer Women's Auxiliary and Secretary Margaret Park Community Centre.
When mom wasn't cheering on her kids, you would find her in the kitchen cooking up something. We can't forget about her recycling efforts, Mom was recycling before recycling was a thing, from her drawers filled with Ukraine Tupperware (any size margarine container) to her fancy glasses (Glade glass candle). She was the Queen of Reuse.
Christmas was Mom's favorite holiday. For over 40 years December 24th, Christmas Eve was an amazing place to be. A house full of love and joy,with family and friends that grew every year. It was 13 meatless dishes, from Kutia to Borsch to Holubtsi to Pyrohy's and everything in between, mom made it all. Lots of sweets, wine, singing and laughter. Mom taught us all that family came first, because they are the ones that you can count on when things got tough, your family would always have your back.
Mom loved the outdoors; the memories start at Falcon Lake, where dad would pack up the car and mom pack up us kids (Dale, Peter, Glen, and David) and for 2 weeks we were off to the lake. As the family grew the big yellow tent and Coleman stove became a cabin on the lake with a big BBQ out back and a wood burning stove. Victoria Beach was the backdrop to more then 40 years of amazing summers at Grammas beach.
Known by her family as Little Gramma, Mom is a survivor, she beat cancer 3 times. She would never complain so to look at her would you never know just had bad it was. She was stubborn and never really asked for help.
Mom will be lovingly remembered for her big heart, her comedic nature, and her crazy singing. She was an amazing mom and grandmother. Mom You Are our Sunshine and always will be, now look to the stars and dad will Show you The Way To Go Home. We love you mom, say hi to dad for us.
The family sends heartfelt thanks to the nurses and caregivers at the B2 nursing station at Middlechurch Home for their kindness and care they showed Mom over the last 5 years.
Cremation has taken place. Funeral service for mom's family and friends to be held Saturday October 8th, 2022, 10:00 a.m. at St. Anthony of Padua Church 250 Burrin Ave., and Celebration of Life 1:00 - 4:00 p.m. at Vince Leah Recreation Centre, 1295 Salter Street, Winnipeg.
In lieu of flowers, donations may be made in memory of Mom to Middlechurch Home of Winnipeg.
Funeral
10:00 am - 11:00 am
Saturday, October 8, 2022
St. Anthony of Padua Parish
250 Burrin Ave.
Winnipeg, Manitoba, Canada
Celebration of Life
1:00 pm - 4:00 pm
Saturday, October 8, 2022
Vince Leah Recreation Centre
1295 Salter Street
Winnipeg, Manitoba, Canada