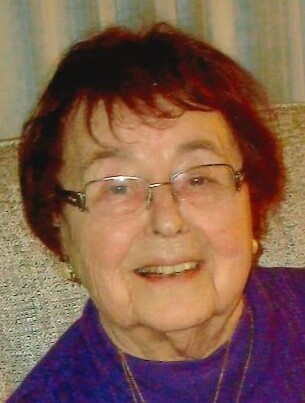 Obituary of CARRIE STESKI
March 15, 1925 – April 14, 2022
It is with great sadness that we announce the passing of our dear mother and grandmother on Thursday, April 14, 2022 at Donwood Manor at the age of 97.
Mom was predeceased by her husband Victor, and leaves to mourn her children Colleen (Clayton), Grant (Lee), David, Mark (Annie), Marie (Mitch), Miriam (Claude). Also mourning their loss are her grandchildren Melissa, David, Natalie, Corinne, Jeremy, Stephanie, Kyle, Sarah, Jayden, Amanda, Nicholas, Patrick, Katrina, Ryan, Graham, Andrew, Steven, Adam and Rachel, as well as 7 great grandchildren. Carrie is also survived by her sisters Martha and Evelyn, and her sisters-in-laws, Grace and Elaine as well as numerous nieces and nephews.
Mom was born March 15, 1925 in Shell Valley, Manitoba on the family farm, where she grew up with 11 siblings. At the age of 20, she moved to Winnipeg with 25 cents in her pocket. On her first visit back to her parents she repaid them the 25 cents. She found employment at a grocery store on Portage Avenue where she met Victor (Vic) who was a salesman at Libby, McNeil and Libby. Romance struck, dad proposed and they were married in 1951. Soon thereafter they moved to Saskatoon as dad was transferred there by Libby's. At that time mom decided to pursue a career as a hair stylist and graduated from the Marvel Beauty School in Saskatoon. She really enjoyed this work as it helped contribute to the family income, allowed her to meet many new people, and make long lasting friends in the Saskatoon area. While living in Saskatoon they welcomed their first child (Colleen) into the world.
Dad was again transferred, this time to Edmonton where their family expanded with the birth of their second child (Grant). In 1959, mom, dad and family moved to Winnipeg where their four remaining children were born (David, Mark, Marie and Miriam). Mom continued hairdressing in Winnipeg and would offer "cuts, colours and perms" to friends and family.
Dad left mom a widow at the age of 59 with four young adults still living at home. During his illness mom cared for him at home until he passed away. Life wasn't always easy for her without having dad to talk with and lean on.
Mom was a person of faith and it was important to her that her children were raised as Orthodox Christians. She understood early on that an important part of this was having access to services in English. She and a small group of similar minded individuals that had moved to Winnipeg from the Shell Valley area worked tirelessly to make this a reality. In 1961 they established St. George Romanian Orthodox Church in the Transcona area of Winnipeg with the mandate of having Orthodox Christian Services in English.
Mom had a great love for music and studied piano, theory, voice and conducting. Mom was always singing in the house. She was St George's first choir director and used her knowledge to conduct the choir for over 30 years. She was also very involved in other aspects of the church, she was president of the Ladies Auxiliary for many years and worked hard on all of this group's fundraising activities. During summers, when her children were young, she would take them to "Church Camp" in the hills of Fort Qu'Appelle, Saskatchewan. At camp she was very quick to contribute and was the medic, choir director and helped out in the kitchen.
Mom was an excellent cook, she was famously known for her perogies and cabbage rolls and was often asked why she did not open her own restaurant. She understood the importance of eating healthy and did not want her family to eat store bought bread, so we were spoiled with fresh bread, cinnamon buns and baking. In the fall she would prepare dozens of jars of home canning to feed her large family over the winter. Mom's door was always open, often hosting people with a hearty meal. A big highlight for her was when she hosted Princess Ileana of Romania when she visited Canada in 1961.
Mom liked to keep herself busy, teaching piano and volunteering with St. John's Ambulance. Her hobbies included sewing, knitting, crocheting, needle point and papertole. She bowled and loved being outdoors golfing, gardening and berry picking. Over the years mom travelled to many places from the Caribbean Islands to Europe, but her favourite trip was the Holy Land where she prayed at the Holy Sepulchre.
Mom's greatest joy was having the family over for dinners. She loved spending time with her grandchildren, especially having sleepovers, reading books, doing puzzles and playing UNO and Skipbo.
Mom had a strong personality as well as a generous and kind heart. She had compassion for the needy and was a friend to the lonely. Pascha (Easter) was a really important day for her and she would not allow any stranger or someone who did not have family to go home after church and be alone. Another place setting would be set at the table and they would join our family. Mom enjoyed the company of everyone she had the opportunity to meet and share a moment with.
Mom lived her live according to the words spoken by Jesus in the gospel of St. Matthew 25:34-36.
"Then the King will say to those on His right hand, 'Come, you blessed of My Father, inherit the kingdom prepared for you from the foundation of the world: for I was hungry and you gave Me food; I was thirsty and you gave Me drink; I was a stranger and you took Me in; I was naked and you clothed Me; I was sick and you visited Me; I was in prison and you came to Me."
Should friends so desire, in lieu of flowers, donations can be made in her memory to feed and shelter the needy in your community.
The family would like to thank the staff of Donwood Manor 2 North for the care and kindness they showed our mother during her time with them.
Prayers will be said on Thursday, April 28 at 7:00 pm at St. George Orthodox Church, 121 Harvard Ave. E., Transcona.
Prayer service link: https://us02web.zoom.us/j/7665765368?pwd=aTVIVmxKRlBhSnBLNVNISC94b2FoUT09
Funeral service will be held on Friday, April 29 at 11:00 am also at the church, Fr. Michael Ungrin officiating.
Interment will be at Glen Lawn Memorial Gardens.
Funeral service link: https://us02web.zoom.us/j/7665765368?pwd=aTVIVmxKRlBhSnBLNVNISC94b2FoUT09
For safety reasons, the family encourages masks to be worn at the services.
The link for the services will be posted on the Cropo website under Carrie Steski.