Contact Us Anytime
(204) 586-8044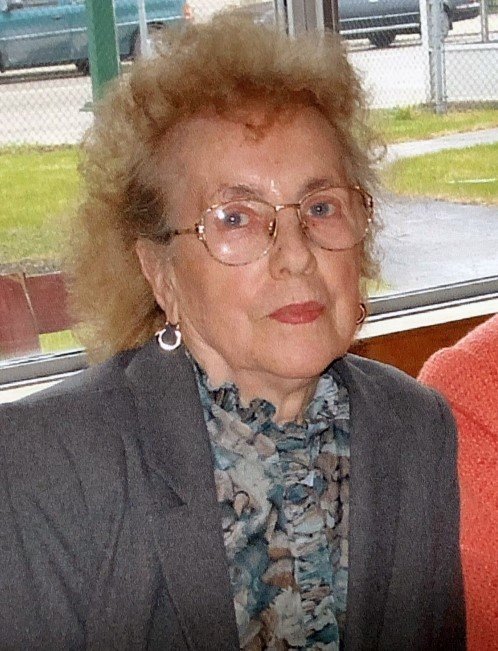 Obituary of OLGA MENDELA
OLHA (OLGA) MENDELA
On August 2, 2021 Olha, age 95 years beloved and cherished mother, grandmother and great grandmother, passed away at Holy Family Home.
Prayers (Panahyda) 7p.m. Thursday, August 5, 2021, at Sts. Volodymyr and Olga Cathedral, 114 McGregor St., with funeral (Pohoron) 10 a.m. Friday, August 6, 2021, followed by internment at All Saints Cemetery.
With great sadness and much love we mourn the passing of Olha Mendela, mother, grandmother and great-grandmother. June 16, 1926 (Brody, Ukraine) – August 2, 2021 (Winnipeg, Canada). Olha is survived by her son Walter Mendela (Irka), granddaughter Larissa Duffy (Matthew), grandson Stephan Mendela (Brittney) and great grandchildren Sacha Stephens, Tess Duffy and Margot Duffy.
Olha's steadfast commitment to her family, faith, Ukrainian roots, and to life-long learning, sustained her through a life marked by formidable challenges.
In 1941, fifteen-year-old Olha was caught in the forced labour scoop that took her, along with thousands of young Ukrainians, to Germany. There she met and married fellow refugee, Ivan Mendela. At wars end, they made their way to a Belgian displaced persons camp. Theirs would be a strong marriage marked by shared values, mutual caring and mutual respect.
Arriving in Canada in 1950, the young couple settled Winnipeg where, through resilience and hard work, they steadily improved their personal circumstances while, at the same time, immersing themselves and their two young sons, Zenon and Walter (Wally) in activities at the Canadian Ukrainian Institute Prosvita and Sts. Volodymyr and Olha Ukrainian Catholic Cathedral. In the process, Olha became life-long best friends with Barbara (Varvara) Cilinsky, Helen (Halya) Sikora, and Valya Slywynska. As a couple, the Mendela's had an active social life with many friends and family. A highlight of which was exploring garage sales, excursions to the Dauphin Festival, and many road trips with Stakh and Eva Zajac.
Quiet, yet sociable, entrepreneurial, well read, highly skilled at needlework and pysanka writing, and a lover of Ukrainian song, Olha contributed much to Ukrainian community life. Her volunteerism included everything from pitching in to support youth activities (CYM) to singing in choirs, to decades of service as executive member of Ukrainian organizations such as LUC; UCWLC; Prosvita Seniors Club and Zoloti Vorota, which thrived and blossomed under her guidance. For her outstanding contributions to the Ukrainian community in Manitoba, Olha was honoured with the Bulava Award in 2017.
Olha Mendela's life was not without trauma. Despite the loss of son Zenon in 1973; husband, Ivan, in 1997; and conquering cancer, Olha never ceased to make a difference. We know that Mama and Babusia's steady commitment to family, faith, Ukrainian culture, and life-long learning kept her forging beyond adversity. Through her example of how to be, and do, and become, Olha's intrepid spirit lives on.
We have lost a mother, grandmother and great grandmother who will be greatly missed. Our family would like to express sincere thanks to Dr. T. Babick and Dr. A. Babick and staff on the 4th floor, St. Martha's Unit at Holy Family Home. A most heartfelt thanks goes to her primary nurse, Kristine Galang.
Donations may be made in memory of Olha Mendela to Oseredok, The Ukrainian Cultural and Educational Centre, 184 Alexander Avenue, Winnipeg, Manitoba, R3B 0L6
Pallbearers will be: Stephan Mendela, Michael Zentner, Tom Mazur, Peter Fedoryshyn, Matt Duffy, Luke Kandia.
The Officiating priest will be Rev. Father Ihor Shved.
Нехай земля буде пухом нашій мамі і бабусі, нехай спить спокійно, а Господь дарує її душі Царство Небесне. Вічна її пам'ять.


Share Your Memory of
OLGA
Proudly Serving:
Proudly Serving the Communities of Winnipeg, surrounding area, and the communities of Manitoba.
Who We Are:
Cropo Funeral Chapel was founded in 1957. We are an independent family-owned funeral service and cremation provider.