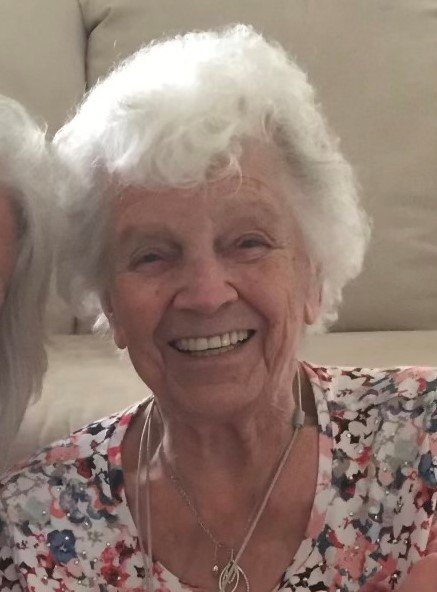 Obituary of DOROTHY MARY OPITZ
With deep sadness we announce the passing of Dorothy Mary Opitz (nee Papineau) on April 14, 2021, at the age of 97. Dorothy joins her twin daughters, who passed shortly after birth; and is reunited with her sweetheart and true love, Robert ("Bob") Opitz, and her daughters, Judith ("Judy") Silver and Joan Rose.
Dorothy was born on March 12, 1924. She was a secret artist, masterfully sketching the faces of those she loved. However, her greatest masterpiece is the large family she and Bob created during 57 years of marriage.
She lives on through her son, Bob Jr. ("Bobby") Opitz; daughter, Jacquelyn ("Jackie") Hutchinson (Derrick); son-in-law, Rob Rose; grandchildren: Saundra (Murray), Roberta (Ryan), Adrienne (Will), Michael (Christa), Monica (Dave), Kelly, Erin, Hailey, Nick and Mckay; and great grandchildren: Ryden, Brody, Kody, Reghan, Jordy, Rory, Rocky, Rhea, Layton, Grayson, Tristan, Tyson, Kenley and Riley. As well as numerous nieces, nephews and in-laws.
Supper was on every Sunday at Grannie and Grampa's. For 30 years, we all came home to Grannie's dinner and spent the evening sharing stories, often laughing so loudly neighbours could surely hear us. This was our family's foundation — where we would come to reconnect and recharge on love and support to see us through until next Sunday.
Grannie was a constant in our lives. She and Grampa took the grandkids to swimming lessons and sporting events. They never missed a game, a play, a dance recital, or a call from the school when one of us was sick. No matter what happened, we could always count on Grannie's glowing smile. She made us feel like we were the center of her life, and in turn, she was the heart and soul of ours.
Inspired by the words of her favourite singer, Frank Sinatra, Mom/Ma/Grannie:
When somebody loves you,
it shows in every smile
When somebody loves you,
your life becomes worthwhile
Always caring, always sharing everything you do
When somebody loves you like I love you
You are forever loved and missed.
Dorothy's family wishes to acknowledge Sisters Marceline and Marie of St. Benedict's Place and the friends she made while living there. We also sincerely thank the medical team at Selkirk Regional Health Centre for their great care and compassion.
In lieu of flowers or a service, please consider donating to CancerCare Manitoba in honour of Dorothy (a cancer survivor), her husband and daughters, or to the Winnipeg Humane Society in recognition of her love of animals.