1442 Main Street, Winnipeg, Manitoba
1800 Day Street, Transcona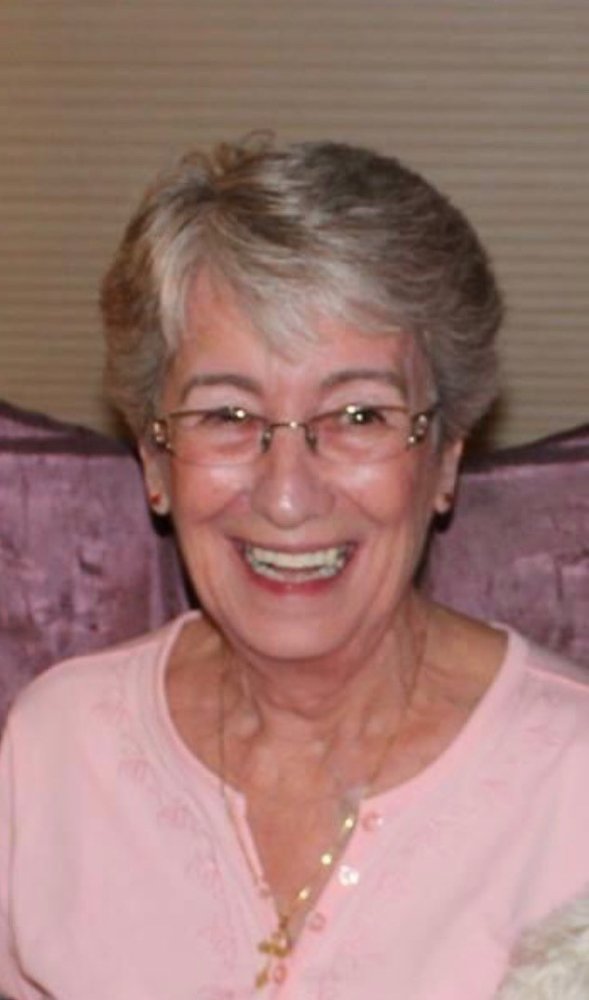 Obituary of SANDRA GAIL NIMIK
SANDRA GAIL NIMIK
Around 2:20 am on Saturday April 3, mom and her cancer came to an agreement to terminate their relationship. Present to witness this final decision were her husband Ted, daughter Dawn and her husband Dennis, sons Douglas and David and her friends Bev and Judy (who between the two of them shared over 120 twenty years of friendship with mom).
Sandy, as she was known to all, was the first born of Graham and Norma and named Sandra Gail. She was born in Montreal on Sunday, September 20th, 1942 which was exactly one week after her mother's 21st birthday.
In 1944, mom and the family relocated to Peterborough, Ontario and lived with her paternal grandparents. This was the beginning of a very nomadic childhood which played an important influence on the woman she'd become.
Sandy remained in Peterborough long enough to start to school at King George School where she attended kindergarten. In the late summer of 1947, her grandfather "Bumpa" drove her to Toronto where Sandy was reunited with her parents and her nearly two-year old sister Karen and they all moved to Winnipeg soon after. Mom attended John M. King for grade one and grade two was in Calgary and then it was back to Winnipeg in '49 for grade three. She started grade three at Greenway School, but the 1950 flood saw mom split her school year between Greenway and in Peterborough at the school she started at.
Mom and Karen were early evacuees of the '50 Flood and were media darlings of Ontario, as now yellowed newspaper clippings of stories and photos, tell the story of the two brave little girls who traveled by plane, unescorted to Peterborough to escape the flood.
As mom noted in her journal, "My parents separated in the summer of 1951. I would have liked to go with dad, but someone had to look after Karen (and mom)."
Mom continued her life as a nomad, attending five different schools over the next seven grades. Her academic grades were always very good, if not extraordinary considering she had to deal with domestic duties, parental duties for her sister and tending to her own mother.
She had a brief respite when in the summer of '58, she visited her father in Swift Current and stayed there for grade eleven. When Graham got a job at CJOB the following June it was back to Winnipeg… permanently, wrapping up her education with one last stint at Daniel Mac.
If you ever visited any of mom's homes, you may have noticed she was a bit of a minimalist. This was no doubt a direct result of her constant moving about and switching addresses… the less possessions you had to pack, the better.
When times were tough in Sandy's youth, she often found strength, solace and sanctuary at St. Matthew's Anglican Church. Sunday services and programs at St Mathew's were the foundation of her faith. It was also the site of her first marriage and where all of her children baptized.
Fortunately, mom had one person in her life during these times, a person who would become a lifelong friend, with her until the very end… Bev. Bev started babysitting mom in the late 40s. She laughingly admits to being "upset" when she lost her babysitting income when mom and her sister evacuated to Peterborough for the flood, but it wasn't long before she was back at her babysitting duties. The roles reversed when Bev had kids of her own. Eventually Bev's children babysat mom's first two children… teaching Dave how to walk one night by standing at opposite ends of the hallway and calling him, forcing him to walk to the opposite end. They tried using this technique with Doug when they had the chance, but he wouldn't fall for it. He'd just sit on the floor and laugh at them! Through the good times (and some bad) mom and Bev were always there for each other. It was a beautiful friendship.

Sandy's final work in a classroom was in the Operating Room Technician program at Winnipeg General Hospital, from which she graduated in June of 1960. This was her first job, and honestly, the one she loved the most. By all accounts she was very good at it… and in later years, oh the stories she would tell!
Around the time Sandy started the OR course in, 1959, she met Nils, and they quickly became an item. This meant spending a lot of time and getting into a whole lot of mischief with Nils and good friends Anne and Hugh.
Graduating from the Operating Room Technician program at Winnipeg General Hospital allowed mom to rent an apartment at the Medical Centre Apartments on Notre Dame (across the street from the Women's Pavilion). Nils wasn't allowed to move in until their marriage in June of '61, because "shackin' up" was extremely frowned upon in those days.
It was at this time mom met two more lifelong friends, next door neighbors Frankie and Gord Harrison. Many hilarious stories were created and endlessly recounted over the years. Eventually this led to an introduction to Frankie's cousin Marilea who became another of mom's lifelong friends. Between the three families, all of the seven kids referred to my mom, Frankie and Marilea as "aunt" and anytime the kids tried to explain how they knew each other, they'd pause, mull it over and just say "we're cousins!"
Mom and Nils bought a house on Oakwood Avenue in 1963, quite accidently but also quite conveniently just five houses down and across the street from Anne and Hugh. Soon afterward Doug was born, and although she truly loved her job mom happily stepped down from her job to become a full-time mother of two.
At the end of January in 1970, while her husband and two sons were playing hockey (Nils at the UofM, the boys were playing at Rverview CC) mom went into labour. A little while later while all were at Frankie and Gordie's house in Ft. Garry for Heather's seventh birthday party, Nils and the boys found out they had a new sister, Dawn.
In 1973, after a remarkable 10-year run at the same address, mom and the family moved from Riverview to Pawnee Bay in Niakwa Park, a small, quiet neighbourhood adjacent to Winsdor Park and the Windsor Park Golf Course.
As the kids grew, Nils coached the boys in hockey, first Dave and then Doug, and mom was always in the stands. After both Nils and Dave retired from minor hockey, mom continued to drive Doug to and from hockey games, living the quiet terror of a goalie's mom. She'd usually position herself in the warmth of the lobby, but right behind the net. She would wince every time Doug stopped a puck, wondering if that was the shot that would leave one of those many multi-coloured bruises that Doug would later proudly display as a badge of honour. She'd often come home from those games more exhausted than Doug! In 1980, after Doug was old enough to drive himself to his hockey games, mom became a ringette mom and was Dawn's chauffeur, team manager and ardent fan.
As the kids got older, mom experienced the empty nest feeling of being home alone all day while the kids were at school, so in the late 70s she got a part time job sorting MLS cards for a friend who owned a real estate company. She later moved on to an almost full-time job with A.C. Neilson working with a couple of other hockey moms from Doug's hockey team.
Mom also filled her time with a couple of volunteer positions. She helped out her friend Sally Page with the Winakwa girls' softball team. With Sally as one of the two female coaches, it was a powerful team, making mom's primary job as score-keeper a busy one, but with all of those victories it was certainly a labour of love!
Around this time, Sandy also become a volunteer member of the St. Boniface Minor Hockey Association. She had to deal with the keeping the books in order, growing the sport and the occasional chauvinist, but she handled it with style and grace. Everything was about the kids first and foremost. When she stepped down in the mid 80s she had earned the respect of the admiration of the Board, who awarded her with a hockey jersey with the name "Godmother" on the name plate. It was a term of respect… referring to her Mafia-like attitude protecting minor hockey and minor hockey players in St. B.
Mom soon joined her friend Sally at Price Waterhouse in the Richardson Building. It was a good job and it came with one caveat… working with Sally in the "volunteer tent" for the annual Teddy Bears' Picnic. Mom loved it! Sally and mom helped feed, water and pamper all of the volunteers, especially the mascots, for years.
Around this time, mom also picked up another once a year volunteer duty… driving Doug and his buddy Stacy to the Unicity Mall on Saturday for the bus trip to Regina for the Labour Day Classic. She'd also be there on Monday to pick-up what was left of them when they returned. Mom must have enjoyed it, because she continued to drive Stacy to and from the mall every September long-weekend, even though Doug had relocated to Brandon!
In the late 80s, in the midst of the jobs, both full-time and volunteer, Sandy and Nils went their separate ways.
In 1989, Mom and Dawn moved into a condo in St. Vital. Around this time she reconnected with an old friend, Ted Nimik, a former police officer and an ordained Anglican Minister and things got romantic. Although the times had changed, mom hadn't and Ted wasn't allowed to move in until October 1990… after their wedding. It was a perfect pairing for Mom and reconnecting with her Anglican background was obviously a huge bonus and welcome change of direction for her at this time of her life.
Another happy accident occurred at the condo a few years later when the unit next door became available and mom's friend Judy and her husband Denis moved in next door. This led to many years of living next to another set of great neighbours, with countless dinner parties, card games and hilarious stories.
After a massive reshuffling at PW, mom found her final full-time job working for Phil and Dan at their orthodontist office in the old Eaton's catalogue building. She loved working for them and their clients, and she remained there until she retired in the mid 90s.
Mom changed her address one final time when she and Ted moved into a 55+ complex just off Pembina Highway. Bev was already a tenant and a few years later, Marilea moved in too. It became a perfect location, so close to a couple of her lifelong friends and travel time was reduced to a short walk indoors!
Mom and Ted worked tirelessly at the churches Ted ministered, traveled all over Canada, especially after her retirement. All in all, mom and Ted had an amazing 30 year union of peace, love and mutual respect.
A couple of final things. Firstly, without a doubt her biggest hero in life was her dad Graham. When David and Douglas were just toddlers, mom flew them to Toronto to show-off her sons to her dad and his second wife Linda. Mom made the trip again in '73 with Dawn, in order to proudly display another grandchild to her father. Graham had been working at the CBC for a time and he used his "pull" to get Dawn an introduction to Mr. Dressup, Casey and Finnigan! Dawn always was the lucky one!
In the early 80s mom liked to entertain Dave's friends in the rec room on Pawnee. She's tell tales of her childhood, stories of Anne and Hugh, Frankie and Gordie, the trip to Souris with Frankie and Marilea and the "Squirrel Cookie Jar Affair". However, every one of mom's sessions included a story or two about her father. A lot of Dave's friends ended up knowing a man they'd never met… mom's first love, her father Graham.
Now that the final chapter of mom and her times has come to an end, the job of keeping her memory and her stories has been handed down to Ted; her daughter Dawn, husband Dennis and their children Janessa and Erick; her son Doug, wife Helene and their daughters Baylee, Lexee and Aymee; her son Dave, his wife Brenda and their sons Zedd and Eh; and countless friends, some of whom have already been mentioned and many, many more who truly deserved some column space here..
Mom wrote this in her journal (and we've filled in the blanks)…
"It has been an interesting ride but all rides must end. After 78 years on this ball of mud, my journey ended on April 3rd. Now dry your eyes and when those who wish to… please join my family and friends to remember me, celebrate and raise a glass."
Mom's final years of her "journey on this ball of mud" were made possible and definitely lengthened by the tireless work, care and love from the many professionals at Cancer Care Manitoba. If you so choose, a donation to this incredible collection of people would be a worthy memorial to Sandy.
In lieu of flowers, please hug someone you love; reach out to old friends and tell them why they're special to you; and, whenever possible, remember our mom, tell her stories and keep her memory strong.
Share Your Memory of
SANDRA GAIL
Who We Are:

Cropo Funeral Chapel was founded in 1957. We are an independent family-owned funeral service and cremation provider.

Our Locations:
1442 Main Street
Winnipeg, Manitoba
R2W 3V7 Canada
(204) 586-8044
1800 Day Street Transcona
Winnipeg, Manitoba
R2C 1E8 Canada
(204) 224-8044
Proudly Serving:

Proudly Serving the Communities of Winnipeg, surrounding area, and the communities of Manitoba.
Contact Us:

Phone: (204) 586-8044
Toll Free 1-888-586-8044
Email: info@cropo.ca
Phone: Transcona: (204) 224-8044