1442 Main Street, Winnipeg, Manitoba
1800 Day Street, Transcona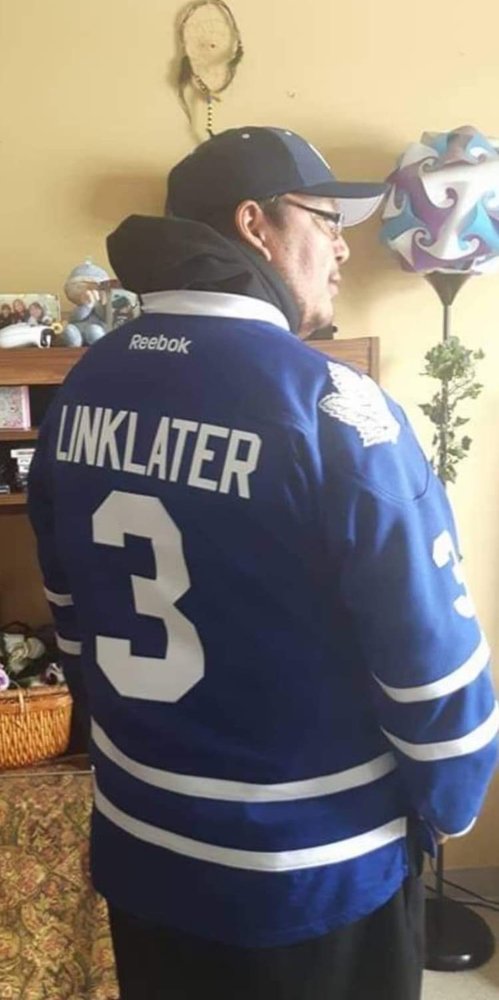 Obituary of RAMSEY DION LINKLATER
In loving memory of Ramsey Dion Linklater
March 13, 1971 - March 4, 2021
Ramsey Dion Linklater was born in The Pas, Manitoba. He was married to Marlene Dawn Beardy Linklater and were blessed with six children Curtis, Tamara (Patrick) Linklater, Angela (Aaron) Linklater and Quintin Linklater.
Ramsey is also survived by his brother's Solomon (Sandra) children; Dave (Goldie) Children; Lloyd and children. Sisters Linda (Aaron) children; Connie (Leon) children; Valerie Whyte (Kevin) Children; Joanne and children.
Ludwig Francois special brother that lived and took care of him while he was sick, I am forever grate full for the care that you gave to our father/brother.
Ramsey favorite hobbies were fishing, hunting, golfing with his brothers, cousins they enjoyed spending time with each other in the outdoors. His other favorite hobbies were volleyball, playing baseball other past times were watching television and reading books.
Our dad Ramsey enjoyed going for walks to visit family and friends, children and grandchildren Damien, Dante, Liam, Leeland, and Mayla.
Our father always made everyone smile and laugh before leaving, he would tell his many stories or crack a jokes he would never leave without saying " I Love you "and see you later with waving and a big smile on his face.
Our father grew up at Pukatawagan until he was seventeen where he then attended school in Cranberry Portage, Frontier School Division in 1988 for two years where he met his future wife Marlene Beardy ,they later married on February 4,1995 at the United Church in Winnipeg. He lived in Pukatawagan and his family grew Ramsey and Marlene had six beautiful children Curtis, Marilyn, Paywahpun, Tamara, Angela and Quentin.
Ramsey was a father, friend, brother, partner and loved by everyone he will be truly missed as he joins his two daughters Marilyn and Paywaphun parents Solomon Linklater and Cecilia Linklater.
Ramsey was predeceased by his loving children Marilyn Joanne Linklater and Paywahpun Kelly Linklater, parents Solomon Linklater, Cecilia Linklater and other family and friends too numerous to mention.
Pallbearers:
Solomon Linklater, Dave Linklater, Lloyd Linklater ,Leo Linklater, Darryl Linklater, Ludwig Francois, George Francois, Barney Linklater, Allan Linklater, Johnathan Linklater, Cyrus Linklater, Raymond Linklater ,JC Linklater, John Dumas , Suncloud Bighetty, Curtis Beardy ,Quentin Linklater, Max Linklater, Kelly Linklater, Earl Francois, George Caribou, Jim Davis François, Clayton Bear, Toby Bear, Larry Francois, Cree sky Linklater, Darren Linklater, Terrence(Terry ) Bighetty, Gordie Bear, Gilbert Dumas, Alfred Bighetty ,Marcel Bighetty, Rolland Dumas, Gordon Duma
Honorary Pallbearers:
All of Ramsey family and friends to numerous to mention. If we forgot somebody it was not intentional.
Wake Services at Sacred Heart Catholic Church Pukatawagan MB
Presider Father Dhana Amarlapudi, MSFS
Assistant Flora Grieves, Mary Ann Dumas
Interment: Sacred Heart Cemetery Pukatawagan, MB
Share Your Memory of
RAMSEY
Who We Are:

Cropo Funeral Chapel was founded in 1957. We are an independent family-owned funeral service and cremation provider.

Our Locations:
1442 Main Street
Winnipeg, Manitoba
R2W 3V7 Canada
(204) 586-8044
1800 Day Street Transcona
Winnipeg, Manitoba
R2C 1E8 Canada
(204) 224-8044
Proudly Serving:

Proudly Serving the Communities of Winnipeg, surrounding area, and the communities of Manitoba.
Contact Us:

Phone: (204) 586-8044
Toll Free 1-888-586-8044
Email: info@cropo.ca
Phone: Transcona: (204) 224-8044