1442 Main Street, Winnipeg, Manitoba
1800 Day Street, Transcona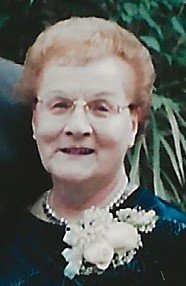 Obituary of IRENE SULYMKA
May 18, 1925 – December 8, 2020
"Dearest Jesus, please let me go out into the world today to see your face in everyone I meet and I pray that thy face will reflect back from mine to them as they look at me"
It is with heavy hearts that we announce the passing of Irene Sulymka (Baraniuk) on December 8, 2020. At 95 years young, she was blessed to end her days in the family home.
She is survived by her loving sister Carol Shettler (Baraniuk), sister-in-law Mary Baraniuk; sons Carl (Cece), Dale (Velvet), Doug (Bonnie), Brian; Nine grandchildren, seven great grandchildren, and numerous nieces and nephews.
Irene was pre-deceased by her loving husband of 51 years, Lloyd Sulymka (2003); her parents Michael and Lillian Baraniuk; siblings John (Anne), Bill (Kate), Mary (Paul) Chornobay, Walter, Roy, Andrew (Jean), Pearl (Ben) Stepien, Olga (George) Slobodian, Leo (Rita), Julia (Bert) Stevenson, and Tilly (John) Peters.
Irene was born in Mountain Road, MB, the ninth of 13 children. She was educated in a one room school house followed by high school in Yorkton, Saskatchewan. She acquired her teaching certificate in 1947 from Normal School in Winnipeg and received her first assignment in Lund, Manitoba. This was then followed by various rural school postings. Irene met her husband Lloyd at a youth dance and they were married July 22, 1952. The "royal wedding" was published in the Minnedosa newspaper quoted as follows:
"Newdale Man Weds Royalty"
"It is not every day that a commoner weds royalty but that was what a Newdale man did on Tuesday. The lucky man whose bride was a queen was Lloyd Sulymka. His bride was Queen Irene who two days prior to her marriage was named queen of central Manitoba Ukrainian Catholic youth festival. At other times she is Miss Irene Baraniuk of Mountain Road. She teaches school there while Mr. Sulymka is a high school teacher at Gladstone."
Shortly after their wedding they moved to Winnipeg and both continued teaching, purchasing their first home in 1954. Mom continued to teach until 1957 at which time she stepped away to raise a family of four boys. She returned to teaching in 1973 and pursued her passion of teaching the primary grades in the Winnipeg School Division until her retirement in 1990.
Lloyd was fortunate to retire at the age of 59 and was always encouraging Mom to put in for her retirement. Three years in a row she is said to have submitted her resignation in the outgoing mail only to change her mind and retrieve it before the end of the day. However in 1990, the mail was picked up before she could change her mind. It was now a done deal!
Mom joined Holy Family Ukrainian Catholic Church in 1954 and remained an active member for 66 years. She was notably involved in the women's league, serving as president for multiple terms including a term as regional president. She was honoured to work with the ladies.
During her retirement years she traveled with Lloyd throughout North American and Europe often visiting many significant religious sites. One of her favorite pass times was spending time with family and friends at the lake. Family was very important to her and she enjoyed the many gatherings and celebrations.
In her golden years she was able to remain living in her home due to the support and loving care provided by her youngest son Brian. We knew she was in the best of hands. Her weekly highlights were Friday morning visits to the hair stylist and Sunday morning mass at Holy Family Church. We thank mom for her strong faith and daily prayers for all of us.
Age was never a challenge for mom as she was always young at heart. Canes and wheelchairs were for 'old people' but eventually she warmed up to the 'Cadillac' (wheelchair). She had a great sense of humor and often enjoyed teasing others. Her strength, kindness, and compassion for others will forever be cherished in our hearts.
The family wishes to thank Dr. Meredith and Dr. Drobot for their care and compassion. A special thank you to Rosa her hairdresser who went above and beyond to accommodate her needs.
A private family service will be held on Wednesday, December 16, 2020 at 12:00 pm followed by interment.
Follow the link on this website to view livestreaming of this service.
VICHNAYA PAMYAT (Eternal Memory)
Share Your Memory of
IRENE
Who We Are:

Cropo Funeral Chapel was founded in 1957. We are an independent family-owned funeral service and cremation provider.

Our Locations:
1442 Main Street
Winnipeg, Manitoba
R2W 3V7 Canada
(204) 586-8044
1800 Day Street Transcona
Winnipeg, Manitoba
R2C 1E8 Canada
(204) 224-8044
Proudly Serving:

Proudly Serving the Communities of Winnipeg, surrounding area, and the communities of Manitoba.
Contact Us:

Phone: (204) 586-8044
Toll Free 1-888-586-8044
Email: info@cropo.ca
Phone: Transcona: (204) 224-8044