1442 Main Street, Winnipeg, Manitoba
1800 Day Street, Transcona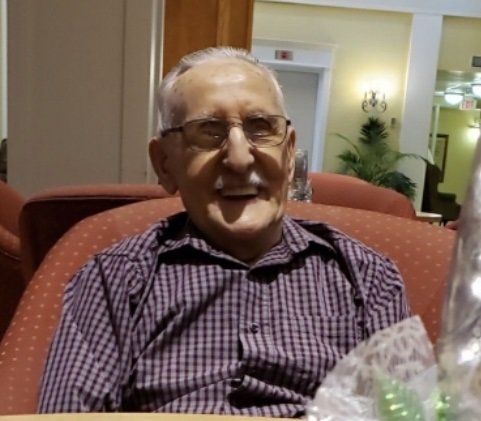 Obituary of SIEGFRIED (SIEGY) SMOLINSKI
SIEGFRIED (SIEGY) SMOLINSKI With heavy hearts, we announce the peaceful passing of Siegfried (Siegy) Smolinski on Thursday, July 9, 2020. A graveside interment service will be held in August 2020, followed by a memorial service at a later date. Siegy was born on November 13, 1929, in East Prussia (Formerly Germany). On March 1945, Siegy avoided the advancing Russian army and landed in Western Germany. Life was a challenge. Siegy moved from city to city searching diligently for work. With a vision for a better future, he immigrated to Canada in 1954. He worked hard, accepting any job offered, until he was able to find a stable job as an auto body painter. 7 years later, in 1963, Siegy started a new career with CP rail which lasted for 30 years, until his retirement in 1993. 1965 was a monumental year for Siegy, marrying his soul-mate, June. Together Siegy and June converted an old trailer into a camper, and explored nature's wonders--hiking, camping, fishing, blueberry picking, boating, etc. near Lee River, White Lake and Nutimik Lake. But they had a dream which became reality when they purchased an empty lot at Leisure Falls. Siegy was a natural-born, self-taught handyman. With only a hand saw, a hammer and June's assistance, he built their cottage. The cottage became their refuge from the busy city life, allowing them to spend their weekends together fishing & boating in the summer, and cross-country skiing & snowshoeing in the winter. Siegy enjoyed making furniture, clocks, lawn ornaments etc. His passion was running, and he won numerous medals running half-marathons and races. At the age of 70, he ran his last half-marathon. In 1991, his wife June passed and his life changed abruptly. Alone, he lost interest in the cottage & the recreational activities they shared and sold the cottage. A new chapter opened in his life in 1995 when he met Linda Bourgeois at a dance. In 1996 Linda became his new life's partner and they lived together on St. Vital Road. Together, they enjoyed attending country dances on weekends around Winnipeg. Their passion for traveling took them to Hawaii, Brenson, Las Vegas (3 times), and a cruise on the Caribbean. Siegy's friends were important to him, and he always looked forward to his Tuesday coffee and tea visits with his CP friends at the Garden City Food Court. Another life passion was his organic lifestyle. He would proudly proclaim his garden to be the best in the neighborhood. Their lifestyle changed dramatically in 2003 when Siegy suffered a heart attack and underwent a 3 PL by-pass operation. He recovered and they started walking 5 km every day until he developed health issues. Siegy was diagnosed with cancer in 2014. His cancer fight brought Dr. Schacter, Dr.Lin Yank, Dr. V. Dao, and nurse Carry from Cancer Care into his life. He was extremely grateful and would like to thank them for the care provided. 2016 brought additional changes and challenges to his life. Siegy had both hips replaced and shortly after moved to Cathedral Manor with Linda. Siegy would like to thank all the staff for the assistance provided, and wished to extend a special thank you to Rhonda Brown and Angele. A special thanks to Germaine, his palliative care nurse, who visited him every 2 weeks. Siegy wishes to express his gratitude to the staff at Grace Hospital, with a special thanks to Nurse Angelia who attended to him during his final days. Siegy was predeceased by his parents, brother Benno, the love of his life- June (1991) and his partner Linda. Left to cherish his memory are his brother Erwin Smolinski; step-children Jo-Anne Wiebe (Ken), Larry Manko (Judy); step-granddaughters Sherri (Bruce), Karen (Casey); step-great-grandchildren Elliot & Holden; nieces and nephew Nancy Vogt (Craig), Anita Krohn, Harry Smolinski (Maureen); and many great and great-great nieces & nephews. Funeral service will be held at Cropo Funeral Chapel. Siegy's last wish is to be cremated and his ashes laid to rest beside his love and soul mate, June at Glen Eden.
Share Your Memory of
SIEGFRIED (SIEGY)
Who We Are:

Cropo Funeral Chapel was founded in 1957. We are an independent family-owned funeral service and cremation provider.

Our Locations:
1442 Main Street
Winnipeg, Manitoba
R2W 3V7 Canada
(204) 586-8044
1800 Day Street Transcona
Winnipeg, Manitoba
R2C 1E8 Canada
(204) 224-8044
Proudly Serving:

Proudly Serving the Communities of Winnipeg, surrounding area, and the communities of Manitoba.
Contact Us:

Phone: (204) 586-8044
Toll Free 1-888-586-8044
Email: info@cropo.ca
Phone: Transcona: (204) 224-8044