1442 Main Street, Winnipeg, Manitoba
1800 Day Street, Transcona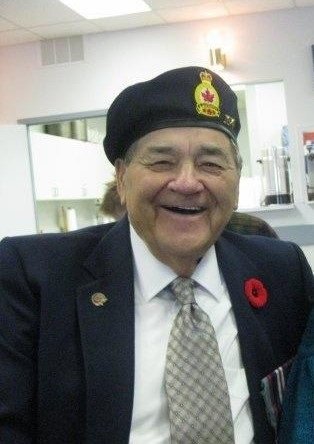 Obituary of NICHOLAS SMERECHYNSKI
NICK SMERECHYNSKI May 11, 1924 – May 14, 2020 It is with deepest sadness and sorrow that we announce the peaceful passing of Nick Smerechynski on May 14, 2020 at the age of 96, at Concordia Place Nursing Home. He is survived by his four children and their families; children; Donald (Dale), Malloy, John (Dawnna), and Lana (Mark); grandchildren; Courtney, and Robert, and his sister, Nettie. He was predeceased by his loving wife Mary, son baby William, daughter-in-law Linda, and 13 siblings. Nick started life on a farm in Medika, Manitoba with 13 siblings, life was tough on the farm living through the depression. This upbringing was the foundation of his life and played a large role in his values as an adult. When Nick enlisted into the army with the Princess Patricia's Canadian Light Infantry, he was only 17 and did a year of training at Fort William, Shilo. He went to England and deployed to fight in Italy, France, Germany, Belgium and Holland, where he stayed until the war concluded in 1945. His fondest memory was when he saw Pope Pius XII at the Vatican. He was one of very few who made it back home alive. Respectively, Nick was awarded 5 medals, some including the France and Germany star, the star of Italy, and King George VI. After coming back home to Manitoba he soon met and fell in love with his soul mate, Mary; and they were married on July 28th, 1951. He starting working in the mines in Red Lake, Ontario. Soon after they started their family Donald, Malloy, William, John and Lana arrived into the Smerechynski family. Nick and Mary built and managed Elma Shopping Centre where he was also a post master and later became contract courier for Canada Post in Eastern Manitoba local communities. He was also a key contributor at the Elma Community Hall from helping build the hall to volunteering in many events and socials which one of many included Nick as the official bingo caller, under the "O" *clickie click* 66! Nick was also an avid believer in God and his faith and made sure every Sunday the family took part in the local Ukrainian Catholic Church. The love of his life passed away in 2014 after being married for 63 amazing years. One of his major loves he always made time for was fishing for plenty of Goldeye and Pickerel, and then bringing it back to smoke in his homemade smoke house. Nick's half acre garden patch provided fresh vegetables to family and friends in the trunk of his car; his strong value of never arriving empty handed! He also was a whiz in the kitchen cooking and baking up a storm from his world famous potato pancakes with Robbie, to moist chocolate chip zucchini loaf. Let's not forget about always bringing a big mason jar full of different homemade soups from borscht with "sour salt", to chicken noodle soup to warm his loved one's tummies. The star of nearly every dish made in the Smerechynski household was, what else, but delicious… GARLIC! (I'm sure you can imagine how the Smerechynski's significant others felt about that one)! And let's not forget how nothing could come between him and his love of perogies, noodles, Diet Pepsi and chicken (especially Chicken Delight)! Of course like many of us, he had a love for the Winnipeg Blue Bombers and Winnipeg Jets, never to miss a game on T.V. He was a strong believer in true, hard work from being a handy man around the house to chopping wood for the furnace. But he made sure to always take time to stop and enjoy the fruits of life and his family was always first and foremost. His children were the light of his life and his grandchildren were the apples of his eye. And Nick, as well as Mary, never missed a chance to give to their grandkids whenever they visited. Nick also had some special sayings which made us smile, such as, "Just like old people" when asked how he was doing. But his most famous line when he was encouraging us to eat different foods was, "It'll put hair on your chest"! On behalf of all the children and grandchildren no words can accurately describe the impact dad/grandpa had on our lives, his loving smile and guidance will be part of us forever! Nick was a joyful, caring man who loved life and making everyone laugh with his jokes and smiles. His true love was being a husband, dad, grandpa, brother, and friend. The family are very appreciative of the health care workers, recreational team, and staff at Concordia Place Nursing home for their care and compassion. At this time, the immediate family will have a private memorial, and will hold a Celebration of Life with family and friends when circumstances allow. Donations may be made to the Alzheimer Society of Manitoba or The War Amps. May God welcome you into his Kingdom with ultimate peace and love! You will live on in our hearts and prayers, until we meet again. Feel free to leave your condolences, warm memories and special moments you have about Nick, in the comments below.
Share Your Memory of
NICHOLAS
Who We Are:

Cropo Funeral Chapel was founded in 1957. We are an independent family-owned funeral service and cremation provider.

Our Locations:
1442 Main Street
Winnipeg, Manitoba
R2W 3V7 Canada
(204) 586-8044
1800 Day Street Transcona
Winnipeg, Manitoba
R2C 1E8 Canada
(204) 224-8044
Proudly Serving:

Proudly Serving the Communities of Winnipeg, surrounding area, and the communities of Manitoba.
Contact Us:

Phone: (204) 586-8044
Toll Free 1-888-586-8044
Email: info@cropo.ca
Phone: Transcona: (204) 224-8044