1442 Main Street, Winnipeg, Manitoba
1800 Day Street, Transcona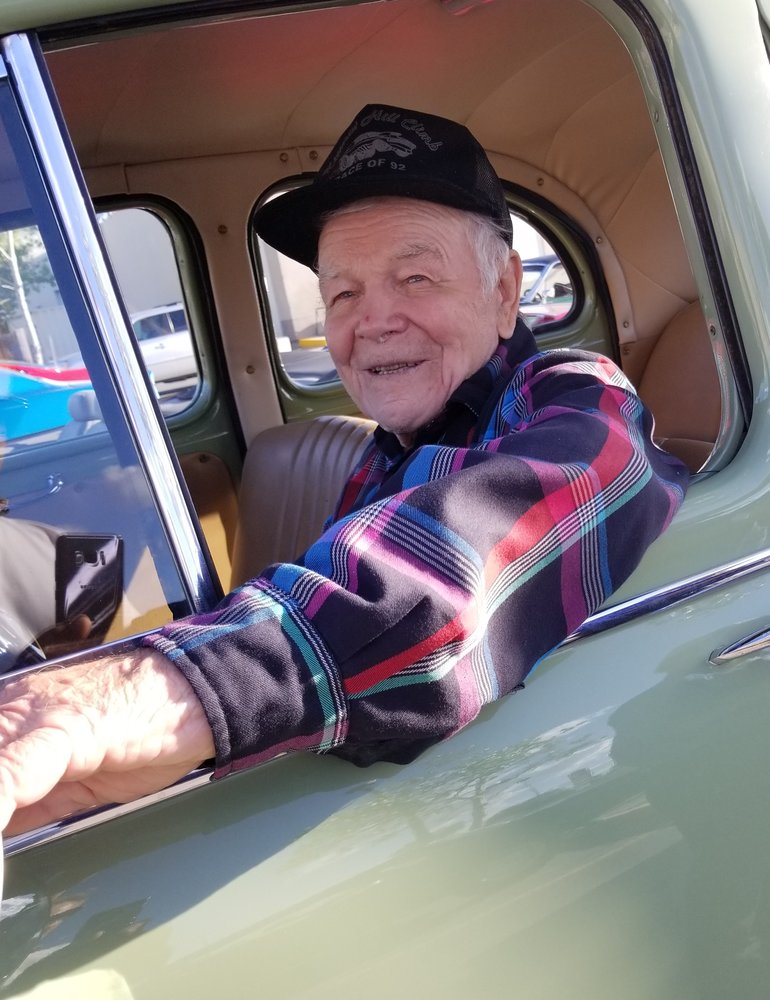 Obituary of JOHN MALENKI
Unexpectedly John (Ivan) Malenki, Johnny as many knew him beloved husband of Olga at almost 95 years of age. passed away at the Grace Hospital on February 11, 2020. John was predeceased by his parents Emil and Martha (Lukianik) Malenki, sister Nina and her husband Pete Ozirney and brother inlaws Willard Semeniuk and Jim Bymak. Survived by sister Violet (Metro) Salyn, brothers Bill (Kaye) and Harry (Lena) and sisters Elizabeth (W) Semeniuk and Olga (J) Bymak. John will be lovingly remembered by Olga, his wife of over 67 years and three children; Kevin, Debra (Tredway) Morris, Audwin and two grandchildren Nathan (Debra) and Alexandra (Kevin). John was born on March 14, 1925 in Tuchyn, Ukraine to Martha and Emil Malenki. He immigrated to Canada with his parents and big sister Nina when he was only two years old. Emil, Martha and family arrived in Stenen, Saskatchewan, where they homesteaded and farmed for many years and went on to have five more children after John. John grew up in Stenen, SK where he mostly worked on the family farm and in the off season explored other career options. John was a tireless young man who looked for extra work in the off season of grain farming. Tail sawyer at a saw mill for two years till he was 16, then freighting goods on the dangerous winter trails to the north for Tom Lamb and later a taxi service in the Pas, MB. Then eventually moved to Winnipeg where he worked for Central Auto rebuilding engines, transmissions, generators and starters. It was while he was in Stenen, that he met Olga (nee Byneshewsky) at various community events and dances. It wasn't until they met in Winnipeg, both working there for a time, that they started dating, and were married on July 12, 1952. After taking an auto body mechanic course, Johnny felt confident to start his own business, J & M Auto Sales. He still did contract work for the Bronstein brothers, Central Auto and General Auto Parts. John was an accomplished welder and fabricator, making items like diamond drills for a mining company, repairing broken machine and auto parts, doing things like putting Chrysler engines into Chevrolet cars, turning Volkswagons into fibre glass Dune Buggies and building trailers, just some of his projects. He did the mechanicals on a number of greyhound style tour busses for various people in the early 60s' ie. Grain Belt who later became the Guess Who and the Shaggs which led to the group Styks. John started racing stock and modified racecars in the Northern Racing Association 1961 to 1969. Where he had some of the winningest and championship cars at Brooklands Speedway. He also sponsored some cars that did very well at Keystone Dragway. John had a number of bus contracts in the 1960s'. there was Shaunnesy School and Sisler High School. Occasionally he took groups of people to special events such as picnics on week ends. In the 1980s". John would go out and operate large construction equipment such as front end loaders and graders. He would help his friend Nick at K&N. Construction and Mulders. He would sometimes work double shifts; evening and early morning. I remember him at 86 years old pulling a double shift on one of the hardest machines to operate clearing snow, that's the grader with a wing attachment. He was amazing. He would be so happy. For more than 40 years of running the business J&M Auto, he became known as a fair business man, always willing to compromise and give a fair deal for those who needed it. He received the nickname "Johnny Got It", due to his reputation of being able to find almost any auto parts and vehicles needed by his clients. Always full of energy, he worked tirelessly until he retired from J & M Auto Sales at the ripe young age of 87! John was known for being a sociable, friendly man and always had many friends, who he met often for coffee. He enjoyed countless hours at the family cottage at Beaver Creek, helping Olga prepare the garden for planting and harvesting. John was also an avid outdoorsman who loved fishing and hunting. Whether hunting moose or deer, he would always make sure that nothing went to waste. He would custom cut the meat and also have delicious sausage prepared and have the hides tanned for other uses like gloves and coats . He also enjoyed heading out with family to pick wild mushrooms, blueberries, saskatoons, cranberries and other wild fare – he always knew the best places for picking! In their later years John and Olga would drive to Gabriola Island and spend time with their son Audwin for the colder Manitoba winter months (sometime in October) and would visit with friends and relatives on the return trip in mid May to Winnipeg. Until his late 80's, John was blessed with good health and energy. After he suffered a stroke in March 2019, his health deteriorated and he spent time at both St. Boniface Hospital and Deer Lodge before moving to the Poseidon Care Centre in May 2019. Both Olga and Kevin were constantly by his side, ensuring he was well cared for during this time and receiving loving attention. After a second bout of pneumonia within the year, John passed quietly while at the Grace Hospital. That was Tuesday morning, February 11. John will be remembered by all who knew and loved him. He will be greatly missed by his wife of over 67 years, Olga; his two sons, Kevin of Winnipeg and Audwin of Gabriola Island; and his daughter Debra of Birds Hill. He was a positive influence for his two grandchildren, Nathan (Debra) and Alexandra (Kevin). Rest in peace dad. Thank you to Cropo Funeral Chapel for all the arrangements and Sts. Peter and Paul Ukrainian Catholic Church. Thank you to Father Darren Kawiuk for the support, advice and the funeral services. Thank you to Office Manager Gwen, funeral luncheon coordinator Joanne and the ladies and the parish centre rentals person Jessica. Thank you to Ira's Deli for the food fair. Bearers of the casket are: Johns' brother Harry Malenki, Marcel Wozny brother inlaw, nephews Brian and Robert Malenki, grandson Nathan Morris, son Kevin and Honourary bearer brother Bill Malenki.
Funeral Liturgy
10:00 am
Friday, February 28, 2020
Sts. Peter & Paul Ukrainian Catholic Church
390 Marion Street
Winnipeg, Manitoba, Canada
Share Your Memory of
JOHN
Who We Are:

Cropo Funeral Chapel was founded in 1957. We are an independent family-owned funeral service and cremation provider.

Our Locations:
1442 Main Street
Winnipeg, Manitoba
R2W 3V7 Canada
(204) 586-8044
1800 Day Street Transcona
Winnipeg, Manitoba
R2C 1E8 Canada
(204) 224-8044
Proudly Serving:

Proudly Serving the Communities of Winnipeg, surrounding area, and the communities of Manitoba.
Contact Us:

Phone: (204) 586-8044
Toll Free 1-888-586-8044
Email: info@cropo.ca
Phone: Transcona: (204) 224-8044