1442 Main Street, Winnipeg, Manitoba
1800 Day Street, Transcona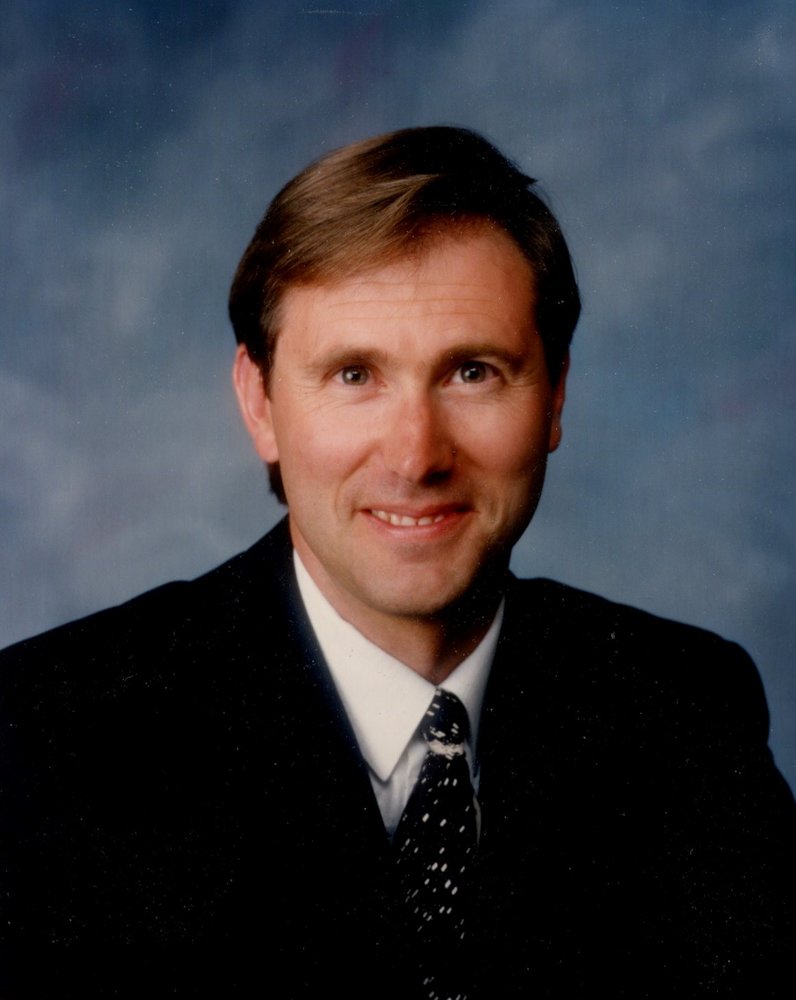 Obituary of RAYMOND PHILIP OAKES
RAYMOND PHILIP OAKES Surrounded by his loving family, Raymond Philip Oakes passed peacefully from this world after a short cancer journey on January 24, 2020 at the age of 60 years. He will always be remembered for his love and will be watching over his wife of 38 years, Rose (nee Kamchen), sons Daniel and Bentley, daughter-in-law Alicia, granddaughter Vivienne Rose, father Gordon, brothers Les (and Hilary) and Robert (and Hilary), sisters-in-law Maggie and Irene, nieces and nephew. He was predeceased by his mother, Jean, in 2019. He was a devoted family man, and was proud of his sons who are considerate, generous, and strong men. To his granddaughter, he will always be 'G-Ray'. Ray's legacy, including over 37 years in his law practice, touched the lives of thousands – more than he knew – and he loved helping people in all of his endeavours. He was known for his positive, calm and easy-going nature. His legal career commenced in 1983 when he articled at the same law firm which later bore his name as a partner – BD Oakes LLP was the successor to the Booth Dennehy LLP group. Ray was proud to be of service to his wide-ranging and extensive clientele, including his corporate clients, his Ontario cottage-country clients, and friends, lawyers, and colleagues. He took pride in acting for the motorcyclists of Manitoba (CMMG), who he represented before the Public Utilities Board for over 25 years. Ray lived life to the fullest, and was always eager for adventures, opportunities, and connections. He was known for his courageous, energetic, and generous spirit. These qualities were always served up with good humour and wit, which was known and loved by those who met him. He made friends readily, and always shared his gifts with those he loved and those in need. He often said that no one is a stranger, and this philosophy was amply rewarded in his time of need by the complete support of his family and friends. We extend our warmest and heartfelt thanks to all those who connected with him most recently. Music was the soundtrack of Ray's life, and he loved playing the guitar, making music with friends, and sharing his passion and knowledge of music through stories, movies, videos, and ambience while cooking (and eating) gourmet food with his family and friends. He enjoyed all music genres including the blues, classic rock, country, hair metal, and the music of the islands, such as reggae, pan steel drums, rhumba, samba, salsa, and seafaring shanty songs. Truly, he was an eclectic connoisseur of music. Ray loved the outdoors, and enjoyed fishing, boating, shore lunches, star gazing, observing eagles, and the smell of a birch fire. Nature was an integral part of the life he shared with his family at Lake of the Woods. Special times were sunsets on the dock with a glass of Old Boys Port on quiet evenings, listening to the loons, and enjoying the company of others. Ray always prided himself on safely ferrying his guests home by boat at night. Ray's wide-ranging interests included golfing, pirate lore and dancing. He was an excellent dancer, and loved to dance with Rose in varied styles such as polka, waltz, two-step, rock, soul, salsa, and country. It was not a party unless there was dancing, whether at a dinner party, cottage, in a backyard, or in other countries. From his extensive and enjoyable years at the lake, to family travel in Canada, the Dakotas, Florida, Texas, the Caribbean, and Europe, Ray collected a vast array of stories and experiences which he loved to share with his mastery of story-telling. In particular, his intimate knowledge of history, culture, and travel experiences in the Caribbean islands provided rich stories which brought him and his listeners great pleasure. Ray is now boating in heaven with a loud stereo and his late friends, including Dunc who passed in 2019. He knew his family and friends will think of the good times, and his wish was that such memories are shared with music, a favourite beverage, and love. He remains with us forever in our hearts, remembrances, and stories. Ray's Wisdom: Grief is like a wake behind a boat. It can be a huge wave at first right behind you. Don't be swamped. Keep moving and the waves will dissipate in time and become calmer. Then the memories of your departed loved one shall shine brighter than the stars above. There is no force stronger than love. The Oak Leaf, like all leaves, lives for its appointed time, and does not struggle against the wind that carries it away. With the courage and strength of an oak tree to the end – from a little acorn did this mighty Oakes grow. Party like an islander and hug your family.
Share Your Memory of
RAYMOND PHILIP
Who We Are:

Cropo Funeral Chapel was founded in 1957. We are an independent family-owned funeral service and cremation provider.

Our Locations:
1442 Main Street
Winnipeg, Manitoba
R2W 3V7 Canada
(204) 586-8044
1800 Day Street Transcona
Winnipeg, Manitoba
R2C 1E8 Canada
(204) 224-8044
Proudly Serving:

Proudly Serving the Communities of Winnipeg, surrounding area, and the communities of Manitoba.
Contact Us:

Phone: (204) 586-8044
Toll Free 1-888-586-8044
Email: info@cropo.ca
Phone: Transcona: (204) 224-8044