1442 Main Street, Winnipeg, Manitoba
1800 Day Street, Transcona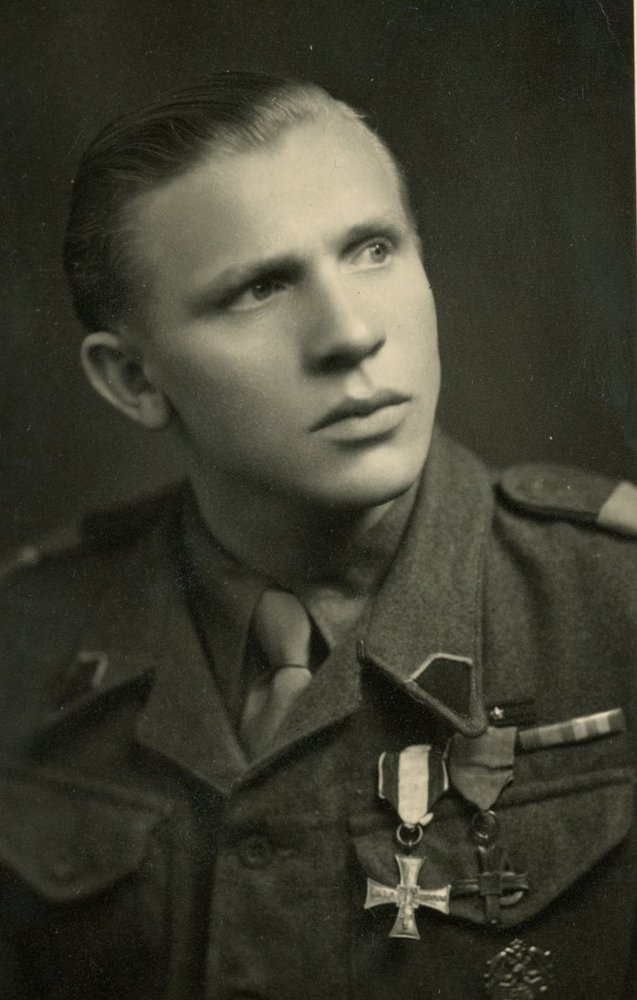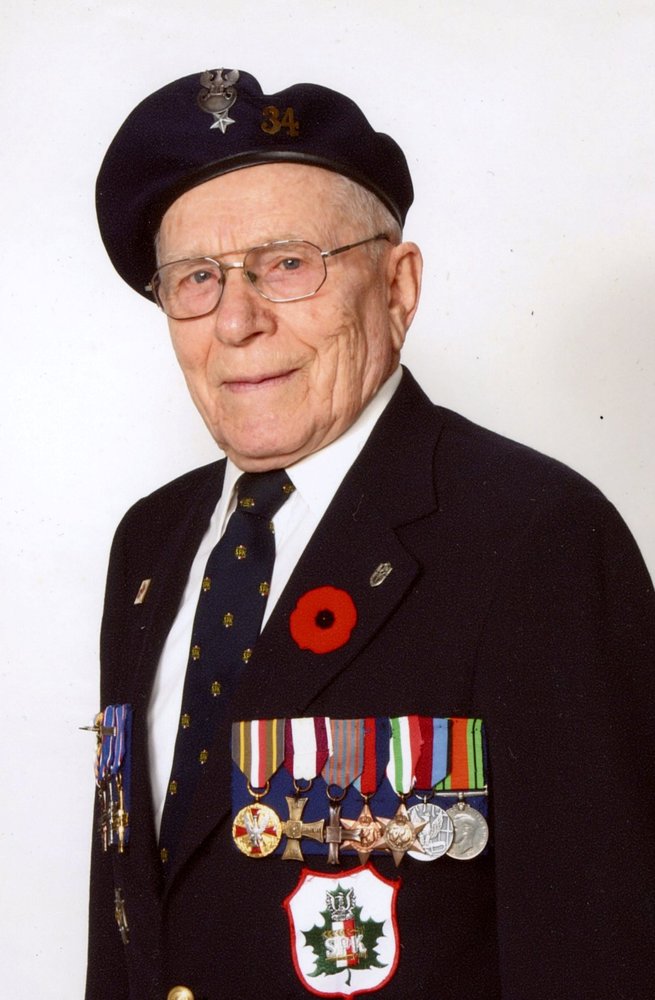 Obituary of GEORGE ROMANOWSKI
George (Jerzy) Romanowski June 1924 – January 22, 2020 After a full and blessed life, George Romanowski passed away January 22nd at St. Boniface Hospital. George is survived by his loving wife of 68 years, Sophie (Zosia) nee Bartnicki. Left to celebrate his memory are his three sisters in Poland, his brother in law Archie Bartnicki and five of his children, Ron (Liliana), Ed (Alice), Richard (Nadeia), Janice (Bill) and Paul (Dawn), and his six grandchildren, Kyle, Coen (Verity), Ryan, Meghan (Alex), Bridget, and Christian, and many nieces and nephews in Poland and Belarus. He was predeceased by his parents, three brothers, and his 21-month old daughter Christine. George was born on a rural farm in Eastern Poland and, as the eldest in a devoted Roman Catholic family, he was sent to the seminary. Leaving the seminary, he pursued some vocational training as a mechanic. When the Nazis invaded Poland from the west and the Soviet Red Army from the east, he was rounded up by the Soviets with many other young able-bodied Poles and transported to a work camp in Siberia. In the work camp, he toiled as a mechanic. George once told the story that a good day in the Soviet work camp was when a horse died because that resulted in there being meat in the meager soup. When the Soviets joined the Allies, the work camp members were given the option of remaining or joining the Polish Corps of the British Army. The young seminarian had now become a soldier in his teens. He was shipped to Crimea where he was fattened up and trained to fight. His war experience took him through Iraq, Egypt, and finally up the boot of Italy where he fought with the Polish Corps and other allied forces to liberate Monte Cassino. The war ended shortly after. He was wounded twice during the war and on one occasion was saved by Canadian tank drivers. With the end of the war seeing his beloved Poland under Soviet control, he and his Polish fighting brethren knew that another Siberian camp awaited their return to Poland. This meant, as a displaced person, he needed to find a new home. The choices offered were Canada, South Africa and Australia. Recalling the Canadian soldiers that saved him during the war, he chose Canada as a good place to call home. Shortly after his arrival in Manitoba on November 11, 1946, a war wound acted up while he was working as an indentured immigrant worker on a farm near Winnipeg. The farmer sent George to St. Boniface Hospital where the shrapnel left in his shoulder was removed. He began his long working career in Winnipeg starting as a mechanic, then a door-to-door pots and pans salesman, a highly successful and recognized "Master" car salesman, and finally, an entrepreneur owning and operating his own vehicle repair shop on Higgins Avenue, Roman Service & Sales, from 1966 to 1987. It was here that his four "boys" worked to learn about business, dedication to quality work and customer service, and to fund their own education and leisure activities. This handsome young Polish veteran found the love of his life at a Polish community dance at Sokol Hall. He played the chivalrous role by coming to the aid of a charming young lady whose pearl necklace broke with pearls strewn everywhere. Sophie and George were married at Holy Ghost Church in Winnipeg in June, 1951. The focus of George's next 68 plus years was on creating and enjoying a loving family, working hard to support it, and actively engaging in a dynamic community life. George was a deeply committed Roman Catholic and a member of the Knights of Columbus who was very active in his adopted Canada and City serving leadership roles in his beloved Sokol Club, YMCA and other community organizations. As President of Sokol Winnipeg from 1963 to 1964, he led the construction of a new Sokol Hall on Manitoba Avenue. George was especially proud of his daughter Janice for being involved in Sokol's Choir and Dance Ensemble, and being Mayor of the Polish Krakow Pavilion during Folklorama. He was also an active member of the Canadian Legion holding fast to the belief that he and all around him would "never forget". George also ran as an Alderman for the City of Winnipeg Council in the early 1960s narrowly losing on election day. In retirement, George loved to tinker in the new house he built for Sophie. In fact, he was probably happiest fixing anything; be it family members' cars, the washing machine or anything else that broke. If someone made it, George could fix it. Next to tinkering, the farm boy at heart loved to garden with his Sophie and create care packages of fresh produce and delicious apples as a mainstay of late summer visits to their family. Pride in family truly grew with the arrival of the grandchildren. All the grandchildren got to know their grandparents, Dziadek and Babcia. With one son and daughter-in-law in Australia and another in Alberta, visits to see the grandkids were a big part of retirement years. Spoiling the local grandkids was a speciality. Dziadek and Babcia loved to attend their grandkids' sporting and cultural events. George seemed happiest when the entire family gathered at Dziadek and Babcia's home to celebrate all kinds of occasions. George was especially proud of any and all of all the grandchildren's successes. He actively supported all their endeavours. George was a determined survivor who had his life turned upside down by war. However, through dogged determination and grit, he was able to create a life and legacy that is cherished and celebrated by his children and his grandchildren. One doesn't make it past 95 years without a strong will to live and a sense of purpose (and perhaps a little stubbornness). His love for his wife Sophie, his faith, his native Poland, his adopted country and his family have been woven into the fabric of the Romanowski family and will live long after him. The family would like to express its gratitude to the St. Boniface Hospital staff for caring and comforting George in his time of need. We are thankful to Father Dominic and the community of St. Anthony of Padua for the loving way they helped us celebrate George's funeral. It was also nice to hear and read so many condolences from people in the community, across Canada and in other countries. After a fulfilling life, we laid George to his eternal rest next to his daughter Christine. For those wishing to commemorate George and his life of giving to the community, please donate to the St. Boniface Hospital Foundation https://stbhf.ca/en/donate/ . Sto lat Jerzy, spoczywaj w pokoju! Facebook Post by Sokół Winnipeg Remembering the Life of Jerzy Romanowski Z głębokim smutkiem i żalem przyjęliśmy wiadomość o śmierci naszego Druha Jerzego Romanowskiego. Druh Jerzy Romanowski zmarł 22 stycznia 2020 roku w wieku 95 lat ( 28 lutego obchodziłby swoje 96 urodziny). Msza święta w intencji Zmarłego w poniedziałek, 27 stycznia o godz.10:30 w kościele Św. Antoniego z Padwy (St. Anthony of Padua), 250 Burrin Avenue, Winnipeg. Druh Jerzy był najdłużej działającym członkiem w historii Sokoła, Jego staż liczył ponad 70 lat. Pochodził z Kresów z Grodzieńszczyzny, przeżył zesłanie na Syberię, walczył w szeregach 2 Korpusu Polskiego gen. Władysława Andersa, był dwukrotnie ranny w bitwie pod Monte Cassino. Po rozwiązaniu tej formacji pozostał na emigracji z uwagi na sytuację polityczną w kraju i tego że tereny z których pochodził zostały po 1939 roku włączone do Białoruskiej SRR. Nie wrócił do Polski, osiadł w Kanadzie w 1946 roku. W imieniu członków organizacji Sokół dla całej rodziny składamy wyrazy najszczerszego współczucia i żalu. Nie znajdujemy słów, aby opisać, jak bardzo jesteśmy wstrząśnięci. Druh Jerzy Romanowski był patriotą, wspaniałym, godnym zaufania człowiekiem i członkiem Sokoła, który zapisze się w naszej pamięci jako były Prezes Sokoła, który w swojej kadencji w latach 1963-64 wraz z członkami organizacji wybudowali nową siedzibę Sokoła pod adresem 717 Manitoba Ave. Cześć Jego Pamięci, Czołem! Prezes Marian Jaworski i zarząd Sokoła Winnipeg. It is with deep sadness we inform you of the passing of our friend Jerzy Romanowski. He died on January 22, 2020 at the age of 95. Jerzy came from the town of Grodno, and fought in World War II in the ranks of the 2nd Polish Corps under General Władysław Anders. After being wounded twice in the war, he did not return to Poland, and instead chose to immigrate to Canada in 1946. Having served for over 70 years, Jerzy was the longest serving member in the history of Sokół. Our friend Jerzy Romanowski was a patriot, a trustworthy man, and a valued member. During his service as President of Sokół between 1963-64, he led the construction of a new hall at 717 Manitoba Avenue. We will never forget his lifelong contribution to the Sokół organization, his kindness, and leadership. On behalf of the entire Sokół organization, I would like to express my sincerest sympathies to his family. Holy Mass in memory of Jerzy Romanowski will take place on Monday, January 27 at 10:30 AM at the Church of St. Anthony of Padua. President Marian Jaworski Remembering the Pride, Fearlessness, and Determination of George Romanowski George Romanowski had incredible pride in himself and his country of Poland. He had so much pride that he enlisted to fight in World War II at age sixteen – 2 years below the minimum age. He was smaller than many of his peers, but this didn't matter. George put his country first in a time when it needed it. George was never afraid of failure. In order to help propel his battalion to victory in World War II, he played the role of scout by riding motorbike on the front lines. After being injured in the war, George came to Canada. At that time, he was a Polish immigrant who knew little English. But this didn't stop him. He married a Winnipeger, learned English from her, and began his career as a door to door salesman. Over time as George gained more experience, he became a car salesman. Eventually after developing a grasp of the automotive industry, he opened a car service and repair shop in North Winnipeg. After a being in business for over 20 years he decided to retire in Winnipeg, and live out the rest of his life in support of his family. If there is one aspect of George's personality that we will remember, it's that it was nearly impossible to convince him of anything. He was incredibly stubborn and was always determined to convince everyone that he was right. However, it was this stubbornness and determination that allowed him to survive World War II, endure a marriage of over 65 years, live to be 95, raise 5 kids, and have a successful career. George Romanowski was a man filled with pride, fearlessness, and determination. It was these attributes that propelled him to live to the age of 95. Most importantly he had a positive attitude that allowed him to always believe he would succeed. As Winston Churchill said, "Attitude is the little thing that makes a big difference." Ryan Romanowski Grandson of George Romanowski Son of Ed Romanowski January 25, 2020 Dear Ed, Ron and family, It was with great sadness that I learned of your father's passing. I had the pleasure of having a coffee with him in Winnipeg some years ago. Your dad was a man with great faith, much pride and much love for his family. He was one of the last post WWII immigrants and veterans who contributed so much to our church and community. He was a man who earned the respect of anyone who knew him. I'm always at a loss at such times to come up with words to adequately express sympathies on the loss of a loved one, particularly a parent but from my experience, I can only say that comfort, strength and closure to ease the feelings of sadness and grief will come in the days ahead through the memories of the fondest moments shared with your father. May you also find comfort in knowing that your father is in the very best of company . . . with God. My prayers are with you and your entire family. Wieczny odpoczynek racz mu dac Panie, a Swiatlosc Wiekuista niechaj mu swieci na wieki, wiekow. Amen God bless. John Majowski and Family Calgary, Alberta My Personal History of Daddy G.'s Life EARLY LIFE AND ARMY by Ron Romanowski, son George was born in Oleszewicze Poland (now Belarus) in 1924. Dad spent his early life on the farm with his family in the bucolic activities inherent in the seasonal life of a farm. One of Dad's stories was that he and the whole family were going to the town and as they were leaving Dad's dad dropped the keys by accident. But wouldn't you know it. Their farm dog found the keys and caught up with their horse-drawn wagon, and they got their keys back. Of course, they had to take the dog along then. And in the town the dog was just wide-eyed looking around. He had never seen so many people all at once before. In September 1939 Dad's life changed forever with the start of World War II. The Soviet Army, in their pact with Nazi Germany, invaded Dad's part of Poland and took him prisoner. With them he learned the automobile mechanics trade. (Years later Dad would generously say somehow maybe he should be thankful he learned that trade which helped him earn a living the rest of his life.) Later when the Soviets switched sides and joined the Allied Forces, including Great Britain, Dad marched from Siberia with 100,000 other Poles who had been freed to join the British Forces in Egypt. They journeyed from Siberia, where the Soviets had held them, through Asia and Persia and into Egypt to join the Polish Corps of the British Army. They trained to invade and free Italy from Fascist and Nazi occupation. Dad fought with the Polish Corps up the boot of Italy. Their most famous battle was that of Monte Cassino where the Polish Army finally got to revenge Hitler's Fascist invasion of Poland by taking a large part in the defeat of the German Army holding out at the famous monastery. Dad was wounded twice in battle during the Italian campaign, once as a motorcycle messenger. After the War the Soviets did not want the Polish Army to come back to Poland so that they could complete their takeover of Poland into communism with as little opposition as possible. Dad arrived in Canada November 11, 1946 when offered sanctuary here. He soon fell in love with Canada. He came to Winnipeg and lived here for seventy-three years. And we love him and miss him and treasure all the stories of his life, and there are so many in his ten decades of life.
Viewing
10:30 am
Monday, January 27, 2020
St. Anthony of Padua (WK, Burrin)
250 Burrin Avenue
Winnipeg, Manitoba, Canada
Mass of Christian Burial
11:00 am
Monday, January 27, 2020
St. Anthony of Padua (WK, Burrin)
250 Burrin Avenue
Winnipeg, Manitoba, Canada
Share Your Memory of
GEORGE
Who We Are:

Cropo Funeral Chapel was founded in 1957. We are an independent family-owned funeral service and cremation provider.

Our Locations:
1442 Main Street
Winnipeg, Manitoba
R2W 3V7 Canada
(204) 586-8044
1800 Day Street Transcona
Winnipeg, Manitoba
R2C 1E8 Canada
(204) 224-8044
Proudly Serving:

Proudly Serving the Communities of Winnipeg, surrounding area, and the communities of Manitoba.
Contact Us:

Phone: (204) 586-8044
Toll Free 1-888-586-8044
Email: info@cropo.ca
Phone: Transcona: (204) 224-8044