1442 Main Street, Winnipeg, Manitoba
1800 Day Street, Transcona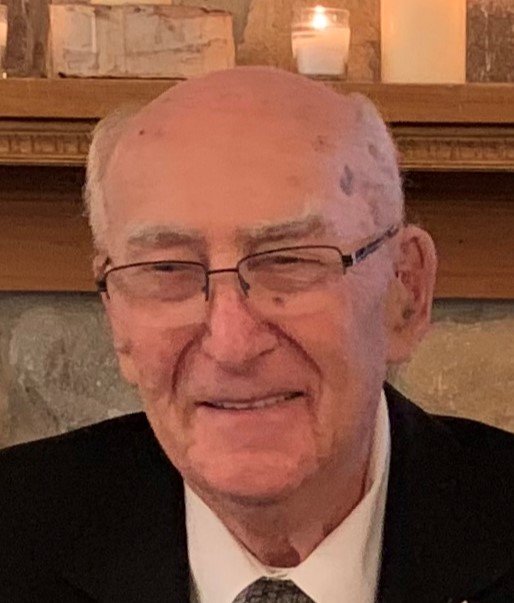 Obituary of DONALD THOMAS LANG
DONALD THOMAS LANG Quickly and quietly, on Monday, December 30, 2019, dad entered God's grace, reuniting with our mom. Born January 3, 1934, to Paul and Anna Lang, dad joined his family of brothers Clifford and Leonard and would later welcome sisters Joan, Jeannette, Jean and Susan. Dad attended St. Joseph's Catholic School and later went on to finish his schooling at St. John's Tec. He always spoke lovingly of his North End neighbourhood and the people who made up his community. His eyes sparkled as he shared many moments of mischief and adventures from his younger years. Dad married the love of his life, Dorothy Klinger, on September 19,1959 at St. Joseph's German Roman Catholic Church. In the early years of their marriage, mom and dad were heavily involved in their parish, working with the area youth in the Catholic Youth Organization (CYO)and continuing on to their community work at the Boscoe Indian and Metis Friendship Centre where they made many lifelong friends. Their work in the church continued throughout their lives. They often welcomed parish and visiting priests into their home for homemade meals around the dining room table. During those times great discussions about faith, the Church and day to day living filled the air, encouraging us from a young age, to keep our faith relevant and tied to our daily lives. Dad and mom even proudly attended the ordinations of a few of the seminarians they had befriended. Following in his father's footsteps, dad belonged to the Parochial Society and sat on the Finance Committee until his recent retirement. He was a familiar face at the lectern as a reader at Saturday evening Mass and later became one of the first Eucharistic Ministers in the parish. Dad was instrumental in starting the St. Joe's BINGO, which successfully financed the construction of a much-needed hall that serves the parish to this day. He worked tirelessly for the Majestic Alps Pavilion, running errands during the day and stayed tucked away in the office those hot summer evenings before, during and after Folklorama. For many years, dad and mom were volunteers at St Joseph's Residence, portering residents and assisting with Mass, often 'adopting' residents along the way who had no close family, by gathering them for coffee and treats and showering them with love and attention. In his later years at River Ridge, dad continued his ministry to the Roman Catholic community by initiating and leading a weekly liturgy service and coordinating the monthly Mass. During their 56 years of marriage, mom and dad welcomed children Colleen, Ron, Sandra and Leslie. Dad was central in our lives, taking us skating and tobogganing, to hockey practice, piano and dance lessons, for Sunday drives and picnics, during bathtimes and bedtimes, complete with foot rubs, bedtime stories and prayers. It's hard to imagine how he found the time for the never-ending yardwork and home repairs that always awaited him after a full day's work, yet he did. In retirement, Dad took great pride in planning, planting and pruning his garden, tending to mom's flowers and counting the yearly crop of God's little green apples on their Morden Apple tree which would find their way into pies, kuchens and strudels in all our homes. Dad delighted in his grandchildren; watching them grow, providing guidance and celebrating successes. For the many wonderful things he did for us, his children, he did ten-fold for his grandchildren. In recent years his love only increased as he added great-grandchildren to his family. Dad spent his career lifetime with CN Rail, going back to night school to secure his appraiser's certificate and cherished the opportunities to travel to the western and northern extent of CN's expanse, allowing him the views and vistas that found their way into his paintings in his retirement years. In their later years, dad devoted his time to mom, supporting and caring for her throughout her declining health. They celebrated 56 wonderful years together before her passing in January of 2016. Dad's community of new friends at River Ridge encouraged him to re-find his life and in the past 3 years, he found a new zest for living through painting, performing skits and songs, making his rounds through the dining room with his daily jokes and becoming the Emcee for entertainers and events throughout the year. Each day started with a warm greeting of "you ladies look lovely today" and sometimes even included a few of the guys who vied for attention. During that time, dad also re-found love with the companionship of his special friend Virginia. With a sparkle in his eye, a smile on his lips and a spring in his step, he truly enjoyed his last golden years. As a final act of kindness, dad has given of himself, offering the gift of sight to two recipients through the Misericordia Eye Bank. Hopefully they will see the beauty of God's world through his eyes. Dad was predeceased by his wife Dorothy (nee Klinger); parents Paul and Anna Lang, brothers Clifford, Frank (in infancy) and Leonard; mother-in-law Rose Klinger; brothers-in-law Lloyd Atkins, Steve Nagy, Joe Blei and John Klinger; sisters-in-law Florence Lang and Audrey Lang. Dad is survived and lovingly missed by his children Colleen Irwin (Ian and Christina Irwin, Reid Irwin), Ron Lang (Daniel Lang, Deanna and Chris Hastings, Jayden, Daxen, Eli, Xavier and Xander) Sandra Lang-Donald and Bill Donald (Emma and William Donald) and Leslie and Tony Fiorino (Tony Jr Fiorino). Also left to mourn are sisters Joan Atkins, Jeannette Nagy, Jean Lang and Susan (Dick) Peacock; sisters-in-law Anne Klinger, Mary Blei, Theresa (Erhard) Meier; many cherished nieces and nephews; special friend Virginia Prokopanko; and a wealth of new and lifelong friends. The family would like to thank the staff at St. Boniface Hospital ER for their quick and compassionate care, the Pastoral Care team for their kindness in attending to dad and our family; to the many wonderful specialists and teams who administered to dad's medical needs over the years; to the St. Boniface ICMS unit whose knowledge, skill and care gave us four extra years of special time with dad; to Dr. Mark Boroditsky and Marietta at Pritchard Farm Health Centre and the amazing team at Co-op pharmacy for the wonderful care they provided to dad on an ongoing basis and who accepted our whole family in dad's healthcare team; to dad's special homecare angels, and finally for the wonderful support and care provided by the staff at River Ridge over the last four years. Mass of the Christian Burial will be celebrated on Tuesday, January 7, 2020 at 11:00 a.m. With Rosary being said at 10:30 a.m. at St Joseph's Roman Catholic Church Mountain Ave. and Andrews St. with Reverend Boguslaw Wardzinski officiating Reception to follow immediately after Mass. Private family interment to follow at a later date. Flowers gratefully declined. If so desired, donations can be made to the St Boniface Hospital Foundation in memory of Donald Thomas Lang. Dad was a lifelong blood donor - please consider donation. The best way to honour dad's legacy is to offer a simple word, gesture or act of kindness to someone each day.
Rosary
10:30 am - 11:00 am
Tuesday, January 7, 2020
St. Joseph's RC Church
355 Andrews Street
Winnipeg, Manitoba, Canada
Mass of Christian Burial
11:00 am
Tuesday, January 7, 2020
St. Joseph's RC Church
355 Andrews Street
Winnipeg, Manitoba, Canada
Share Your Memory of
DONALD
Who We Are:

Cropo Funeral Chapel was founded in 1957. We are an independent family-owned funeral service and cremation provider.

Our Locations:
1442 Main Street
Winnipeg, Manitoba
R2W 3V7 Canada
(204) 586-8044
1800 Day Street Transcona
Winnipeg, Manitoba
R2C 1E8 Canada
(204) 224-8044
Proudly Serving:

Proudly Serving the Communities of Winnipeg, surrounding area, and the communities of Manitoba.
Contact Us:

Phone: (204) 586-8044
Toll Free 1-888-586-8044
Email: info@cropo.ca
Phone: Transcona: (204) 224-8044