1442 Main Street, Winnipeg, Manitoba
1800 Day Street, Transcona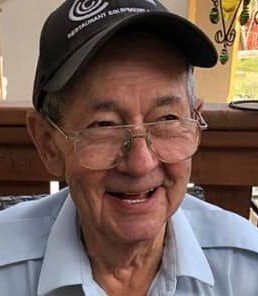 Obituary of JOSEPH PIERRE VICTOR BACON
JOSEPH PIERRE (PETER) VICTOR BACON
JOSEPH PIERRE (PETER) VICTOR BACON, age 90, passed away on November 5, 2019. Born to Louis and Henrietta Bacon (nee Amyott) in Ste. Anne, Quebec and raised on his Father's farm in Abitibi. He was predeceased by his wife of 61 years, Jacqueline Bacon (Gingras), and his siblings Louise, Yvette, Rachel, Denis, Gilles and is survived by his elder sister, Thérèse Mongrain (95).
Being raised on a Farming and Logging Ranch, Peter rode big Red to school in the summers, and a dog sled in winter. He became as a Lumberjack as was his father at the age of 16. At 21 he became a Forest Ranger for Abitibi County and enjoyed the wilderness from a lookout tower. He spoke fondly of these times, and the friends he made. In 1954, like so many other young men he enlisted in the Army as part of the Royal Canadian Electrical & Mechanical Engineers RCEME, again following in the footsteps of his father who fought as foot soldier in the Great War. Peter, though was trained as a Field Mechanic. He chose his release in 1960 in Winnipeg to settle down and raise a family. It is there he made his home and worked as a Mechanic for various shops; Triangle Auto Supply, Autolec, Piston Ring Services, and Canada Auto in the city until in retirement in 2003. He and his wife, were known at various Catholic churches, St. Patrick's, St. Peter's, Holy Rosary and Our Lady of Perpetual Help. After retirement, he became a valuable and daily part of the Team at his son, Denis's business, Central Restaurant Equipment Services Inc.
Many of his neighbors and his children will always be grateful for the work he did on their vehicles and appliances and the wood work that he gave willingly. He was for many years the Weston neighborhood an avid gardener and handyman. He taught each child how to play cribbage and monopoly, made them all fresh cut fries and fudge. He had recently found a group of new friends joining the card and coffee groups at his new home Manitoba Eastern Star Chalet, Independent Living Center. He would rarely miss a night handing out sweets and playing cards with these great friends. If you were part of the family, he made sure you knew how to play cards, fish, and swim, ride a bicycle, plant vegetables and use a hammer and nail. These legacies and love of the outdoors have continued on to his grandchildren.
Peter leaves his family including his son Denis and wife Monique, his daughter Marie Louise and her husband Phillip Totten, his granddaughters, Samantha Lavitt, Elizabeth Lavitt (Tyler), Danielle Lavitt and Victoria Bacon (Taylor) and new great-grandson Kane, his grandsons, Jesse Parrott (Sarah), Deon Yakiwchuk, as well as numerous relatives' nieces and nephews throughout Quebec
Peter will always be remembered, his gift of life and passing has been celebrated by many that surround him. In lieu of flowers or gifts, donations may be directed to the Our Lady of Perpetual Help Church, Winnipeg or other charitable orgnaization.
JOSEPH PIERRE (PETER) VICTOR BACON, 90 ans, est décédé le 5 novembre 2019. Né de Louis et Henrietta Bacon (née Amyott) à Sainte-Anne, Québec et élevé sur la ferme de son père en Abitibi. Il est précédé par son épouse de 61 ans, Jacqueline Bacon (Gingras), et ses frères et sœurs Louise, Yvette, Rachel, Denis, Gilles et survécu par sa sœur, Thérèse Mongrain (95 ans).
Élevé dans au ferme d'agriculteurs et d'exploitation forestière, Peter a monté un cheval, Big Red, à l'école en été, et un traîneau à chiens en hiver. Il est devenu bûcheron comme son père à l'âge de 16 ans. À 21 ans, il devient garde forestier pour le comté d'Abitibi et apprécie la nature sauvage et local à partir d'une tour de guet. Il parlait affectueusement de ces temps, et les amis qu'il faisait. En 1954, comme tant d'autres jeunes hommes Quebecois, il s'enrôle dans l'armée dans le cadre du RCEME des ingénieurs en électricité et mécaniques du Canada, toujours sur les traces de son père qui a combattu comme fantassin pendant la Grande Guerre. Peter, cependant a été formé en tant que mécanicien de campagne. Il choisit sa libération en 1960 à Winnipeg pour s'installer et élever une famille. C'est là qu'il a fait sa maison et a travaillé comme mécanicien pour divers entreprises au Winnipeg; Triangle Auto Supply, Autolec, Piston Ring Services, and Canada Auto, jusqu'à sa retraite en 2003. Lui et sa femme ont travaillé dans des églises catholiques, Saint-Patrick, Saint-Peter's et Holy Rosary, et Our Lady of Perpetual Help. Après sa retraite, il est devenu un membre estimé de l'équipe de l'entreprise de son fils, Central Restaurant Equipment Services Inc.
Beaucoup de ses voisins et ses enfants seront toujours reconnaissants pour le travail qu'il a fait sur leurs véhicules et appareils électroménagers et le travail du bois qu'il a donné volontairement. Il a été pendant de nombreuses années le bricoleur dans la quartier de Weston, et un jardinier passionné . Il enseignait à chaque enfant comment jouer au cribbage et au monopoly, en faisait toutes les frites fraîches coupées et le sucre a la creme. Il avait récemment trouvé de nouveaux partenaires pour jouer cartes au son nouvelle résidence, Chalet de l'Eastern Star Manitoba, Centre de vie indépendant. Si vous faisiez partie de la famille, il s'est assuré que vous saviez jouer aux cartes, pêcher et nager, faire du vélo, planter des légumes et utiliser un marteau et un clou. Son apprécié du plein air vont partsage à ses petits-enfants.
Peter laisse dans le deuil, sa famille, qu'y compris son fils Denis et sa époux Monique, sa fille Marie et son mari Phillip Totten, ses petites-filles, Samantha Lavitt, Elizabeth Lavitt (Tyler), Danielle Lavitt et Victoria Bacon (Taylor) et le nouvel arrière-petit-fils Kane, ses petit-fils, Jesse Parrott (Sarah), Deon Yakiwchuk, comme il'y a ainsi que de nombreux parent, nièces et neveux à travers le Québec.
Aucun enterrement ou service commémoratif n'aura lieu a Winnipeg. On se souviendra toujours de Pierre, son don de vie a été célébré par beaucoup qui l'entourent. Au lieu de fleurs ou de cadeaux, les dons peuvent fait à Our Lady of Perpetual Help, Winnipeg, ou un autre groupe de bienfaisance.
Share Your Memory of
JOSEPH PIERRE
Who We Are:

Cropo Funeral Chapel was founded in 1957. We are an independent family-owned funeral service and cremation provider.

Our Locations:
1442 Main Street
Winnipeg, Manitoba
R2W 3V7 Canada
(204) 586-8044
1800 Day Street Transcona
Winnipeg, Manitoba
R2C 1E8 Canada
(204) 224-8044
Proudly Serving:

Proudly Serving the Communities of Winnipeg, surrounding area, and the communities of Manitoba.
Contact Us:

Phone: (204) 586-8044
Toll Free 1-888-586-8044
Email: info@cropo.ca
Phone: Transcona: (204) 224-8044