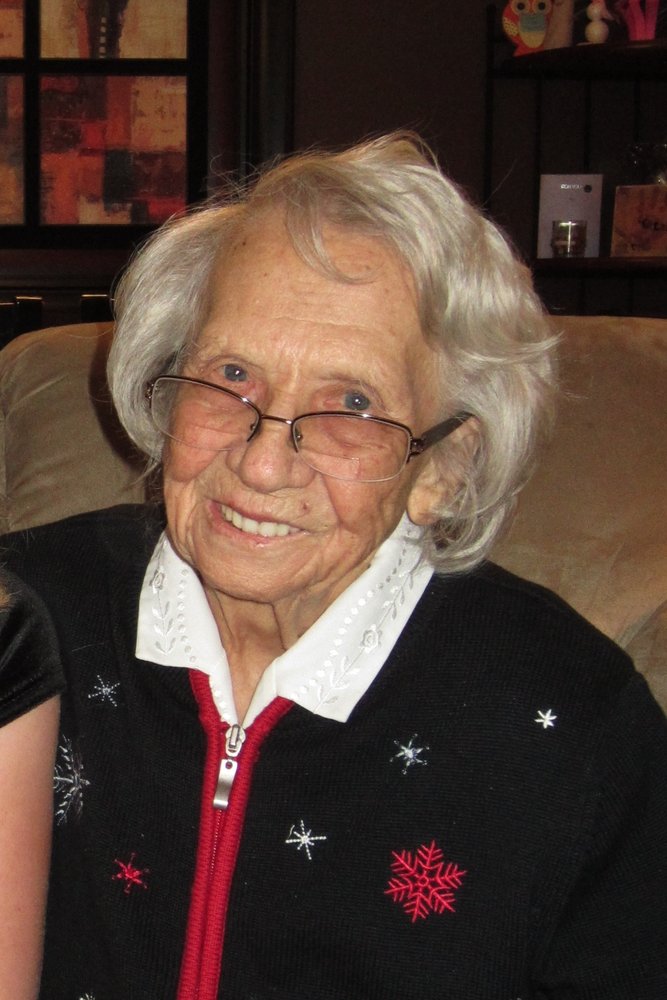 Obituary of JOZEFA PIETKIEWICZ
JOZEFA PIETKIEWICZ
(NEE PALGAN)
On June 10, 2018 our beloved Mother and Nana passed away peacefully at Misericordia Place surrounded by her loving family.
Jozefa was born May 16, 1924 to Jan and Bronislawa Palgan in Kozuw, Poland the eldest of three girls.
At the age of 19 Jozefa was taken from her family by German Nazis to the village of Stada in Hamburg, Germany. There she endured the trials as a forced labourer until the end of WWII. She would not be reunited with her family for over 30 years.
In 1947, opportunity presented through the Catholic Church to immigrate to Canada. Along with her girlfriends, she set off to Winnipeg to work on contract in The Misericordia Hospital housekeeping department.
Once their two-year contract ended, she and her girlfriend Jadzia travelled to The Annapolis Valley in Nova Scotia. It was there she met and married her husband Benedykt Pietkiewicz in May 1949. They later returned to Winnipeg, where they raised their family on Jessie Ave in Fort Rouge.
Over the years, she continued to be employed as a housekeeper in office buildings, private homes and ultimately retired from The Winnipeg Municipal Hospitals.
Jozefa leaves to cherish many fond memories, her daughter Helen (Domenico) Cerasani and son Henry (Betty) Pietkiewicz. She was a beloved Nana to Dina (Ed) Gesualdo, Tony (Ann) Cerasani, Andrea (Collin) Funk, Tara (Neil) Crockford and great-grandchildren Jessie and Gabriela Gesualdo, Chloe and Payton Crockford, Maya and Remo Cerasani, and Elliot and Jackson Funk.
Jozefa was a devout Catholic and longtime member of the Catholic Women's League and the Rosary Sodality. She was one of the last founding members of The Royal Canadian Legion #246 Ladies auxiliary.
So very many cherished times were spent with her grandchildren, who smile as they reminisce about sleepovers at Nana's. She spoiled them with elaborate made-to-order breakfasts of waffles, crepes, and banana shakes. She was the funnest babysitter ever!
She loved her family and worked tirelessly knitting and crocheting beautiful items for them, and preparing dozens upon dozens of cabbage rolls and perogies, which were quite simply the best.
To say Jozefa had a green thumb would be a huge understatement. She took immense pride in watching every seedling flourish, and was always surrounded by a jungle of plants and flowers.
She led a long full life with travels to Poland, Italy, Mexico, and regular bus trips to Shooting Star Casino with friends.
Jozefa enjoyed many happy years living at Villa Nova, where she made many friends. Special thank you to June and Armando Nasuti who were a tremendous support, especially during her last few years there.
Jozefa passed away peacefully under the care of an incredible group of people on MP2 at Misericordia Place. You cannot possibly understand how indebted we are to each of you for the love and compassionate care you gave our beloved Mom and Nana. Helen and Henry already feel a huge void no longer seeing you all each and every day. You were truly like family to us. Equal are our sentiments of gratitude to the staff on Cornish 6 at Misericordia Health Center, where she also received outstanding care during her interim placement.
God bless you all!
Mass of Christian Burial will be celebrated on Saturday, June 16 at 10:00a.m. with Rosary and Viewing commencing at 9:30a.m. at Holy Ghost Roman Catholic Church, 341 Selkirk Avenue. Interment to follow in Holy Ghost Roman Catholic Cemetery.
In lieu of flowers, donations may be made to Misericordia Health Center Foundation (99 Cornish Ave) or Holy Ghost Church Cemetery Fund, (342 Pritchard Ave).
Rest In Peace sweet Mom and Nana. You were loved so very much. Although you no longer live amongst us, you will live forever in our hearts.
WIECZNY ODPOCZYNEK RACZ JEJ DAC PANIE