Contact Us Anytime
(204) 586-8044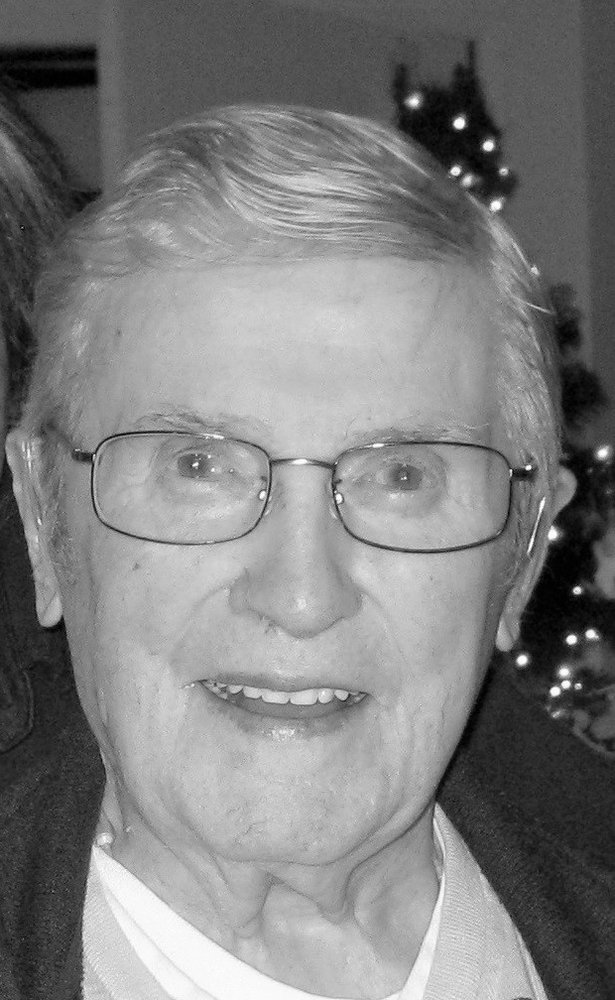 Obituary of ARTHUR ALEXANDER MURPHY
ARTHUR ALEXANDER MURPHY
Born April 14, 1917. Died April 8, 2018; a week before his 101st birthday. Art proudly lived to an older age than his parents James Murphy and Isabella Gardiner Murphy (later Milne), and his siblings Sarah (Sister Augustina, SSJ), Bill, Jim, Nora Warden, Patrick, and Kae Hobbs.
The Murphy family emigrated from Dundee, Scotland circa 1911, settling in Winnipeg's west end; living on streets such as Toronto, Bannerman, Arlington, and St. Paul. James Murphy drove a horse-drawn milk wagon for Crescent Creamery. Isabella worked as a domestic. They believed strongly in the value of education. The Murphy kids went to St. Edward's School and the boys to St. Paul's High School. Jim, Pat and Art all achieved success as business owners.
Art's lifetime passion for pharmacy started at age 11. The Murphy brothers stocked shelves and swept floors at Harman's Drug Store, Portage at Sherbrook. Art's dream was to be "on the wheel" – delivering prescriptions by bicycle.
Art was working a summer job in a drug store at Wasagaming, Clear Lake, when he was called to active duty in the Royal Canadian Navy. Throughout World War II, he served on North Atlantic convoy escorts between North America and England. Lieutenant Arthur Murphy also served on the Murmansk Run, a dangerous convoy route north from England into the Arctic Ocean, delivering war materials to the Soviet Union. These missions were so dangerous, there were strict orders no ship was allowed to stop, even to rescue sailors who fell overboard.
Like many of his generation for whom the chaos, horror, destruction and death of World War II seemed endless, Art married in haste in 1944. Despite difficult family circumstances, Art was a diligent and generous provider. He took his three daughters to Santa Claus parades and Shrine circuses, to City Park picnics, the zoo and the Red River Ex. He built a swing set in the yard, carried buckets of hot water to fill rubber swimming pools, cooked burgers on a tri-pod charcoal barbeque, and held onto the seats of bicycles as his daughters learned to ride two-wheelers. On Sunday afternoons, Christmases, Boxing Days, Easters and all the other holidays, the family piled into the car to visit grandparents, aunts, uncles and cousins. During New Year's Eve family parties, Art was always the "first footer". In keeping with Scottish tradition, he braved minus 40 temperatures to run around the outside of the house and enter by the front door; a gesture to ensure good fortune for the coming year.
In 1946, Art opened Murphy's Drug Store on St. Mary's Road at Barrington Street. The mud road intersection was truly the end of the line; the turn-around point for street cars and later trolley buses. For 40 years, Murphy's was a landmark, with many long-term employees. Working at Murphy's was a rite of passage for countless St. Vital high school students; girls at the front counter and delivery boys "on the wheel" in the Murphy's red VW bug.
Murphy's Drug Store was Art's real home; the place where he was most relaxed, the place he was happiest, and the hub for his family. It was "Dad's store" and "Grampa's store" - the place where he welcomed his children and grandchildren. He slipped his grandkids quarters to buy candy, allowed them a favourite soft drink from the cooler, and let them read the endless supply of comic books.
Art was known in the community for his consistent kindness and compassion. No customer of Murphy's Drug Store ever did without medicine just because they couldn't afford it. When Murphy's closed in 1986, hundreds of people came from miles around to shake Art's hand and wish him well. Art continued his legacy of customer care and community service at Shoppers Drug Mart on Dakota Street. He retired due to changing health in 2007, months before his 90th birthday. For the rest of his life, he rarely went into a local business without someone recognizing him and wanting to shake his hand (and ask his advice).
Following the end of his marriage, Art sustained relationships with his daughters; providing them with love and support throughout their own adult trials and tribulations. Art had a particularly strong and unshakeable bond with his daughter Barbara. For 25 years, they visited back and forth between Winnipeg and Victoria, shared laughs in Vegas, picked rocks on the beach at Gimli, and never tired of shakes and fries at The Half Moon.
As for his grandchildren – Art's love for them was beyond measure. His supply of chocolate bars was endless. He was legendary for taking his kids and later his grandkids (Robyn Roscoe, Jodi Murphy, Jamison Roscoe, Yvonne Grey, Trista Warren) to the Red River Ex. No ride was too scary for Grampa Murphy! Well into his 90s, he was known to get up before dawn so he could watch great-grandson Rowan Cherkas play hockey.
In the early 1990s, Art found his love for the ages with Ida Selman, a friend from bygone days. The beauty of their relationship was being "all about what they could do for each other"; finding joy and happiness in the simplicities of everyday life. For 25 years, their evening ritual was holding hands while watching television.
Art loved sports. As a kid, he played pick-up baseball games in the open fields of Winnipeg's west end. He played high school football and hockey. For a time, he was an avid curler at St. Vital Curling Club and regularly golfed at courses around town. For many years he went to Blue Bombers home games and Grey Cups, and sat centre ice for the original Winnipeg Jets. There was never a moment when he didn't believe in and cheer for Winnipeg's home teams.
Art appreciated the amazing care he received from his health care team; led by Dr. Kevin Coates and pharmacy staff at Shoppers on Dakota. Until recently, Art lived in his own apartment, thanks to strong support provided by Veterans Affairs Canada. He always expressed appreciation for kindly home care workers and hospital staff. During his final days at Grace Hospital, Art showed respect for, and earned respect from, Dr. George Borrett, Dr. Ralf Macek, and the 5th Floor Angels.
Memories of Art are treasured by Ida Selman, Barbara Murphy, the extended Murphy and Selman families, friends and countless people whose lives were touched by his kindness and wisdom.
Art Murphy's presence made the World a better place. We need more like him!
As Art directed, there will be no formal service. Instead, all who knew him are encouraged to get together and share their Art Murphy stories; over coffee, a glass of wine, or as part of a friendly hello. Stories about Art's life can also be shared with his family through the Cropo Funeral Chapel website.
A Memorial Tree was planted for ARTHUR
We are deeply sorry for your loss ~ the staff at Cropo Funeral Home


Share Your Memory of
ARTHUR
Proudly Serving:
Proudly Serving the Communities of Winnipeg, surrounding area, and the communities of Manitoba.
Who We Are:
Cropo Funeral Chapel was founded in 1957. We are an independent family-owned funeral service and cremation provider.