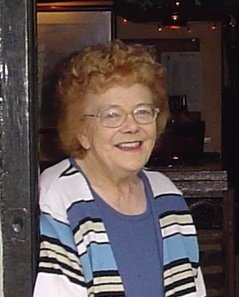 Obituary of MARGARET (PEGGY) SHUTE
MARGARET (PEGGY) SHUTE
(nee Larry)
August 22, 1923 – September 23, 2017
Our beloved mom Peggy, at 94, peacefully passed away at Lions Manor.
Mom will be dearly missed by her sons, Rodger (Eltie Pearce) & Philip; grandchildren Charles, Arthur, Eltie, George (Shannon); Malcolm (Daniella), James, & Vanessa; great-grandchildren Maya & Gabby; her sister Maureen Larry & brother Michael Denning (Anne), & other family and friends.
Mom was predeceased by her husband Denis & her parents Fred & Ethel Larry.
Peggy & Denis married in 1943 and lived a full life in England after the war, then emigrating to Toronto in 1956, then retirement in 1988 with a move to Winnipeg to be near their sons & grandchildren. Our mom worked steadily, in and outside the home. She worked 29 years at Toronto Hydro & had many good friends and engaged in social activities. Travel was also part of Mom's life and she & Denis often went back to England to visit family. All her life she sewed and knit up a storm: sweaters, scarves, blankets, and more, until her declining eyesight made it impossible. Peggy was at her happiest when she would cook dinners for her whole family, & enjoyed having her beloved family gathered round her. She was the rock we all relied on for support, always loving & offering her kind advice. Peggy had excellent health, and only recently had issues, but her resilience and strength kept her going. She was fortunate to be able to stay in her own home until a few weeks ago, thanks to the support of her family. Thankfully her illness was short, though her life was long and full. Mom, you always were a beautiful, generous, intelligent woman, and we will love you always.
A Celebration of her life will be held on Thursday, September 28, 2017 at 2:00 p.m at Cropo Funeral Chapel, 1442 Main St. Winnipeg, MB.
Wishes can be sent on the website cropo.com