1442 Main Street, Winnipeg, Manitoba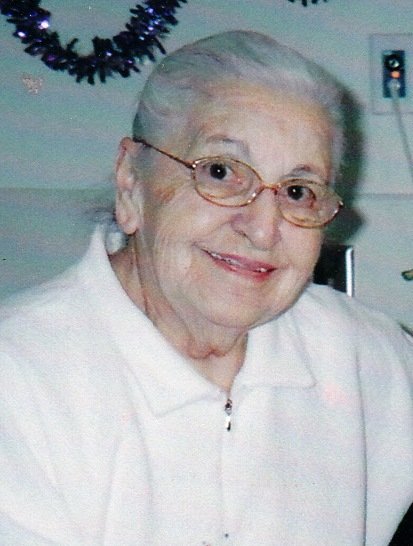 In Memory of
ELSIE MORALEWICK
Wednesday, May 10, 2017
Obituary of ELSIE MORALEWICK
ELSIE MORALEWICK
It is with great sadness and sorrow that we announce the passing of our best friend and mother Elsie Mary Moralewick on May 10, 2017 at the tender age of 88.
She was predeceased by her husband Steve (Moralewick) in 2016 at the tender age of 91; her parents John and Lillian (Wagner); five brothers Freddie, Harvey, Johnny, Eddie and David.
Elsie leaves to mourn her three daughters Linda, Judy (Kevin) and Patsy; five grandchildren, Cheryl (Darrin), Darcy (Blake), Shelley, Tim (Ainsley), Jeffrey (Michelle); five great-grandchildren, Matthew, Emily, Anthony, Alex and Mackenzie; one great great granddaughter Nellie; sister-in-law Shirley; brother-in-law Bill Kirk; also many nieces and nephews.
Interment of cremated remains will be on Tuesday, August 15 at 1:00 p.m. at Holy Ghost Cemetery, 4387 Main Street.
I am standing upon the seashore. A ship, at my side,
spreads her white sails to the moving breeze and starts
for the blue ocean. She is an object of beauty and strength.
I stand and watch her until, at length, she hangs like a speck
of white cloud just where the sea and sky come to mingle with each other.
Then, someone at my side says, "There, she is gone."
"Gone where?"
Gone from my sight. That is all. She is just as large in mast,
hull and spar as she was when she left my side.
And, she is just as able to bear her load of living freight to her destined port.
Her diminished size is in me -- not in her. And, just at the moment when someone says, "There, she is gone," There are other eyes watching her coming, and other voices ready to take up the glad shout, "Here she comes!"
And that is dying...
-Henry Van Dyke
The pain is gone and no longer will you suffer. Until we meet again.
We love you Mom.
Thank you to all staff on 3rd floor, Unit 5 at Seven Oaks General Hospital for all the care and compassion.
Who We Are:

Cropo Funeral Chapel was founded in 1957. We are an independent family-owned funeral service and cremation provider.

Our Location:

1442 Main Street
Winnipeg, Manitoba
R2W 3V7 Canada



Proudly Serving:

Proudly Serving the Communities of Winnipeg, surrounding area, and the communities of Manitoba.
Contact Us:

Phone: (204) 586-8044
Toll Free 1-888-586-8044
Email: info@cropo.ca