1442 Main Street, Winnipeg, Manitoba
1800 Day Street, Transcona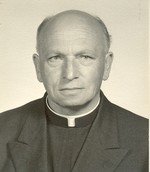 In Memory of
Fr. PANCHYSHYN
Saturday, January 17, 2009
Plant a Tree
Obituary of Fr. PANCHYSHYN
FR. VOLODYMYR PANCHYSHYN (1913-2009) Fr. Volodymyr Panchyshyn, the son of Illya and Tekla, was born on July 23, 1913 in Zhovkva (Lviv region) of Ukraine. He attended public school and high school in his native town. After the fifth grade, he entered the novitiate of Basilian Fathers in Krekhiv and began his preliminary studies for the priesthood. Two years later he returned home and completed his high school (gimnaziya) privately. Upon graduation he entered the major seminary in Peremyshl. His studies were interrupted by the Bolshevik invasion in 1939. For the next two years he worked in his native town as medical assistant, then in the notary's office as the registrar. During the German Invasion in June 1941 his father was forced to join the Red Army. His father became a German prisoner and spent 9 months in detention camps. Miraculously, his father's family managed to obtain his release from the death camps. From May 1942-July 1943, Volodymyr completed his theology studies in Peremyshl and on July 18, 1943, he received the Sacrament of Ordination from Blessed Josaphat Kotsylovsky in the Peremyshl Cathedral. The same year he was appointed as the parish assistant for Fr. Ivan Khudyk in Shmytkiv-village near Belz, Ukraine. When the pastor died, he became the parish administrator. After the war, he was forced to flee eastward with thousands of other threatened Ukrainians. One of the Basilian Fathers from Khrystonopil helped Father Volodymyr to escape and assisted him in obtaining new travelling documents. The Sisters Servants (SSMI) then smuggled Father Panchyshyn, first to Kholm, and then to Warsaw. By hiding during the day and walking throughout the night, Father slowly crossed Slovakia and eventually arrived in Western Germany. At the border Father was apprehended by the border guards who wanted to send him back to the Soviet system. Instead, Father spent 6 difficult weeks in a Chekh prison, but after much struggle finally escaped to freedom. In Germany, Father ministered as pastor, first in French zone - Pirmazents, then in Bavaria, in Berchtesgaden and finally in Kornberg. Through the untiring efforts of Bishop Ladyka OSBM, Father Volodymyr immigrated to Canada on November 15, 1947. While he was in Germany, it had been pre-arranged with the Sister Servants that he would become the chaplain of their novitiate in Ancaster, On. For this he received a special blessing from Bishop Vasyl. After being hosted for a week in Winnipeg, Father was appointed to assist Fr. N. Chorniy in Vita, MB. Later Fr. Chorniy was transferred to Rosa whereas Father Panchyshyn remained in Vita as the pastor. In May 1951 Father was appointed to Gilbert Plains/Grandview district. Father then fulfilled the following pastoral positions - in December 1955 to Winnipegosis; in October 1959 to Rosa and finally in May 1961 to Pine River. On November 24, 1963, on his way to celebrate Liturgy in Cowan, MB, Father was hit by a truck and sustained a serious knee injury forcing him to recover for 6 weeks in Dauphin Hospital. In 1970 Father once again experienced more serious surgery at St. Boniface Hospital and a sustained recovery period. Due to some post-surgical complications, Father Panchyshyn asked Metropolitan Hermaniuk to remove him from active pastoral duties. The Metropolitan agreed and in December 1978 Father began a much-deserved retirement. He continued to happily reside in this small Ukrainian community of Pine River. Because of greater health issues, Father Volodymyr transferred to Winnipeg in March 2005 and was cared for by the Sisters of St. Joseph at Blessed Virgin Mary Ukrainian Catholic parish. Finally in the fall of 2007 he moved to St. Paul's Nursing Home under the care of the Sister Servants of Mary Immaculate in Dauphin, where he resided until his death on January 17, 2009. Priestly Parastas will be held on Thursday, January 22 at 7:00 p.m. at St. Joseph's Ukrainian Catholic Church, 250 Jefferson Ave. Divine Liturgy will be celebrated on Friday, January 23 at 10:00 a.m. also at the Church with Metropolitan Lawrence Huculak officiating. Interment will follow in Holy Family Cemetery.
Who We Are:

Cropo Funeral Chapel was founded in 1957. We are an independent family-owned funeral service and cremation provider.

Our Locations:
1442 Main Street
Winnipeg, Manitoba
R2W 3V7 Canada
(204) 586-8044
1800 Day Street Transcona
Winnipeg, Manitoba
R2C 1E8 Canada
(204) 224-8044
Proudly Serving:

Proudly Serving the Communities of Winnipeg, surrounding area, and the communities of Manitoba.
Contact Us:

Phone: (204) 586-8044
Toll Free 1-888-586-8044
Email: info@cropo.ca
Phone: Transcona: (204) 224-8044