1442 Main Street, Winnipeg, Manitoba
1800 Day Street, Transcona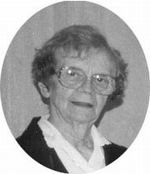 Obituary of Sister Lavoie
Soeur Edna Lavoie Soeur Edna Lavoie (Soeur Marie St-Victor) nous a quitt�es � St-Boniface, le 30 avril 2008 � l'�ge de 94 ans dont 73 ans de vie religieuse chez les Missionnaires Oblates de St-Boniface. Edna naquit le 29 juin 1913 � St-Boniface, la 4e d'une famille de 9 enfants dont 7 filles et 2 gar�ons. Son p�re Ad�lard Lavoie est n� � St-Eustache, MB et sa m�re Anna Lamontagne est n�e � Rivi�re-du-Loup, QC. Soeur Edna laisse dans le deuil outre les membres de sa congr�gation religieuse, deux soeurs: May Beauregard (Hertel†) et Maria Chr�tien (Donat†), sa ni�ce pr�f�r�e Donna Lavoie de Brandon, sa petite ni�ce Paula Ryan de St-Albert, AB et de nombreux neveux, ni�ces et ami.e.s. L'ont pr�c�d�e dans la tombe, ses parents, quatre soeurs Anna, Alfreda (d�c�d�e en bas �ge), Alfreda (M�deric Poirier†), C�cile (Paul Poirier†), deux fr�res L�o (Connie Fr�nette†) et Victor (Betty Thomas†). Les pri�res seront mardi, le 6 mai 2008 � 14 h 00 en la chapelle des Missionnaires Oblates au 601, rue Aulneau, Winnipeg, MB. Les fun�railles auront lieu le m�me jour, au m�me endroit � 19 h 00. Le P�re Albert Bouffard, omi pr�sidera la c�l�bration. L'inhumation des cendres aura lieu jeudi le 8 mai 2008 � 10 h 00 au Cimeti�re St-Boniface de la rue Archibald. La direction des fun�railles est confi�e au salon Mortuaire Cropo. Si vous d�sirez, vous pouvez faire un don en m�moire de S. Edna Lavoie au Centre de Renouveau Aulneau, 601, rue Aulneau, Winnipeg, MB, R2H 2V5. Le Centre de Renouveau Aulneau est une des oeuvres des Missionnaires Oblates de St-Boniface. Sister Edna Lavoie Sister Edna Lavoie (Sr Marie St-Victor) passed away in St. Boniface on April 30, 2008 at the age of 94 years. She was a member of the religious congregation of the Missionary Oblate Sisters of St. Boniface for 73 years. Edna was born in St. Boniface on June 29, 1913, the fourth child of a family of 9, 7 girls and 2 boys. Her father Ad�lard Lavoie was born in St. Eustache, MB and her mother Anna Lamontagne was born in Rivi�re-du-Loup, QC. Sr Edna leaves to mourn her passing the members of her religious congregation, her two sisters, May Beauregard (Hertel†) and Maria Chr�tien (Donat†) her favorite niece Donna Lavoie of Brandon and her great-niece Paula Ryan of St. Albert, AB along with many nephews, nieces and friends. She was predeceased by her parents, four sisters Anna, Alfreda (at a young age), Alfreda (M�deric Poirier†), C�cile (Paul Poirier†) and two brothers L�o (Connie Fr�nette†) and Victor (Betty Thomas†). The prayers are on Tuesday, May 6, 2008 at 2:00 p.m. in the chapel at 601 Aulneau Street, Winnipeg, MB. Funeral service will be held on the same day at the same address at 7:00 p.m. Father Albert Bouffard, omi, will preside the celebration. Interment of the ashes will take place on Thursday, May 8, 2008 at 10:00 a.m. in the St. Boniface Cemetery on Archibald Street. Cropo Funeral Chapel is in charge of the funeral arrangements. Donations in memory of Sister Edna Lavoie may be sent to the Aulneau Renewal Centre, 601 Aulneau Street, Winnipeg, Manitoba, R2H 2V5. The Aulneau Renewal Centre is a counseling centre founded by the Missionary Oblate Sisters of St. Boniface. CROPO FUNERAL CHAPEL 586-8044


Share Your Memory of
Sister
Who We Are:

Cropo Funeral Chapel was founded in 1957. We are an independent family-owned funeral service and cremation provider.

Our Locations:
1442 Main Street
Winnipeg, Manitoba
R2W 3V7 Canada
(204) 586-8044
1800 Day Street Transcona
Winnipeg, Manitoba
R2C 1E8 Canada
(204) 224-8044
Proudly Serving:

Proudly Serving the Communities of Winnipeg, surrounding area, and the communities of Manitoba.
Contact Us:

Phone: (204) 586-8044
Toll Free 1-888-586-8044
Email: info@cropo.ca
Phone: Transcona: (204) 224-8044