Recommend THERESE's obituary to your friends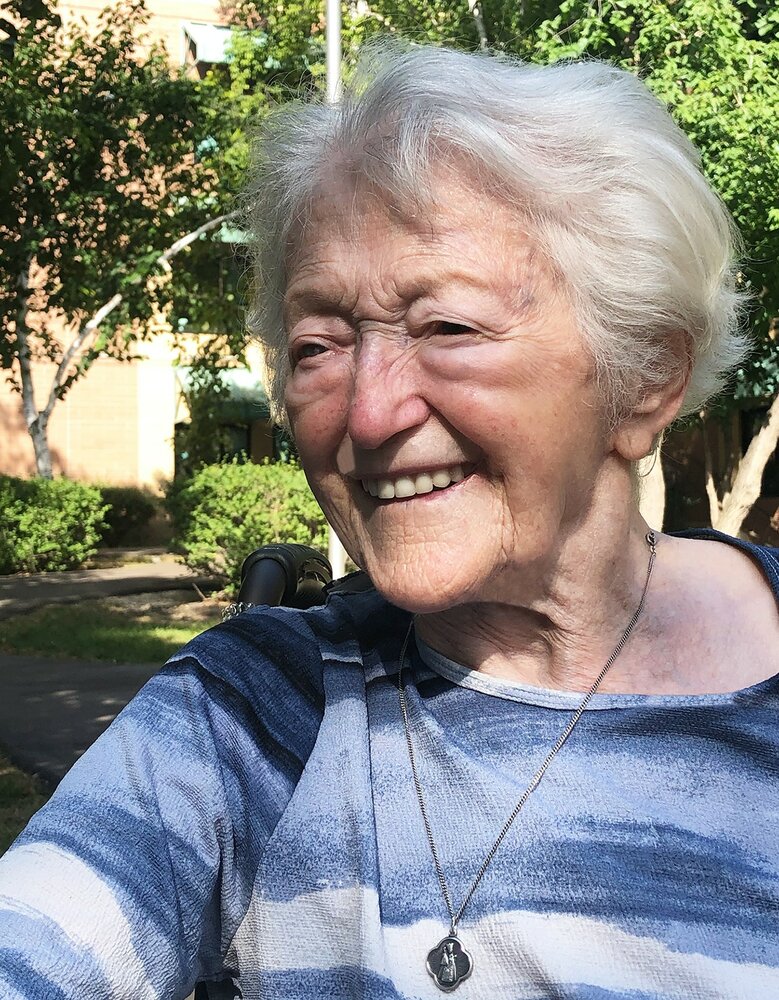 Obituary of THERESE MOHR
Therese Mohr
(nee Adam)
October 18, 1930 – September 29, 2023
Therese (Resi) passed away peacefully on September 29 at Kildonan Personal Care Centre, surrounded by her loving family. And lo, the bed-light flickered as she began her flight: a gentle, cosmic ripple as light returned to light.
She was born October 18, 1930, in Niedernkirchen, Bavaria. The third of five children, she grew up in war-torn Germany. Those hard times were made more difficult by the sudden and early death of her father. But her mother was a strong woman and taught the children the value of family, faith, and culture: lessons that helped them overcome many hardships. They remained true to each other throughout their adult lives.
She met her husband, Alois Mohr in Germany, and in 1958, joined him in Winnipeg where they married and raised their two daughters: Maria and Martina. She nurtured the girls' cultural identity through involvement in German choir and dance, and she and Alois developed many friendships through the German Hall and their years at Camp Neustadt.
Resi was a consummate host and homemaker, and 446 Roberta was a place of celebration, song, and wonderful food. She prepared and presented German cuisine with old-world charm; her blaukraut, griessnockerl, and knödel mit schwammelsosse (to name a few) were 'to die for'. Meals began with grace, a raised glass, and a hearty 'Mahlzeit!' Many were welcomed and fed at that table. The yearly festive times were especially important to Resi: the joy and peace of her home during the season of Advent warmed the heart. These times were especially important when celebrated with her grandchildren, whom she loved fiercely … and who demonstrated the same in return.
Resi's faith was important to her. After her husband's passing in 1992, she became more involved in parish life at St Alphonsus Church. She worked at the Thrift Store, helped with perogies, and brought communion to the sick. She attended Mass every morning and enjoyed the companionship of her church friends. She loved gardening, and in true Bavarian style, enjoyed an afternoon stroll in the forest with the hope of finding a mushroom or two. Simple pleasures brought her great joy, the greatest of which was spending time with her family.
Therese was predeceased by her husband Alois, parents Alois and Anna, siblings Marl, Franziska and Alois, and her mother-in-law Sofia. She will be forever remembered by her family, Maria (John Cox), Martina (Gord Korne), grandchildren Elissa (Stewart Mattis), Stephanie (Brad Jorgenson), Bernard (Catherine Guzman), Sebastian (Maddy Martin), Ambrose (Mikala Matias) and great grandchildren Lea, Shea, Griffin and Benjamin. She is survived by her brother Franz Adam and many beloved nieces and nephews in Germany. The family extends a sincere thank you to the staff at Kildonan Personal Care Centre for their care of and attentiveness to Therese in her final years.
A funeral liturgy will be celebrated on Friday, October 13 at 11 am at St Alphonsus Church (corner of Brazier and Munroe). Pfiat di Gott Omi!
Funeral Liturgy
11:00 am
Friday, October 13, 2023
St. Alphonsus RC Church
Munroe and Brazier
Winnipeg, Manitoba, Canada