Recommend JOSEPH's obituary to your friends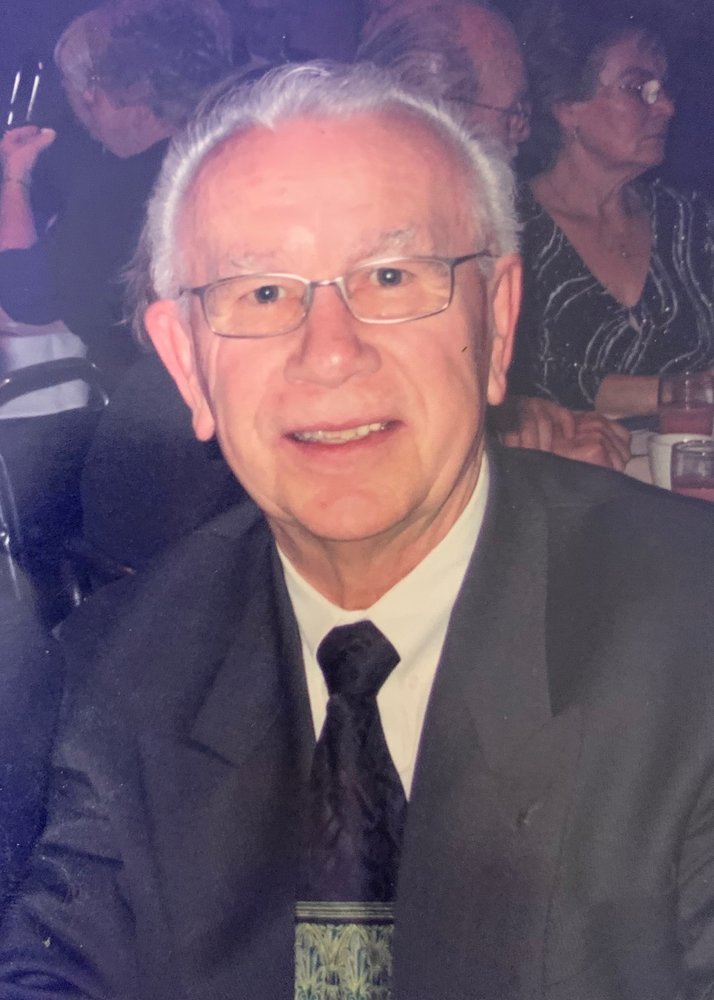 Obituary of JOSEPH LEOPOLD KNOLL
Dec. 18, 1933 to Feb. 21, 2021
Joseph Knoll, beloved husband, Dad and Opa, passed away in Concordia General Hospital of a massive stroke and advanced dementia.
He was born in a small German town near Krakow, Poland, in 1933, while the war clouds presaging WWII were already gathering. His family was soon forced to evacuate, becoming refugees like millions of others in Europe. They eventually, somehow, found themselves in the beautiful Altmuehltal in Bavaria at the end of the war. Joe was able to finish his schooling there, becoming a machinist.
The family, consisting of his parents Lorenz and Mary and his two sisters, Ludwiga and Susan, immigrated to Winnipeg in 1951. Joe found employment at Universal Printers, as bindery foreman for the next 25 years, a job he enjoyed.
Like virtually all German new-comers, he and his buddies would head to the German Society each Saturday for the terrific dances that took place there for many decades. Untold numbers of young couples met and fell in love there, and so it happened with Joe and the young woman who would become his wife, Regina. They would have celebrated their 65th wedding anniversary this coming October.
Marriage and three children later, he became partners with an old friend from Germany, Erhart Meier, in a bakery on Selkirk Ave., the Donut House. A dozen good years and hard work followed until the partnership dissolved and Joe was able to retire at age 53. The next decades were taken up with extensive travel all over the world, by plane, by bus, by car, in warm places in the winter (California, Florida, the Middle East, South America, Mexico, Hawaii, Turkey, Egypt, the Caribbean), and much of Europe or North America in the spring or fall; unforgettable are whole-family holidays during Spring Break in Florida and Palm Springs and the very special trips he made with each of the boys, in their teens, to Europe so that they could learn a little about their German origin.
The summer months were spent at their beloved cottage at Hnausa, with the best friends one could ever want, with wild volley ball games, bonfires, picnics, afternoon coffees and parties, everlasting friendships and, always, music.
Joe is survived by his three loving children and their families:
Karen (Richard) and her sons Kevin and Derek Abs (Megan and Shelby);
Bruce (Noreen) and his sons Matt and Brett (Jen and Sydney) and Emily;
Jeff (Cande) and their son Jesse in Coquitlam.
Plus, assorted family dogs and cats, which includes Mitzi, his last little love who enriched what was left of his life enormously for the past year.
He also leaves many nieces and nephews in Winnipeg, Calgary, Kelowna and Pitt Meadows, all of whom he loved and who loved their Uncle Joe.
One of Regina's sisters survive him as well: Gisela and Dieter Howald, of Kelowna, were more than sister and brother-in-law, they were also the best of friends and often holidayed together.
Joe's whole life, which he considered a very happy and lucky one, centred around his three beloved kids, everything he did, every plan he made. Because his own childhood had been so full of misery and danger, he did everything he could to make theirs better. He loved them with all his heart and was overjoyed to eventually become the grandfather of five big, strong, smart, handsome and loving grandsons.
Joe was predeceased by his parents, his sister's Lu (Tony Meier), Susan (Willi Fiedler and Otto Fiedler) and her son Herbert; Regina's parents Conrad and Theresa Weingaertner and her younger sister Rose and husband Oskar Abendschoen, Joe's golfing partner. They, too, were more than just relatives, they were travel partners on many unforgettable trips plus fellow cottage owners in Hnausa.
Joe was a member of St. Joseph's Church, the Skat Club of the German Society and was president of Kolping Winnipeg for more than 20 years. He was always dependable, conscientious and did his best in everything. We are thankful to have had him with us for so long, and will find a way to celebrate his life when it is safe to gather together again.
Thank you to our much maligned but, in actual fact, wonderful health care system who did their best for him, and to all those who reached out to mitigate our sorrow, but he is in a far better place now, with many people who loved him. God bless him and keep him.
In lieu of flowers, donations may be made to the Alzheimer's Society of Manitoba.