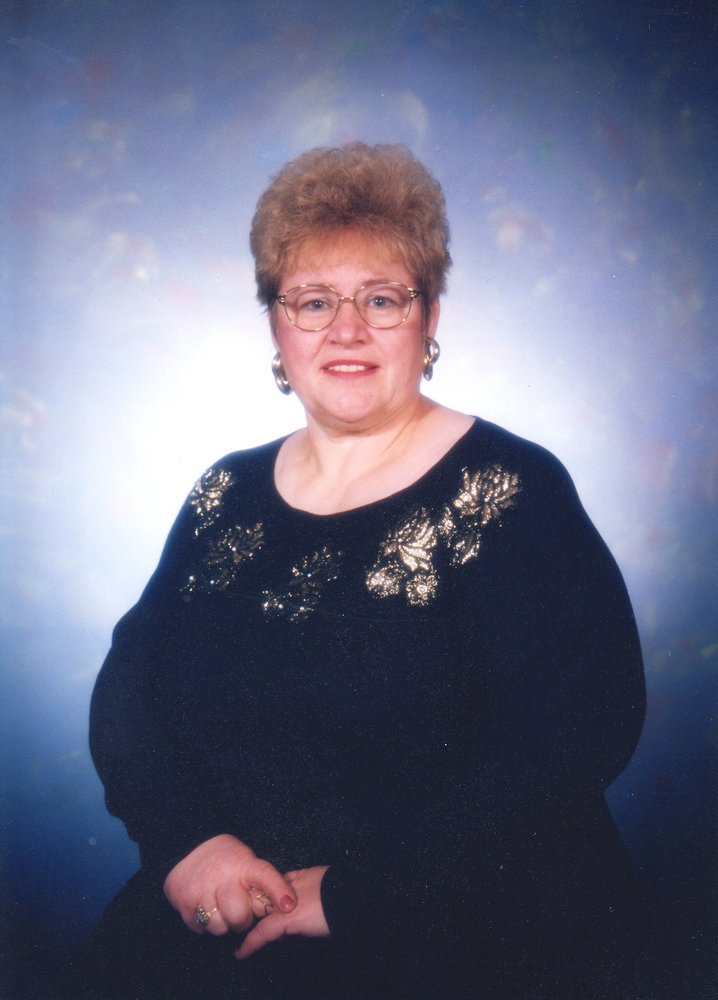 Obituary of DONNA KROWIAK
DONNA KROWIAK (nee Horodynski)
May 4, 1946 – February 20, 2017
Peacefully, surrounded by loved ones, we are saddened to announce the passing of our loving mother and babcia (grandmother), Donna Krowiak at Riverview Health Centre on Monday, February 20, 2017 at the age of 70. With our loss, heaven has gained a beautiful angel, with a heart of gold.
Donna was born in Lubaczow, Poland, to Wanda and Michal Horodynski. She leaves behind to cherish her memory, two exceptional children: her son, Paul (Jana) Krowiak and her daughter, Renata (Pat) Lelliott and three wonderful grandchildren: Kurtis and Shayla Krowiak and Laura Lelliott. She will also be dearly missed by her sisters: Mary Wojciechowski, Elizabeth Halabus, Celina (Bill) Thater, Anne (Robert) Schaffer and Valentine (Paul) Szun; sister-in-law: Donna Horodynski; god-daughter: Elaine Popove; and numerous nieces, nephews, cousins and friends. She also leaves to cherish her memory, extended family and friends across Canada, the United States and Poland.
Donna immigrated to Canada in December of 1964 at the age of 18 with her parents and siblings, following her grandparents who began to establish roots here in 1928. She travelled to Halifax by boat and then to Winnipeg by train. She completed high school in Lubaczow, Poland and while in school, she was a speed skater for four years. After arriving in Winnipeg, she worked as a sewing machine operator, sewing pants at Western Glove for two years in order to support her parents and family. During that time, she was also a librarian and ran the library at SPK. She then moved onto a farm, where she raised her two children. She had a house built in Warm Mineral Springs, Florida, where she enjoyed many warm breaks from Winterpeg. She furnished two homes, a side-by-side and sewed all the curtains for them. She planted many palm trees, along with orange, grapefruit, lemon, papaya and kumquat trees. The house was called "Donna Winn". She had made many friends in the area who would visit her while she was there, along with all her Winnipeg friends who would also "visit her there" or "visit there with her". Her door was always open and her place was known for its social gatherings, get-togethers and parties. There was never a need to be invited or to call in advance if you were going visit. Donna volunteered and got involved, even when she was on holidays. She was a member of and on the social committee for the Polish-American Society of Venice, in Florida. She organized cultural events and was the Master of Ceremonies for their 5th Anniversary Dinner, where she shared a poem that she had composed for the occasion. Beginning in 1989, she decided to take an evening class, Upgrading English Language, at James Nisbet Community School. She was always creative and had a love for flowers, which led her to become a floral designer. She managed to do all the fresh flower arrangements for her son's wedding in 1991 out of her apartment on Leila Avenue and Sinclair Street and managed to store all of them in her neighbors' refrigerators. She worked for numerous florists until April 22, 1992, when she received a permit to open her own business, Floral Sensations by Donna. Opening the business was made possible, as a result of the support and assistance from her sister Elizabeth and brother-in-law Richard, which she was very thankful for. Their support allowed her to start this business out of their renovated garage. When you were inside, you would never know that you were in a garage. She designed and created the flowers for her daughter's wedding in 1993 at this location. That tiny seed grew into a blooming enterprise, when she purchased a building on 943 McPhillips Street at Redwood Avenue in 1994. At that time, she began a correspondence course in Floral Design, out of Montreal. She graduated with honours and a final grade of 100%. She designed many unique and sometimes unusual creations for many people, even some famous ones. She had the "magical touch" when decorating for weddings, especially in the churches and at receptions. Many brides-to-be and future brides requested that Donna do the flowers for their weddings and most were fortunate to have her create the extraordinary arrangements for them. Some brides considered Donna as the "flower girl" at their wedding. The "Wedding Day" was usually too much for one person to handle and Donna was greatly appreciative of the help she would receive from family and friends. She was known for and very good with the finishing touches, which may not have been a lot, but it made a world of difference to the client. She operated this amazing floral shop until 2002, when she sold the business due to her health. Many people spoke of her amazing work and she was particularly missed by many brides after the sale. She then considered herself to be semi-retired, but still enjoyed making her famous ribbon roses (right until her last days), corsages and boutonnieres, silk arrangements, wedding bouquets as well as head-pieces for the Polish School of Dance SPK Iskry where her daughter and son danced and currently where her granddaughter Laura dances. During retirement, she loved to keep busy by decorating her balcony for every occasion and holiday at her apartment on Leila Avenue, which she was known for. Her family was always there to help her out if she needed assistance with the decorations and when she was not able to be out there herself due to her illness, she was the "drill sergeant", directing others from the other side of the patio door, making sure it was exactly the way she wanted it.
Donna had the opportunity to travel back to her homeland, Poland, twice in the 52 years since she came to Canada. Once in 1974 and the last time five years ago in 2012. For her 65th birthday, Donna received a gift for a trip to Poland from her daughter's family and they all travelled to Europe for a month. Donna, Renata, Pat and Laura visited friends in Olsztyn and friends and family in her hometown, Lubaczow. They rented a van and Donna drove everywhere. After two weeks of visiting, they all went on a 10 day bus tour and visited three countries. The tour took them to Warsaw and Krakow in Poland; Prague in the Czech Republic and to Vienna in Austria. She was very happy to go on this trip and she was appreciative of this opportunity to go back "home" for this visit.
Donna's love for helping others had her involved with numerous organizations and volunteering. Most of this took place in the Polish community while raising her two children. She was involved with the Polish Combatants Association Branch No. 13; the Polish School of Dance SPK Iskry and the Polish Dance Ensemble SPK Iskry, helping with concerts, travelling with the group, making costumes and "wianki" (head pieces) and helping with stage decorations. She was also the VIP Hostess and Bus Tour Coordinator for Folklorama at the Warsaw-Poland Pavilion for numerous years since its inception in 1970; the Holy Ghost Roman Catholic Church; the Polish Gymnastic Association Sokol No. 1, specifically with the Sokol choir and dancers where she made costumes, helped with stage decorations, travelled with the group and was a hostess for special events; she volunteered at special occasions for the Society of St. John Cantius and Holy Ghost Fraternal Aid Society; she was a committee member for the Polish Press "Czas" for their 75th Anniversary Dinner; she was part of the Canadian Polish Business and Professional Club, mainly with "Dozynki" (Polish Harvest Festival) and other Polish festivals; and she was involved in the Canadian Polish Congress-Manitoba Division with organizing "Academia" (3 May, 11 November, etc), dances, Miss Polonia Pageant and Miss Polonia Ball. She was involved with the Polish Saturday School and served on the Parents Committee as President where she brought books from Poland for a number of years and signed them individually from "Komitet Rodzicielski" (the Parents Committee) for each student at year-end. She organized "Pisanki" (Easter egg decorating) classes, picnics, dances, gatherings and helped with dance school costumes and head pieces. She organized "Kukielki" (a puppet show) and made all the puppets for the show. She was involved with "Harcerze" (Polish girl guides and boys scouts) and "obozy" (camps) in the Big Whiteshell. She was so proud of renovating the outhouses there while painting the wooden doors with her special touch. She volunteered at the Folk Arts Council of Winnipeg and Folklorama Inc. (Head Office) as a Tour Guide with the bus tours for over 30 years. She received her Local Tour Guide Certification from the Manitoba Tourism Education Council (MTEC), after writing an examination and participating in their pilot project. Donna was known for providing each guest on the bus, a ribbon rose flower. When guests were seen wearing these flowers at the pavilions, everyone knew Donna was around. Donna also volunteered at Tourism-Winnipeg as a VIP (Visitor Information Person). She would display a yellow sign in her car window saying "TOURIST NEED HELP – STOP ME". She had information handouts for tourists visiting our great city. She also lended a helping hand to the Seven Oaks Hospital Foundation by decorating for their Annual Fundraising Dinner and Banquet which was held at the Convention Centre. Donna got involved with the Department of Labour, where she was employed for six months to learn labour legislation for purpose of supporting newcomers to Canada who were becoming part of the work force. This allowed her to assist the Polish community in understanding Canadian Labour Law, by translating brochures on the rights of employer and employee, from English to Polish. She was a member of the St. James Horticultural Society and the Women Business Owners of Manitoba. In 1995, Donna was named Woman Entrepreneur of the Year, by the Women Business Owners of Manitoba. She also volunteered with the municipal, civic, provincial and federal elections a few years ago. Donna was a member of the Forever Young Club, which she loved. She enjoyed sitting at the front door greeting people when they attended their monthly dances and enjoyed just being the social butterfly that she was.
Another highlight of her life was 4-H which was a division of the Department of Agriculture-Youth Section in Manitoba. Along with her children, she began this journey at the local club, the Stony Mountain 4-H Club where she was an Assistant Leader and a Club Leader. She was a representative of the Stonewall District 4-H Council, Vice-President and President of the Interlake Regional 4-H Council and President of the Provincial Manitoba 4-H Council. She travelled throughout Canada with 4-H and was also involved with the 4-H Foundation. While she was President of the Provincial Manitoba 4-H Council in 1988, 4-H celebrated their 75th Anniversary of 4-H in Canada, which was born in Roland, Manitoba. The 75th included a three day Canadian celebration in Winnipeg, Roland and Portage la Prairie, each of which, Donna had the opportunity to speak at, as the Manitoba 4-H Council President.
Donna had a positive outlook on the North End of Winnipeg, the area where her family first settled when she came to Canada and also the area where she set up her floral business. When the North End Community Renewal Corporation (NECRC) held a contest to design a logo and motto, Donna was the winner. The motto she submitted was "The sun will shine on the North End again". She said she had that vision almost 17 years ago and she believed it.
Donna loved to travel throughout Canada and the United States by car (where she was the pilot), bus or air. Some memorable destinations included Florida, Poland, Las Vegas, and Chicago, along with cruising the Caribbean and Alaska. She loved taking her mom and her friends for Sunday drives everywhere and it didn't have to be a Sunday to go for a drive. Any day was a "Sunday" and no destination was too far, as she loved to drive. She also enjoyed bingo and word searches, which she worked on until recently, along with cooking for her family. Donna, Mom, Auntie Donna…she was famous for all her soups, especially her potato soup and borscht, mushroom gravy, hamburgers, "chlopski garnek" (a man's pot of stew) or as her son-in-law Pat would say "whoopski garlic", aloha chili, thai noodle salad, horseradish beets, creamy sweet onions, rhubarb jam, cherry jam, cracker pudding dessert with cherry topping and her famous walnut torte. She would often cook for her family and friends and she would even deliver the food to them. We are all going to miss this feast and service. She always looked forward to watching the news, America's Got Talent, Miss Pageants, The Bachelor and Bachelorette along with game shows like The Price Is Right and Family Feud, as well as the Lawrence Welk Show. She enjoyed listening to Bobby Vinton as well as his recordings, when she couldn't hear him live. Attending performances by Andre Rieu, Tommy Hunter and Bobby Vinton, were all highlights for her. She was a fan of listening to the radio, and enjoyed listening to Polish Radio and the Polka Party. The Holy Ghost Church Mass on the radio, allowed her to participate, when she wasn't able to physically be there. She took cake decorating and oil-painting classes which she enjoyed immensely. Donna enjoyed writing poems in Polish and English, which she was very proud of. They all rhymed and had meaning. She also loved ballroom dancing and she even took lessons. Donna was always excited to go to the forest to pick blueberries and mushrooms, visit strawberry patches and pick cherries from her sister's neighbor's trees, although with permission.
Donna was a generous and giving person who helped many people and never expected anything in return. She was a very special lady who lived a simple life but made an extraordinary difference in the lives of her family and friends and those around her.
Donna was predeceased by her mother Wanda in 2015, her father Michal in 1987, her brother Victor in 2004, her sister Alicja in 1946, her grandmother Elizabeth in 1966 and grandfather Michael in 1961, her brother-in-law Richard in 2015, her cousin Bolek in 2008, her aunt and godmother Emilia in 1993, her aunt Anda in 1928, and her uncle Jan during the war along with other extended family in Poland.
The family would like to thank all the staff at Riverview Health Centre in the palliative care unit, 3E wing, for all their loving care during her recent, short stay, as well as the staff at Seven Oaks Hospital, for the care and compassion that they provided over the past two years.
Prayers will be held on Thursday, March 2, 2017 at 7:00 p.m. at Holy Ghost Roman Catholic Church, 341 Selkirk Avenue. Mass of Christian Burial will also be celebrated at the Church on Friday, March 3, 2017 at 9:45 a.m. Interment to follow at Holy Ghost Cemetary at 4387 Main Street.
As expressions of sympathy if family and friends so desire, you may consider a donation to the Holy Ghost Roman Catholic Church, CancerCare Manitoba or a charity of your choice in loving memory of our dear mother and babcia, Donna.
Wieczny odpoczynek racz jej dac Panie, a swiatlosc wiekuista niechaj jej swieci. Amen. Eternal rest grant unto her, O Lord, and let the perpetual light shine upon her. Amen
Rest in peace Mom and Babcia. We love you and you will be missed dearly. Until we meet again.