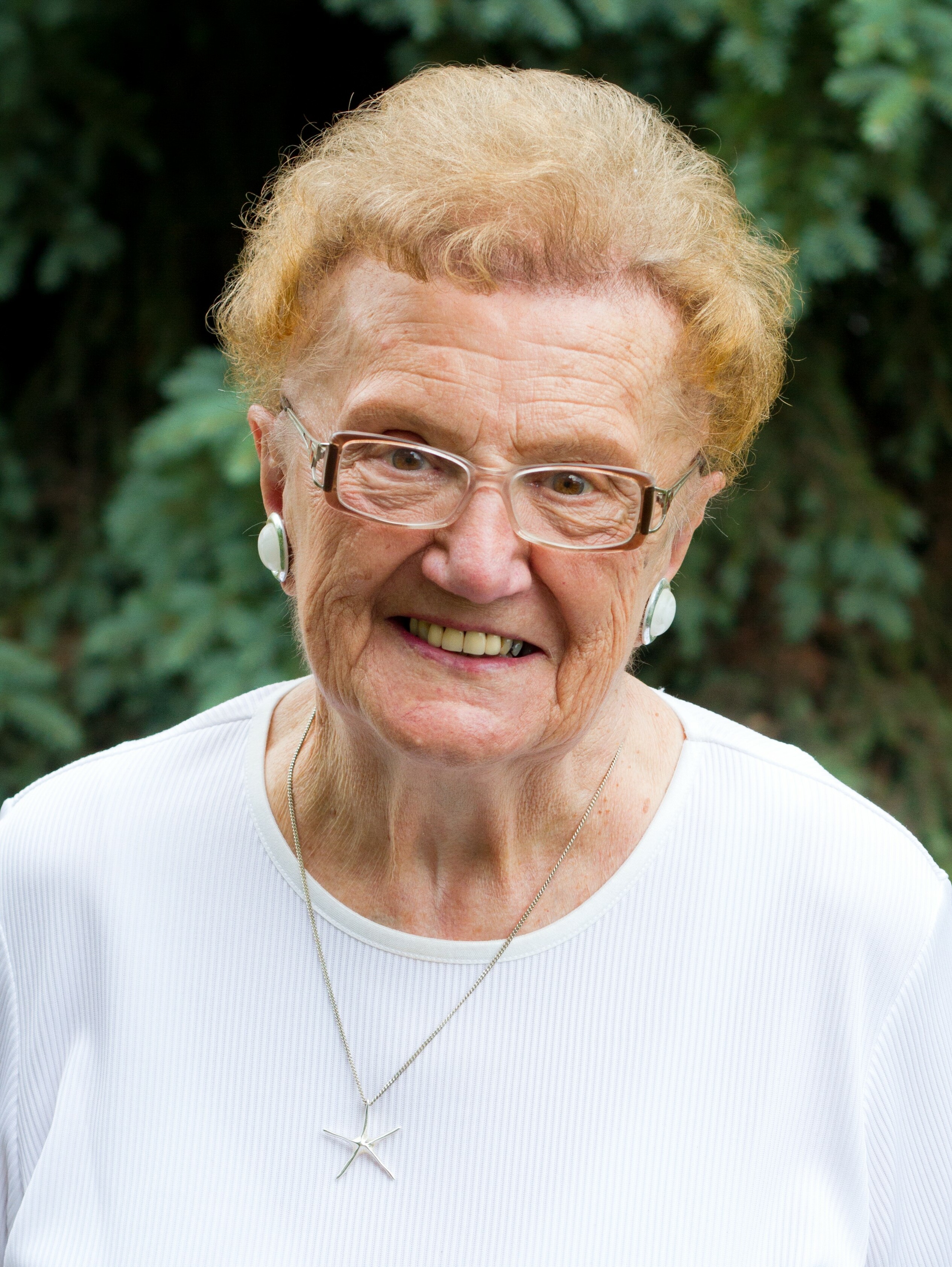 OLGA SHKOLNY
Olga Shkolny
(nee Chelada)
March 5, 1924 - February 27, 2023
We are saddened to announce the passing of Olga (Ollie) Shkolny (nee Chelada), mother, grandmother and great-grandmother, on February 27, 2023 just shy of her 99th birthday on March 5th.
She was predeceased by her beloved husband Michael (Mitch), daughter Joanne, parents Andrew and Annie Chelada, and brothers Walter and Michael (Chuck) Chelada. Also predeceased by special sister-in-law Ollie Chelada; nephew Donald Chelada, and son-in-law Bruce Wierbicki.
Olga is survived by her son Michael and wife Darlene, granddaughters Lorianne Kowaliszyn, husband Tim; and Lisa Folkers, husband Jason; Jennifer Wierbicki (Luis), and great-grandchildren Everett and Madeline Kowaliszyn, and Abigail Folkers.
Mom was a true North Ender growing up on Burrows Avenue with her parents and 2 brothers. Ollie married Mitch in 1945 and settled into their family home also on Burrows Avenue; and just 3 houses away from Mom's parent's home where she grew up. The Burrows abode was the scene of many festive occasions and celebrations particularly at Christmas, Ukrainian Christmas, and Easter. Mom would serve up a feast of the special Ukrainian dishes. Her pyrogies, holubtsi were divine, plus her homemade donuts, prune buns, and khrustyky.
In early years, she was actively involved at St. Mary the Protectress Church on Burrows at Sinclair. She sang soprano in the Rekrut choir for many years. The choir travelled to many Ukrainian churches throughout Manitoba to sing for services. Mom was the last surviving member of that choir.
Ollie was employed by Canada Metal where she started on Logan Ave. and then moved to Wellington Ave. at St. James St. After many years at Canada Metal, Mom stayed home with the family. Later she worked at a part time job at Ideal Drugs on McPhillips St. near home. After that, she came upon a job opportunity with Schultz Furs, now known as the Wonderful World of Sheepskin (Lambskin Specialities). Mom worked there for 27 years. Albert and Lorraine Schultz and family, and co-worker Melvyn Pollins were very special to her.
After retirement, Ollie dedicated countless hours volunteering at Lord Nelson School in the neighborhood, where she affectionately encouraged all of the students to call her "Baba".
She was also a dog-lover, having had many dogs over the years and participating in dog shows with her prized Schnauzer Domino, with assistance from niece Stephanie and husband Lawrence Mazur.
Ollie was able to make several trips to visit her brother and family in Burnaby and Surrey, BC, as well as to Hawaii and Las Vegas.
Mom remained in the family home until 2014 when she turned 90; and then she decided it was time to try something different. So Mom moved a little farther north to River Ridge assisted living residence and resided there until February 2018 when declining health resulted in her being moved into personal care at Holy Family Home.
Many thanks to former neighbours Bill and Florence Sachowski for their assistance while Mom lived in her Burrows home.
Special thanks to the staff at Holy Family Nursing Home, especially staff on St. Joseph's Ward 4A, and to the Sister Servants of Mary Immaculate for Mom's kind and compassionate care for the past 5 years.
Unfortunately over the past 3 years with the impacts of COVID and with the necessary isolation, lockdowns and masking, Mom's capacity and condition lessened. She is in a better place now and reunited with her beloved Mitch after 45 years apart.
As per Mom's wishes cremation has taken place and no service will be held.
In lieu of flowers, donations in Ollie's memory to the Lubov Foundation-Holy Family Home, Heart and Stroke, or CancerCare are appreciated.
VICHNAYA PAMYAT