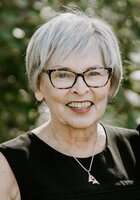 GERALDINE AGNES ANNE FALLIS
GERALDINE FALLIS
Geraldine Fallis passed away on Sunday, February 26, 2023 at the age of 73 after a brief hospitalization and a lengthy battle with cancer.
Left to cherish her memory are her husband Robert, daughters Jennifer and Kristen (Scott), and granddaughter Anna. Geraldine was predeceased by her brother Taras Sokolyk, and her parents Michael and Anne Sokolyk.
Geraldine was born in Vita, MB on March 6, 1949 and grew up in Dominion City, MB. She started her teaching career in DC before moving to Winnipeg. She married Robert in 1970 and spent a happy 52+ years with him. She taught for many years in the Winnipeg School Division and was a gifted Elementary teacher. She loved working with young learners and inspiring them to succeed and was described by colleagues as a wizard getting them to engage in their learning. Upon retirement, you could find Geri in the garden or kitchen. Geraldine loved to cook and experiment with recipes. Her backyard was her playground and she loved to shop for plants and pottery to enhance her yard.
The most important part of her life was her family, particularly her granddaughter, Anna. Geraldine would do anything for her family and was the most kind and giving person. She was extremely proud of her children and their accomplishments. Mom was always there to give advice in gardening, baking, cooking, cleaning, and the occasional dog sitting. Gramma always looked forward to Anna's visits, taking her on excursions, and baking in the kitchen. We could always count on her to make our favourite food and bake any cake we wanted for our birthdays.
A Funeral Service will be held at St. Joseph's Ukrainian Catholic Church, 250 Jefferson Ave, on Saturday, March 4, 2023 at 11 a.m. with Father Dmytro officiating. Interment will follow at Holy Family Cemetery.
The family would like to extend our gratitude to CancerCare MB and HSC staff for their attentive and compassionate care during her illness. In lieu of flowers, donations may be made in Geraldine's memory to Assiniboine Park Conservancy.