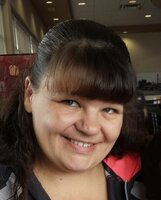 JACKIE LESLEY BERKOWSKI
JACKIE LESLEY BERKOWSKI
February 15, 1978 - February 8, 2023
It is with heavy hearts that we announce the passing of our dear daughter, mother, sister, niece, auntie and friend.
She deeply loved and missed her children Dylan, Hayden, Brayden and Halo. She leaves her parents, Lynn Taenzer (Keith) Bob (Diane) sister Julie (Drew) brother Ben (Katie) and their families.
Jackie was predeceased by her grandparents Ed and Alice Robson, Robert (Bob) Berkowski, Janet Paxton-Berkowski, her brother Bobby and uncle Jack.
Her sassy, wonderful laugh, sense of humour and boldness would touch the heart in some way for everyone who knew her or just met her. Jackie had a love for cooking and music.
Although we will miss her, we know that her struggles have ended and peace has finally found her.
Cremation has taken place, and private family gathering will occur at a later date.
Rest in Peace Jackie.