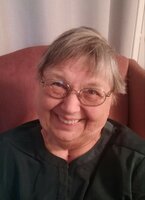 MARGARET DONNA JANUSKA
Margaret D. Januska
1944 - 2023
Margaret Januska, (also known as Donna) was born in Lithuania. She and her parents Vincent and Elena fled due to the war. Her brothers Al and Victor completed their family and they settled in Winnipeg.
Margaret was a natural musician and singer. She easily played the happy Flight of the Bumble Bee on the piano, then moved us with Moonlight Sonata. She played the organ and directed the choir at St Casimir's Church. She played the accordion with Al as a duo for the Lithuanian Folk Dance groups. She loved the opera; both singing in the Manitoba Opera company; and going on expeditions all over North America to attend opera events. Add singing in the Winnipeg Philharmonic Choir and also James Duncan singers at the Hollow Mug, at the International Inn. All this was done with an easy laugh, love, and a sympathetic easy-going nature. In spite of many medical maladies she continued to be optimistic and appreciative of life and her care givers.
"When I die"- she wished for no services to be held. She wanted no one to have to fly around for a service. She said – instead of a service her family and friends, wherever they live, should "say a prayer, plant a tree, raise a glass......" .
Her remains will rest at Assumption Cemetery.