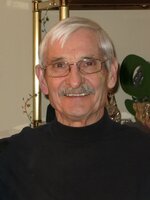 WALTER "Wally" TOSTOWARYK
To join us via livestream FOR PRAYERS (Panachyda) on Jan. 31 at 7:00 p.m. or FUNERAL SERVICE on Feb. 1 use the quick link on the left (or drop down menu on mobile) or utilize the link below (* Sound is auto muted when first joined):
WALTER (WALLY) TOSTOWARYK
February 5, 1934 - January 22, 2023
It is with profound sadness, that the family of Wally Tostowaryk announces his peaceful passing on January 22, 2023 at the age of 88 years. With his family by his side, at the St. Boniface Hospital, Wally took his last breath just as the snow started to fall gently from the sky. Left to cherish his memory are his wife of 64 years, Joan, daughter Tracy, grandson Aaron, granddaughter Sophie, sisters Betty (Ken) and Alice, brother Dennis, sister-in-law Doris, and many nieces and nephews. He was predeceased by his parents Nykola and Wasylka Tostowaryk, sisters Dorothy and Myrtle (Harry), brothers Mike (Elsie), Sydney, George (Lois), and Mytro, siblings Bill and Jenny who died in their first year of birth, son-in-law Steven, sister-in-law Bernice, brother-in-law Bob, and brother-in-law Taras (Evelyn).
Wally was gracious and kind, and generous with his energy and time. He was always willing to lend a helping hand to family, friends, and the community. He was honest and funny, enjoyed dry humor, and went through life with a twinkle in his eye. He loved his family and friends, the outdoors, and home/cottage projects. He was a devoted and doting father, and grandfather. Kids frequently gravitated toward Wally because of his jovial and friendly demeanor, and he could easily engage them in fun activities as well as mundane chores!
Wally was born on February 5, 1934 into a large Ukrainian Canadian family on their farm in Arbakka, MB. He left home to attend high school in Teulon, MB, where he was presented with the Governor General's Academic Award medal upon graduation. He attended teacher's college in Winnipeg, and eventually taught/was a principal at various schools in the province. It was during this time that he met the love of his life, Joan. They were married in Vita, MB in 1958. After the birth of their daughter, Wally received a Bachelor of Science degree in Agriculture at the University of Manitoba in 1963, and a Master of Science degree in 1964.
With his family in tow, they moved to Quebec City for his new job, and then to Ithaca, NY where Wally earned a Ph.D. in Entomology at Cornell University in 1970. Eventually, his career took a new direction in epidemiology with Health Canada in Ottawa, studying the health effects of various agents and infectious diseases. The family settled into the Ukrainian community in Ottawa, and became active members of the Ukrainian Orthodox Church that they attended, and where Wally was a member of the Order of St. Andrew. Always a faithful volunteer, Wally worked the bingo nights, the church dances, and much more. Dear life-long friendships were made in Ottawa.
Wally enjoyed exploring the natural environment of the Ottawa region, hiking, canoeing, fishing, skiing, ice skating, rock collecting, and foraging for wild mushrooms. Wally and Joan were road warriors, and travelled extensively throughout the United States and Canada, and around the world. They also enjoyed many extraordinary, beautiful years of cottage life at Christie Lake in Ontario. After retirement, they settled back in Winnipeg, reconnecting with close family and friends.
The family would like to thank the doctors and nursing staff at St. Boniface Hospital who tended to Wally and our needs with care and compassion during his final days. We also thank his family doctor, Dr. J. Mayba, and the specialists who attended to him over the last few years.
A Panachyda memorial service will be held on Tuesday, January 31, at 7:00 p.m. (viewing begins at 6:00 p.m.) at Cropo Funeral Chapel (Transcona), 1800 Day Street., Winnipeg. A funeral service will be held on Wednesday, February 1, 2023 at 10:00 a.m. at Ukrainian Orthodox Church of All Saints, 1500 Day Steet., Winnipeg. Both services will be live streamed. Please see www.cropo.com and www.allsaintsuoc.ca for more details.
In lieu of flowers, donations may be made to Oseredok, St. Andrews College in Winnipeg, Ukrainian Orthodox Church of All Saints, or a charity of your choice.
Vichnaya Pamyat - Memory Eternal
To join us via livestream FOR PRAYERS (Panachyda) on Jan. 31 at 7:00 p.m., FUNERAL SERVICE on Feb. 1 use the quick link on the left (or drop down menu on mobile) or utilize the link below (* Sound is auto muted when first joined):
or Panachyda memorial service livestream