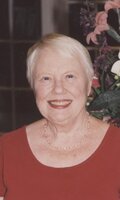 IRENE KRAWCHUK
IRENE KRAWCHUK
On Tuesday, November 29, 2022, Irene Krawchuk (nee Klapowschuk), aged 89, passed away peacefully at Holy Family Home.
Irene leaves to cherish her memory two children, son William (Pat Bugera), daughter Hali (David Bukurak), and granddaughter Maya, as well as several nieces and nephews. Irene was predeceased by her parents, Hryhori and Anna, husband Michael, sister Lucy and brother-in-law Sylvester Syrnick, as well as Michael's brother (Theodore) and seven sisters (Justina, Stella, Helen, Leona, Elizabeth, Minnie, and Pauline).
Born and raised in Shortdale, Manitoba, Irene grew up in the country which had the effect of shaping her into a "hardy country soul" as she herself wrote. After attending elementary school in Shortdale, in order to continue with Grades 9 and 10, she had to make the 6-mile trek to Bield Regional School on foot or by bike, with no school buses there at the time. She and her friend would ride their bikes throughout the harsh winters down the middle of the railroad tracks, ever watchful of oncoming trains. Irene's love of the outdoors would later translate into a lifelong passion for golf, both as an avid fan of the professional game and as a struggling amateur player who nevertheless adored the social aspect of being out with her golf buddies and walking the fairways.
Irene's move to Winnipeg as a young woman was life-altering, with continued education followed by a career as a secretary, marriage and children, and church and community involvement. It was there that she completed high school, then secretarial studies at Success Business College. Irene would go on to spend 25 happy years as a secretary in the Seven Oaks School Division working in a number of schools before her retirement in 1998. She met and married Michael Krawchuk of Pine River, Man. in 1953. In fact, Michael and Irene were married in the basement of the Cathedral before the top half of the church was completed. Irene was blessed with the birth of her son and daughter and enjoyed raising a family and her work career, but also cherished her outside involvements. She was a member of the Holy Trinity Ukrainian Orthodox Cathedral for almost 70 years and was a self professed late-comer to the fine Ukrainian Women's Organization of Lesia Ukrainka, whom she admired and respected for its many valuable contributions to the Christian aspects of life within the Cathedral and community.
Irene possessed a beautiful alto singing voice. She loved singing in the Cathedral choir under the direction of the late Mr. Walter Bohonos, first at St. Michael's on Disraeli, and then at Holy Trinity Cathedral on Main Street. In 1967 she joined the Olexander Koshetz choir under the passionate direction of the late Mr. Walter Klymkiw. Both conductors nurtured her love of singing with the wealth of our Ukrainian liturgical, folk, historical, contemporary, and religious compositions. With the Koshetz choir, she was given the opportunity to travel overseas several times. The first was a memorable trip to Ukraine in 1978 when it was still a part of the former Soviet Union, at a time when having outside cultural groups visit was quite unheard of, and more trips there followed after the fall of the iron curtain. The South America tour was particularly special because her daughter Hali was by then a choir member and joined her on this trip. One final trip to Ukraine and other parts of Europr in the early 90s with her dear sister Lucy was another travel highlight for her.
Irene was a kind and loving soul devoted to her family, with a special place in her heart for her granddaughter Maya (who was the twinkle in her eye). We fondly remember her warm hugs, her boisterous laugh and her radiant smile. The family wishes to express their deep and sincere appreciation to Holy Family Home, where Irene resided for just over one year.
Pallbearers will be Alexander Krawchuk, Daniel Krawchuk, Greg Syrnick, John Syrnick, Larry Klopoushak, and Mykola Kowalchuk.
Prayers will be said at 7:00 p.m., Sunday, December 4, 2022 at Cropo Funeral Chapel, 1442 Main St. Funeral Service will be at 10:00 a.m., Monday, December 5, 2022 at Holy Trinity Ukrainian Orthodox Metropolitan Cathedral, 1175 Main Street, with Very Reverend Archpriest Gene Maximiuk officiating. Interment to follow in Glen Eden Memorial Gardens.
In lieu of flowers, donations in Irene's memory may be made to Holy Trinity Cathedral or to a charity of one's choice.