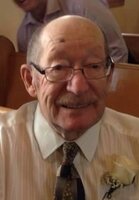 EMIL LANGE
EMIL LANGE
Jan 21, 1933 – Nov. 28, 2022
Dad passed peacefully in his sleep on Monday morning, after a brief illness. He was 89 years young.
Dad now joins his wife of 61 years, Yvonne, his parents, Heinrich & Lydia, his brother and best friend, Fred, his sisters Toby (Paul), Hanna, Frieda (Wally), Ruth, and infant brother, Harold.
Dad leaves precious memories with Chuck & Janet, Rhonda & Roger and Harold & Annette. Also with grandchildren, TJ & Kristen, Chris & Carissa, Steven, Kerstyn & Cameron. And especially with great-grandchildren, Scarlett, Savannah, Adeline, Leanna & Brooks. He also leaves behind his treasured last surviving sibling, Rita (Peter), and in-laws, Gerty, Jeurgen, Manfred and Phyllis.
Dad was born in around the German – Polish border and after the family survived WW2, Dad emigrated to Canada. Starting out here in Winnipeg at age 18 in 1951, not knowing the language or the culture, he immersed himself the youth culture of the times … the Fabulous Fifties. He taught himself to read and write English through comic books and co-workers. Once more comfortable, he bought himself a motorcycle and often dated pretty young ladies, taking them on rides to Lockport to the Half-Moon for fries. Yes, Dad was a charmer, but one day caught the eye of a very pretty girl at the Crosstown Café.
Mom & Dad married in September of 1956, stayed with Dad's parents for some time and in July of 1960, moved into their newly built bungalow on Blueridge Bay in Transcona. They raised us three helleons and saw us off to our own journeys from there. That was home until Mom passed in 2018 and Dad moved into Devonshire House. He claimed that his time at Devonshire House was filled with great food, new friends and a welcoming and supportive environment.
Dad was always the one his family counted on when they were in need. Example … When Uncle Fred and Aunty Gerty were building their new house out on Henderson Highway, they ended up homeless. Well guess who was moving in … two families living a 932 square foot, 3 bedroom bungalow. As if there weren't enough lessons learned. Not long after, Uncle Wally and Aunty Frieda found themselves in a similar situation, building a new home and temporarily homeless. Next thing we knew, The Jack Family were sharing our home. Throughout the years, our home was shared by some of Mom's nieces and nephews, Mom's parents lived with us for a while and we even had a wayward Uncle Louis stay with us from time to time. You could say that Dad was the rock that steadied his family. He never let anyone feel unwelcome or unwanted. If someone in the family was in need, if he could, Dad would provide.
In his youth, Dad was a speed skater, and apparently not too bad at it either. Dad was a pretty good bowler … 5 and 10 pin both. The cool thing was that Dad would throw a 5 pin ball with the same curve as a 10 pin ball. Every once in a while, if he threw just right, the ball would go right between the head pin and three pin. It was like an optical illusion. The ball was headed for a strike and all at once the ball is gone and all the pins remain standing. It was truly freaky. Dad was also a pretty fair golfer, even scoring an ace at the dreaded 10th hole at Kildonan Park golf course. It was always a very special day for Dad when he and Harold hit the links. Back in the day, Dad like to snowmobile and go camping. Usually at the old Camp Hide-A-Way. Camp fires, good friends, a nice steak and good drink around the fire pit was a great weekend. It was even made better when the kids and grandkids came out for the day. Mom and Dad both loved their dogs. Sometimes we kids felt even more than us. They always had two or three around and under foot. Dad loved dogs but wasn't too fond of squirrels. Famous story about Dad … There were squirrels living in Dad's garage. They would collect and store nuts in the garage and live there all winter. Dad tried everything to get them out, loud music and bad music, until the neighbors complained. He tried boarding up every hole into the garage. I came by one day and he was nailing old licence plates over any hole into the garage he could find. Finally he bought a trap. The trap worked and Dad would ferry the rodents away. I asked him … "Dad, where are you taking them to?" he said "the floodway". I reminded him that squirrels tend to survive better in areas where there are trees. After commenting loudly and muttering something under his breath, he walked away quietly. From then on, when he caught a squirrel he drove it out to the gate at Bird's Hill Park. It was interesting watching Dad nailing those licence plates though. Dad wasn't exactly masterful in the use of tools … any tools, with the exception of those in his trade.
Dad was a furrier by trade. Actually, that doesn't do it justice. Dad was a craftsman. He and his brother, Fred, created some of the most beautiful fur garments worn this side of New York. There wasn't a fur pelt they couldn't work their magic on and create a masterpiece. Dad worked with Silverman Furs ( Later Silverman & Lange Furs and later Lange Furs ), Reiss Furs, Glazerman Furs, Stall Furs & Mackling Furs. He was sought after by the best because he was the best. But Dad, being as humble as he was, he would often say that he was "okay" and that hard work was the reason for his success. Anecdotal evidence shows that he and his brother were quite in demand for their attention to detail, creativity and personal service. After his brother moved to BC, Dad continued on alone, to be a quiet force of nature in the fur industry. His career was unfortunately cut short due to diminishing eye sight.
Dad was a quiet and gentle soul. He was always treated people with charm and respect. There was never a lady that wasn't "dear" or "sweetie". Dad was a true gentleman. He was always appreciative of services he received. Especially during the last 8 years of his life. The Home Care he received after his first stint in hospital, and continue to his last days, almost became family. He felt so grateful for all they did for him. He often commented on how hard they worked and how much it meant to him. Those people are true hero-angels. As well, the staff at Devonshire House were phenomenal. Always kind and supportive, always helpful and caring. From the administrative staff to cleaning and food services, Dad was so impressed by the manner in which he was treated.
Special thanks to Shola Unrau and her staff at Home Care for all their care and hard work over the past 8 years or so. Also a special thanks to the staff and residents at Devonshire House, you made Dad's apartment his home. Dad made many new friends at the building making it a special time in his life after Mom passed.
For those who knew Dad, knew him to be kind, friendly and welcoming. For those who did not know him personally, you truly missed out on meeting someone very special.
We all love you Dad, and will miss you very much. But know that the legacy you leave is in good hands, and the example you set will help guide us into the future. Thanks Dad !!!
Mom & Dad loved their dogs so in lieu of flowers or if of a mind, please donate to the Winnipeg Humane Society.
Celebration of life to take place on Friday, December 9, 2022 at 1:30 p.m. at Cropo Funeral Chapel, 1800 Day Street. A private interment to take place in the future.