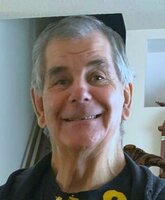 OREST PAUL MAKOWSKY
Orest Paul Makowsky
January 12, 1954 - October 29, 2022
It is with extremely heavy hearts, we announce the passing of Orest Makowsky on Saturday, October 29, 2022, surrounded by family after bravely battling cancer for many years. Orest is survived by his wife of 46 years, Sylvia and three children; Tracy (David Neufeld), Crystal (Darren Hadden), Kevin and grandchildren; Jaxen, Keilee, Lennox and sisters; Stella and Nancy. Orest has joined his mother (Kay), father (Stanley), and sister (Olga) in Heaven.
Born in Sundown, MB, Orest was the only brother to three sisters who he charmingly teased. He continued this playful attitude right up until his last days. A retired Winnipeg Transit bus driver of 33 years, he took great pride in his work and enjoyed chatting with his regular bus passengers, receiving a steady supply of thank-you gifts and holiday presents - a token of their appreciation and friendship. Orest continued to work post-retirement with Building Products as a cement truck driver to keep routine and his mind sharp. A man who loved to work with his hands, he was always tinkering with something, from building their current home in Lorette, MB, to gazebos and benches in the garden. Orest and Sylvia loved end-of-winter trips to a warm Mexico beach and road trips in the fifth wheel travelling across the United States to the latest country music festival. Hockey and football where his passion. He stayed active playing in a local curling league, winning numerous championships and countless awards.
An insightful, humble, and quiet man. Orest beamed with pride when attending the special events his children and grandchildren took part in. His welcoming smile, generosity, and big heart will forever be missed, but will be held tightly by family and friends in loving memory.
The family would like to offer special thanks to the doctors, nurses and health care workers at the Health Science Centre and St. Boniface Hospital for their care of Orest, especially Dr. Nayak, Nancy and Cameron.
The Prayers will be held Monday, November 7, 2022, at 7:00 pm and a Funeral Prayer Service Tuesday, November 8, 2022, at 11:00am, both at Cropo Funeral Chapel Transcona, 1800 Day Street, Winnipeg, MB. A private interment will follow.
Orest's Ukrainian heritage was a source of pride, and he relished tradition. In lieu of flowers, the family asks that a donation be made in Orest's memory to the Oseredok Ukrainian Cultural center (in-person, mail, oseredok.ca) or Siloam Mission (siloam.ca).