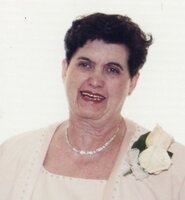 MARIA GRACIETE CALEIRAS MENDES SOUSA
It is with great sadness that the family announces the peaceful passing of Maria Graciete Caleiras Mendes Sousa on Friday, September 2, 2022 at Calvary Place Personal Care Home, with her daughter at her side at the age of 85 years.
She was predeceased by her parents Luisa and Jaoquim and her sister Ivone. Maria Graciete is lovingly remembered by her husband Francisco, daughter Belinda, grand daughters Ava and Chole and her son-in-law, Anibal. She also leaves her sisters Ofelia and Gerturdes and numerous nieces, nephews and extended family both in Canada and Portugal. Maria Graciete was born and raised in Portugal. She then met her husband Francisco, which led to their journey to Canada where they settled; made many friends and raised their family. She was a seamstress until she began to lose her eyesight. She enjoyed immersing herself in her culture where she volunteered her time at the Portuguese Association of Manitoba. Her passions were reading and writing poetry and her talents were shown in her embroidery and crocheting skills.
The family especially thanks the personal care home and the health care providers who helped her greatly.
Prayers will be Friday, September 9, 2022 at 12:00 p.m., with Mass of Christian Burial at 1:00 p.m. at Immaculate Conception Parish, 181 Austin Street N. Interment will follow at Assumption Cemetery, 3990 Portage Ave.
There are no goodbyes. Where ever you'll be, you'll be in our hearts
Rest in Peace
Eulogy of Maria Graciete Caleiras Mendes Sousa:
A Mother's love is always with you, losing a Mother is one of the deepest
sorrows a heart can know. It's my Mother's goodness, caring nature and
wisdom that live on like a legacy of love. I will always have her with me.
Her love will surround me now and bring me comfort. I now know she
can walk without pain, see the beauty in everything, dance like she's
always longed to and laugh with nothing but joy. Your words are
engraved in my memory, although I am not as poetic, I will pass on the
loving message. I will continue to show your precious granddaughters
what strength and bravery looks like as you have instilled that in me. I
will show them love as you have shown me everyday and I will cherish
all our memories we've made together, the good and the bad. I will never
forget the roots you came from and the morals you always stuck by. Your
granddaughters will mourn your absence as I will too, but we know that
you will always be alongside us as our journey continues.

You were selfless and always did what you could to show us your love.
You always put yourself last even during your last few days. You hung on
and fought so we could deal with the pain of losing you, even though no
matter what, we will always feel your loss. I will miss you daily, and I will
miss all the little things I wish I could have again. I will miss your 10
goodbyes before hanging up the phone. I will miss your laughter and
bright energy. I will miss your poems and touching words, and your calls
when you would check in on us. I will miss the comfort and happiness
you always showed me, and I will miss all of you. The night before you
left, I will cherish our last goodbye and I will remember the words you
whispered: I love you. Which are engraved in my heart.

Vo you were one of my biggest supporters, and I know you will be there
always cheering and guiding me on. Even though it was difficult for you
to be there, I always remember you being in the crowd. Your smile could
be seen from miles away. You always made me feel confident in myself
and gave the warmest hugs. You're the strongest person I know, and I
understand that you had to go, but I will miss you so much. You were
always so proud of me no matter what and I hope I will continue to
make you proud. To our Vo Tete, we love and miss you. Rest in Peace.
Poem dedicated to her Granddaughters:
Tenho dois amores perfeitos
No jardim da minha vida
Que são para todos os efeitos a minha flore preferida.
São as minhas netinhas a razão do meu viver
Duas belas florinhas que não me canso de as ver.
Meus cabelos branqueados brilhao ao sol
Com mais corres quando são interlesados.
Nos braços desses amores, embora velha e cansada
Me cinto rejuvenescida Quando só abraçada
Pelos amores da minha vida.
O tempo passa a correr a vida numa corrida
Fiz estes versos a escrever para não ser esquecida.
No silêncio sem fim peço a Deus em oração
Para as flores do jardim toda a vida protecção.
Um beijo por despedida para as belas florinhas
Do jardim da minha vida que são as minhas netinhas.
~Maria Graciete Sousa