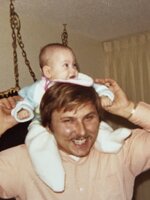 ALLAN HARVEY GOWRYLUK
Allan was born August 8, 1946 to Stephen and Margaret (nee Skibitsky) Gowryluk and passed away suddenly before Christmas 2020 at the age of 74.
He spent his early years on the farm in Kirkness, Manitoba helping his family grow potatoes and grain. His father was instrumental in teaching Allan how to fix machinery which they enjoyed working on together. He went to Ashfield School District for his early years. He then attended the Selkirk Collegiate Institute and graduated in 1964. Allan then went on to further his education briefly in North Dakota. There he obtained his private pilots license.
He worked at Selkirk Rolling Mill, then for Elmer Del Monte, as well as for Baxter Pharmaceuticals, and Personal Dynamics. After that he spent 15 years working for Trans-Canada Pipelines on projects across Western Canada.
Allan was predeceased by his father Stephen Gowryluk and his mother Margaret (nee Skibitsky) Gowryluk.
He was survived by his daughter Janella Gowryluk, granddaughter Rylea Gowryluk, as well as his brother Randolph (Winnie) Gowryluk of Windsor, Ontario, as well as nieces, and cousins. As a man devoted to God and the teachings of Jesus, he had great hope for a wonderful Kingdom that will soon come to fruition where all will come to enjoy and live for eternity. Al will be missed by family and friends.