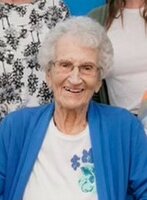 AGNES ELIZABETH BEATTIE
AGNES(NESS) ELIZABETH BEATTIE
NEE BARNES
June 9,1925-July 26,2022
Peacefully on Tuesday, July 26, 2022 Ness Beattie passed away.
Ness was predeceased by her four siblings and her loving husband of 35 years, Jim Beattie on December 8,1982.
Ness is survived by her two sons Terry(Roberta) Chris(Kathy) and daughter Nancy(Jim) James. Her grandchildren Don(Christine) Graeme(Amy) Nic(Alyssa) Meghan(Jason) and Dylan(Kelsey) and her 8 great grandchildren Kyden, Koltyn, Kaylynn Beattie, Allison, Emily, Jackson Beattie, Blake Butler and Maddison James Fondly remembered by numerous nieces and nephews on the West Coast and by her dear friend of 70 years, Steffie Kupskay, who misses their daily walks and dinners together at Concordia Village where they both lived.
Mom was born and raised in Elmwood, East Kildonan and North Kildonan. Dad's employment with CP Rail took them to a few places in Canada but they eventually settled back in Winnipeg in 1959 where they raised their family and made many good friends.
Mom enjoyed many careers in her life but her true calling was running her own sales business. Mom was one of few women who were travelling sales people. She was so proud of opening her own agency office in 1979 and joining the many manufacturers agents in the Marlborough Inn Fashion Mall. Mom was very well regarded in that industry and covered Manitoba, Saskatchewan and east to Thunder Bay, Ontario. Mom could "sell ice to the Eskimos" She truly had found her calling!
After retiring, Mom returned to modelling in many charity events and various store shows and she also did many TV commercials, print work and movies. She was the lady digging into the freezer or taking the steaming turkey out of the oven in the Granny Chicken commercials and she played a Supreme Court Judge in the David Milgaard movie. One of her proudest achievements was her role as a learned historian in a CKY docu-drama called Canada in View-Reflections of the Past. It was shown across Canada in 1993. She had over 50 pages of dialogue and she did an amazing job!! Another of her proudest moments was receiving the Queen Elizabeth II Diamond Jubilee Medal on October 12,2012 from Joy Smith, Member of Parliament, for her outstanding community service and volunteerism as a Senior. We were so proud of her for that and so well deserved.
Mom was a lifelong member of John Black United Church and she enjoyed taking part in speaking at many services, reading to the children, singing in the choir occasionally and she was also the Superintendent of C.G.I.T for many years.
Mom was very involved in Good Neighbors Active Living Centre. She was one of its founding members, she volunteered tirelessly there with their teas, fashion shows and organizing the Annual Fundraising Dinners. She also learned how to paint there, something that surprised her and some of us have her framed art hanging in our homes!
Mom and Dad loved to travel especially in their motor home and enjoyed many wonderful years at the family cottage at Laclu, Ontario.
Mom was ever present at her grand and great grand children's sporting events, hockey being her favorite! She was always so supportive. She loved watching the Winnipeg Jets and the Blue Bombers. She actually went to the Grey Cup in Toronto many years ago as the chaperone for Miss Blue Bomber and she even got to be in the parade!
Mom lived a full life and was a wonderful mother and grand/great grandmother. We love you so much and will miss you dearly.
Family would like to thank the staff at HSC-GH3 for their care and guidance and also our gratitude to the staff at Concordia Village Assisted Living. Especially Rochelle who was always there for mom when she needed her. We would also like to thank Dr.Shawn Thomas who always had time to give mom a hug and to the staff at Concordia Health Associates for always being so kind to her.
We can't thank her Home Care ladies Prescilla, Koko,Suki and Martha for all their help and kindness you showed Mom these last 2 months "You're the Best" Also to Dorota for always being there for us when we needed it.
Cremation has taken place and a private family service will be held at a later date. In lieu of flowers donations may be made to Heart and Stroke Foundation.
" Your Spirit Lives within us, Mom and we love you very much"
Some of my earliest childhood memories of my mom are of us sitting in the hospital room in Moose Jaw waiting for the doctor to patch me up from my never-ending bumps and scrapes from either falling into the basement or riding my bike down the second-floor stairs. She took it all in stride, even the knife through my nose!
Our move to Winnipeg brought new challenges for mom in trying to raise three kids while working full time. She always found time for us and was our strongest advocate who taught me compassion and self reliance. I have fond and happy memories of my early years and mom you were a huge part of that. There was lots of laughter in our house. I can vividly recall walking by Mom and Dad's room on Saturday mornings and hearing happy chatter and laughter coming from inside.
Mom was generous to a fault and many a time I would find myself sitting across the dinner table from a complete stranger that she had met and invited to share a meal. "She would take in a baby elephant" was a family favourite saying.
As I got older, I can recall our traditional Friday nights, Pizza and Moscow Mules. Always filled with lots of laughs.
Mom enjoyed a special relationship with her younger sister Edna and over the last couple of years she enjoyed sharing many childhood memories with me. It was usually between periods of the Jets games or Bomber games with Kathy and I at our house. You can be sure she would also mention what a great speed skater she was and that she played hockey back in the day.
Some of my fondest memories are the good times we spent at the cottage. We always made a point of going fishing, not catching, just fishing and talking. She was always up for an adventure, hiking to Boyne Lake, blueberry picking and even building docks. Mom made many good friends at the lake over the years. The Prices, the Burtons, the Birts and the Dyes to name a few.
Mom always enjoyed the time she spent with her grandchildren and great grandchildren; they always brought a smile to her face. Mom was quick to laugh and always saw the good in people.
I always knew mom was religious and over the years she shared some stories with me about how her beliefs gave her strength and comfort through some hard times.
It would be remiss to not thank her good friends Steffie and Arlene who provided friendship and companionship over the years.
Mom and I always joked on her later birthdays "We are shooting for 100! I am sorry we weren't able to hit that milestone but mom the memories you have given me are timeless. Love you and miss you "Gwendolyn ". I already miss our car rides - coffee or ice cream?
Chris, Kathy and Family.
I have fond memories of the great vacations with my mom and dad and my wife Roberta. We travelled west to B.C. And Vancouver Island in a small trailer and had a wonderful time. On another trip we travelled to California, Las Vegas, the Grand Canyon and the whole west coast. We usually ended up staying in completely terrible spots only to discover a beautiful campground just around the corner.
Ness also joined us for a week on a trip to the Dominican Republic when she was in her late 80's. On one of our walks down the beach I was having trouble getting up the stairs and she turned back to me and offered her hand and asked if I needed help!
On of mom's favourite places to be was at the cottage at LacLu, Ont. When she wasn't sunbathing on the dock, she and I would go fishing and on rare occasions would get to enjoy the fruits of our labour.
I hope she enjoys her final resting place at the lake with my Dad, the love of her life, as much as she enjoyed it in life.
Terry Beattie