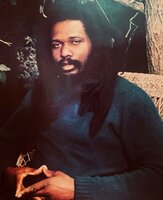 CAROL ANTHONY "PERCY" LEWIS
CAROL ANTHONY "PERCY" LEWIS
Carol Anthony "Percy" Lewis passed away suddenly in his sleep on June 8, 2022 at the age of 65 years.
He was predeceased by his father, Carlton Augustus Lewis; sister, Violet Lewis; Brothers, Michael Lewis and Glenford Lewis.
Carol "Percy" is survived by his loving mother Veronica Theresa Martin; ex-wife Louise Lewis and their son, Carl Lewis; former partner, Winsome Russell and their children Asheber Lewis (34) and Akida Lewis (28). He is survived by his three grandchildren, two from his son Carl, Malia Lewis (12) and Makena (9); and one from his son Akida, Aliyah Lewis (16 months).
Percy also leaves his brothers , Edward Lewis (Wpg); Andrew Lewis (Wpg); Damian Lewis (Jamaica) and Nicholas Lewis (USA). He leaves his sisters, Jeanette Adams (USA); Yasmine Lewis (Wpg); and Ann-Marie Cuff (Toronto).
Percy leaves 41 nephews and nieces in Winnipeg, Toronto, USA and numerous grand nephews and nieces and other extended family.
Percy was born on April 25, 1957 and raised in Kingston, Jamaica. He immigrated in 1979 to Winnipeg, Manitoba, Canada. He worked as a shipper and receiver.
Percy loved the sport of horse racing. He believed and lived the Rastafarian lifestyle.
Percy was a fantastic cook, who enjoyed preparing delicious Jamaican meals for friends and family. He was especially good at sharing food and ensured no one was left without, no matter how small the amount. Kindness was at the core of his character.
The family especially thanks family and friends for their generous monetary contributions and baked items for the reception.
A prayer/viewing will be held on July 7, 2022 at Cropo Funeral Chapel at 1442 Main Street, Winnipeg, Manitoba from 6:00pm to 9:00pm.
A celebration of life service will be held on July 8, 2022 at 10:00am at Calvary Temple Church at 440 Hargrave Street, Winnipeg, Manitoba with Pastor Bruce Martin officiating.
Interment will follow at Brookside Cemetery, 3001 Notre Dame Avenue, Winnipeg, Manitoba.