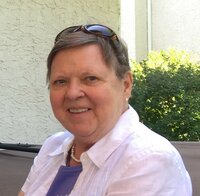 BONNIE IRENE STOVEL
Bonnie Irene Stovel (born July 23, 1940) passed away suddenly on May 31, 2022 at 81 years of age. She was predeceased by her parents Harry C. and Edith L. Stovel and by her brother Edward C. Stovel. Bonnie is lovingly remembered by her brothers James C. and Peter H. (Joyce) Stovel, nephews Perry (Kim) and David Stovel, nieces Kerstin, Nancy and Emily Stovel (Bill Whitehead), great nieces Kelsey and Lauren Stovel and Madi Whitehead, as well as many dear friends.
Bonnie was born and raised in Winnipeg where she attended General Steele, Balmoral Hall and Viscount Alexander Schools. Prior to her long career at the University of Manitoba in the Faculty of Grad Studies, Bonnie worked at Proctor and Gamble and Investors Syndicate in Winnipeg as well as at a ski resort in Switzerland and the L'Air du Temps perfume factory in London England. Bonnie also volunteered countless hours at both Fort Whyte Alive and the Fort Garry Historical Society.
Bonnie was a dedicated sister, aunt, daughter and dog owner. She was committed to caring for her parents for most of her adult life, maintained close contact with her brothers via weekly or even daily phone calls, and showered her beagles Molly and Sadie with unwavering love and devotion.
Her most notable hobbies and pastimes included golfing and curling as a long time member at the Wildewood Club, baking, cooking, making pickles and jams, painting (St. Vital Art Cub), knitting and gardening. She loved the outdoors, socializing, shopping (especially at Cottage Bakery, Vic's Market and The Bay), going to Rainbow Stage, eating at restaurants and watching classic movies and sports on TV (especially golf, tennis and curling).
A graveside service was previously held at the Elmwood Cemetery on June 9, 2022.
Flowers are gratefully declined but if anyone so wishes, donations can be made in Bonnie's name to Diabetes Canada, Heart and Stroke Foundation or Special Olympics Canada.