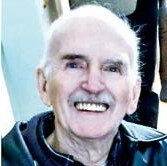 VICTOR BRUCE COYSTON
VICTOR BRUCE COYSTON
1934 - 2022

Peacefully, with his family by his side, Vic Coyston passed away after a short illness at the Grace Hospital on June 12.

He was predeceased by his father George Henry, mother Florence Bridget (Gange), brothers and sisters, Bernie, Ralph, Leo, Maurice, Arthur, Claire, Dorothy, Joyce and Peggy.

Vic is survived by his wife Gail; children, Chrysta Rietze (Frank), Vincent (Linda), Bruce, Jacqueline, and grandchildren, Ruth and Natalie Rietze and Owen and Madeline Coyston. He also leaves behind his twin brother Garth (Louise), sister Lynn (Dave) Richardson; brother-in-law Dave Emeny and sister-in-law Marion Smith, as well as a large number of extended nieces, nephews and extended family.
Vic was born August 7, 1934 in Winnipeg and lived here all his life. He attended St. Ignatius and later St. Pauls. He met his wife Gail when they were both in the Catholic Youth Organization and they married in 1961. Vic worked for systems equipment for three decades and enjoyed his many years as a member of the Canadian Forces reserves.

Vic and Gail spent an extremely active 61 years together. Cross country skiing, curling, playing tennis, English country dancing, showing everybody how to dance to the Jive, following the Blue Jays around North America, travelling to England several times. Generally enjoying life together and sharing it with a large extended family.

Vic's generous and open nature, his unquestioning friendliness, his curiosity about the world around him, his love of knowledge, and love of music were all things he passed on to his children, grandchildren, nieces, nephews and anybody who knew him well. It won't be easy going on without him, but we had him for 87 years and we will all cherish the time we spent with him.