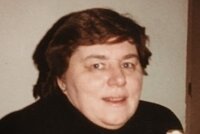 LINDA CAROLINE LUCAS
January 2, 1947 – March 26, 2022
Linda was a beloved wife, mother, grandmother and sister. She could yell and laugh with equal volume. She often said it was because she was the oldest of nine children so she needed to yell to be heard! And she did love to yell for her Blue Bombers! It was fitting that they won the Grey Cup for her in her final year. Linda married her soul mate Chuck. She always said that he gave her a sense of humour. He went before her in 2006 and she has missed him since. We are glad that they are happily back together now! Linda was proud of her three children Chris Salstrom, Jennifer Leipins, and Sean Lucas. She loved her Sons-in-law Gary Potter and Perry Leipins, and her grandchildren Sean, Kevin, Alyssa, Kirsten and Courtney meant the world to her. Her brother Michael and sisters Marlene and Janis went on before her to check out the hereafter for their big sister, but Thelma, Robert, Carey, Kenn and Wendy are missing their sister, but we know that she is happy now.
Linda loved all her animals, Tammy, Boots, Jackson and most recently Vader. She even loved her Grand-dog-ter Taffi. So, in lieu of flowers as she would have wanted, please donate to the Humane Society or Riverview Health Centre.
Mom, we wish we had you longer.
We did not want to let you go
But we know that this world could not contain
A sprit as large as yours, so
Be free and happy until we meet again.