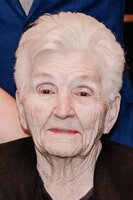 ELIZABETH AMELIA "Betty" FISHER
Elizabeth Amelia Fisher
(nee Breakwell)
October 20, 1924 – January 30, 2022
Elizabeth was born in Winnipeg, Manitoba on October 20, 1924 and passed away peacefully with loved ones by her side at Riverview Health Centre the evening of January 30, 2022.
Elizabeth was predeceased by her Aunt Dorothy Copsey (Aunty Dot), her son Clay, daughters-in-law Cindy, Margaret, and son-in-law Bob. She is survived by her brother Jack, her children Lorne (Susan), Milo (Cindy), Miles, Fortune (Garry), Candy (Zoltan), Robin (Bob), Rory (Kim), Holly and Monica, her grandchildren Marci (Paul), Adrienne (Brian), Sebastian (Janice), Natasha, Shane (Mardene), Shaun, Sheri, Christina (Rodney), Jennifer (Jeremy), Tyler, Christopher, Leanna (Thomas), Michael, Hailey (Adam), Michaela and Joshua (Marimel) and many great-grandchildren, a great-great grandson as well as former son-in-law Perry and many friends including Don, Rosie, Joyce, and Neil.
Elizabeth, or Betty to those who loved her, was dedicated to serving her country. At the age of 18, she joined the Canadian Women's Army Corps where she proudly served her country during World War II. Since that time, she continued to represent and support Canada's Veterans in every way possible. She was a proud member of the Army Navy Air Force of Canada (ANAF) Unit 60 where she was elected President twice. Through ANAF, she would visit Deer Lodge every week to spend time with Veterans. In addition, she attended any service related to Veterans including on VE Day and Remembrance Day, to name a few, to honor Veterans and their sacrifice. For as long as her health permitted, Betty actively participated in the annual Winnipeg Remembrance Day Service, hosted by the Joint Veterans Association of Manitoba now held at the RBC Convention Center.
It was through her ongoing dedication and contribution to the Canadian Armed Forces, several of her children, grandchildren and great-grandchildren were part of the Cadet Program whether it was Sea, Army or Air.
Similar to another famous Elizabeth, Betty was famously known for her hats. Whenever she stepped outside her house, Betty wore a stylish hat and brooch that matched whatever outfit she wore and finished it off with a bold red lipstick. It is no wonder she was known to her friends and family as the "Queen of Winnipeg". A fashionista before her time, she didn't need to spend a lot of money on clothes to look like a million bucks.
While she was well-known for her style, she will always be remembered for her love, kindness and unwavering ability to see the best in people regardless of how many times she was faced with adversity or even cruelty. Betty consistently chose love despite any hardship endured. Perhaps that is also due to another famous "Betty" trait: tenacity or sheer stubbornness, in the best way of course. No matter what illness, disagreement or what have you, Betty stood firm in the belief that things would always get better and that a better day was right around the corner. She lived for her family; Betty was tenacious in this way right to the end.
Family was immensely important to her. There are many memories of her sitting and drinking a black coffee with sugar, surrounded by her children "boisterously" talking to each other. Her deep love for her grandchildren and great-grandchildren was evident from the way she would light up and glow upon seeing them. Furthermore, Betty was not just a grandmother but a second maternal figure to her granddaughter Leanna who in turn honored Betty by naming her firstborn "Elizabeth". Christmas was one of her favorite times of the year, hosting her children and grandchildren on Christmas Eve, Christmas morning for breakfast and a dinner on Christmas Day or Boxing Day. It was impressive how many people would squeeze into her house during these times.
Betty was very active well into her 80's. Some of her favorite activities included curling, shuffleboard, darts or if at home, playing cards, cribbage and wordsearches. Betty loved to dance whether it was at the club for ANAF Unit 60, a family celebration or even at home, a good song could not be resisted. This was the case up to the final weeks of her life where she was still moving her feet to the beat of a song.
Betty also loved road trips - being on the open road with the prairies flying by, off on some new adventure. Napinka, where she grew up with her brother Jack and raised by their grandparents William and Margaret Hart, held a special place in Betty's heart. Of her favorite road trips was going to Melita every year to visit her childhood friend and partner in crime Willamina "Willie" Holden. Her trip back to the area of her old stomping grounds was a big deal. Spending time not just with Willie but many in the community, talking into the wee hours. To say Betty was a social butterfly is an understatement. While prairie road trips were a joy, she had a deep love for the east coast, particularly Peggy's Cove.
When her youngest son Clay tragically passed away, Betty's health appeared to change overnight. First and foremost, her battle with profound grief that no parent should experience. She was soon diagnosed with cancer that she fought and won. However, her grief and subsequent depression over the loss of a child soon manifested into dementia; a slow battle in keeping her most precious memories. When she was hospitalized due to a fractured shoulder following a fall right before the pandemic, it was unfortunate that she did not get the rehabilitation care and in person family support needed due to COVID restrictions. Without the opportunity to see her family, those she loved most, Betty declined rapidly in isolation. When she was finally released 4 months later, it was difficult to not notice the rapid decline. Her goal of making it to 100 seemed less likely but this is Betty, she was always tenacious, a fighter. We held out hope.
She was lovingly cared for 24/7 by her daughter Holly who lived with her, ensuring that Betty could stay in her family home where so many memories were made for as long as possible. In the last week of January, Betty took an unexpected and sudden turn and soon needed palliative care at Riverview Health Centre. While Betty was 97 years old, it was still too soon for those that loved her to say goodbye. Nonetheless, they rallied finding ways to say final words despite visitor restrictions and distance. Loved ones travelled in from far away, called or face-timed to say their final "I love you". In the end, she was surrounded by love.
The family thanks the homecare workers for their assistance and wonderful care the last 18 months, the amazing first-rate healthcare workers at Health Sciences Center Emergency Department and Riverview Health Centre Palliative Unit. Thank you for making a difficult time better knowing she was well cared for and pain free to the end.
Service will take place on Saturday, February 19th at 1:00pm at Cropo Funeral Chapel, 1442 Main Street. In lieu of flowers, donations can be made to the Alzheimer's Society or the Last Post Fund at lastpostfund.ca.