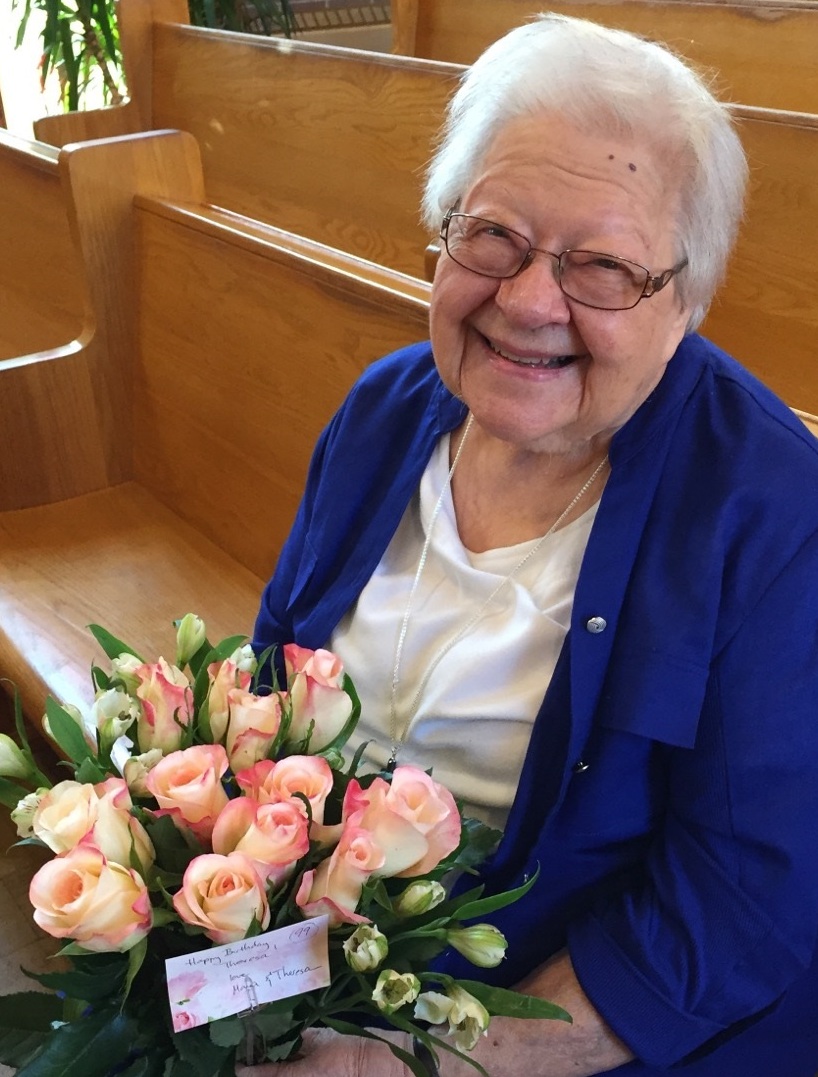 THERESA MARY SINKWICH
Theresa Mary Sinkwich (Rougeau)
Theresa was born in St. Boniface, Manitoba on September 25/1920 and passed away peacefully at Donwood Manor PCH on January 26.
Theresa was predeceased by her husband Ed; parents George & Maria (LeBlanc); sister Anne Bonnett; brothers Edward, Paul & Lawrence; plus brothers- & sisters-in-law (most recently Jean Sinkwich & Pat Rougeau). She is survived by her brother Richard in Montreal as well as nieces & nephews in British Columbia, Manitoba, Ontario, Quebec, California, Florida & Nevada. She loved writing letters and maintained contact with everyone.
Theresa was a born leader. She achieved the rank of Sergeant in the Canadian Women's Army Corps and, after training at Success Business College, worked her way up to head of the steno pool at Beaver Lumber on Fort St.
Theresa was a longtime member of the Catholic Women's League of Canada – joined St. Vital Council in Winnipeg, then joined another in Montreal and finally back in Winnipeg to St. Alphonsus Council. She joined the Third Order of St. Francis in 1980. She was involved with the Charismatic Renewal.
Theresa was a caring woman. Her mother became ill so Theresa moved to Notre Dame de Lourdes to care for her until her passing. Later she took training with Fr. Claude Blanchette to become a Nathanaelite; was a volunteer with the Franciscan Missionaries of Mary & with the Sisters of the Good Shepherd at Marymound School. She loved reading and learning – she attended many church conferences and participated in the Ignatian Exercises. She joined the Neocatechumenal Way: enjoying their small groups, singing, clapping, Liturgy of the Word, Celebration of the Eucharist, and their Agapes. Theresa was very involved in a variety of activities at St. Alphonsus Church – catechism, lector, Eucharistic Ministry at church and to shut-ins, Morning Prayer, making pyrogies & counting collection.
Theresa appreciated everyone who visited her at the EPH and at the PCH. Special thanks to those who phoned her during the lockdown when she had to stay in her room all the time. Theresa really liked and respected her caregivers – YOU are a wonderful group of caring people. God bless you all.
Viewing at 7:00 pm and prayers at 7:30 will be at St. Alphonsus Church on Tuesday evening, Feb.1st.
Funeral Liturgy will be celebrated at St. Alphonsus Church, 315 Munroe Ave., 11:00 am on Wednesday, February 2 with Fr. Greg Mulligan, OFM Cap. and concelebrant Fr. Janusz Maron, OFM Cap. The Funeral Mass will be live streamed through St. Alphonsus Church Facebook page, Winnipeg.
Everyone at the church is asked to please consider themselves Honorary Pallbearers – carrying her in their hearts.
Church capacity is 100.