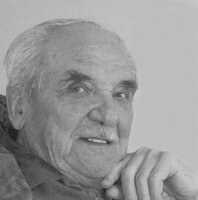 BERT PETER OBIREK
With great sadness we announce the passing of our beloved Dad, Grandfather, and Great Grandfather Bert Obirek on Thursday November 11th, 2021 at the age of 92. He passed away peacefully with his family by his side. Left to cherish his memory are his children Rick (Rose), Rob (Leanna), Michelle (Don), Lori (Rob), Grant (Donna), eleven grandchildren, two great-grandchildren, as well and his brothers, sisters, nieces, nephews, and friends. He was predeceased by his loving wife of 59 years, June, and sister Jean.
Bert was born on October 16th, 1929. He learned the value of hard work as a youngster, helping on the family farm with his four sisters and three brothers. He moved to Winnipeg in his early 20s, and there he met the love of his life June. They were married for 59 years and blessed with five children.
Although he moved to the city, Bert still maintained his family roots by making weekly visits to his parent's family farm. On Sundays Bert and his family could always be found at the farm, tending to their large vegetable garden and visiting with Bert's parents, siblings, nieces, nephews, and friends. The farm was a gathering place for all of Bert's relatives. You never knew who you would see there or what fun activities would be waiting for you.
Bert enjoyed travelling and brought his family on many adventures through Canada and the United States. You knew that he was committed to family when he traded in his Cadillac for a Country Squire station wagon. Many fun family trips were had packing the kids into the station wagon and going camping. Bert showed his calm and cool nature in the face of close calls with floods, tornadoes, bears and having five kids, luggage and a seven person tent crammed in a car for several days.
Bert worked at Canada Post for the majority of his career, and retired after 25 years. During his retirement he focused on his grandchildren, looking after his vegetable garden and meeting with friends for morning walks and cup of coffee. Being an avid sports fan, particularly for the Bombers, Jets, and Blue Jays, he fine tuned his encyclopedic knowledge of these teams and enjoyed discussing the games with everyone. He was a very good listener…except when a hockey game was on.
After moving out of the family home they shared for fifty seven years, Bert and June moved into the Canoe Club Condos. Since his wife's passing in 2015, and during the last few years with the COVID restrictions, the staff and friends at the Canoe Club were like a family to Bert. He cherished the friendships he made there.
Bert was a loving, caring, selfless person. A generous soul with a positive outlook, always looking at the sunny side of any situation. He loved kidding around, and brought humour and joy to all family gatherings. He was always a very social person and enjoyed the hustle and bustle of a large family. Bert had a smile and joke for everyone he interacted with. He enjoyed the company of others, and was always the most charming man in the room. The family is immensely grateful that Bert was able to move to the Grace Hospice during the final two weeks of his life. He was able to reunite with his loved ones that he hadn't seen due to the pandemic restrictions. Bert mentioned in his last week, that being surrounded by family and hearing everyone's voices together again brought him great comfort and happiness.
In lieu of flowers donations may be made to Cancer Care Manitoba. The family would like to extend their gratitude to the staff at the Grace Hospice for their professional care and compassion. Their kindness and understanding helped Bert and his family through this difficult time.
A private service will be held at Holy Ghost Church on Thursday, November 18, at 9:45 a.m. To view the livestream of the service go to www.holyghost.ca . A private interment to follow in Holy Ghost Cemetery.
Bert was one of a kind. He will be greatly missed and will always be remembered with a smile by all who knew him.
Those we love don't go away
They walk beside us every day,
Unseen, unheard, but always near,
Still loved, still missed and very dear.