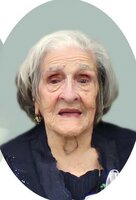 MARIA GILDA MARTINS TAVARES
MARIA GILDA MARTINS TAVARES
It is with great sadness and heavy hearts that we announce the passing of Maria Gilda Martins Tavares, peacefully with her family by her side, on September 24, 2021. Maria was predeceased by her husband Artur Tavares, parents José De Sousa Cipriano and Maria da Luz Martins, daughter Fátima da Luz, son Luis Tavares, sister Laura Silva, and son-in-law José Da Luz. She is survived by her brother João da Ponte Sousa, daughters Conceição Cabral (Manuel), Lourdes Martins (Leonel), and Eduarda Oliveira (Agostinho), daughter-in-law Maria Dos Anjos Tavares, eighteen grandchildren, twenty-seven great-grandchildren, and numerous nieces and nephews.
Maria was born on April 5, 1925, in Arrifes, São Miguel, Açores. She was married on February 2, 1947 and immigrated to Winnipeg in 1973 with her family. The matriarch of our large family, Maria will be greatly missed and will be forever in our hearts.
"Cada pessoa que passa em nossa vida, passa sózinha e não nos deixa só, porque deixa um pouco de si, e leva um pouquinho de nós."
The family would like to thank the home and palliative care nurses for their support and care.
Viewing will be held on Friday, October 1 at 12:00 p.m at Immaculate Conception Parish, 181 Austin St. N. Mass of Christian Burial will be celebrated on Friday, October 1, at 1:00 p.m. also at the church. Interment to follow at Holy Family Cemetery.
Descanse em paz.