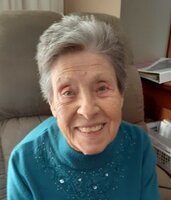 MARIANA GASPAR
MARIANA ALEXANDRINA (NEE BEMPOSTA) GASPAR
Our Mãe, Mom, Grandma and Vovó Mariana passed away peacefully on September 8, 2021 at Seven Oaks Hospital surrounded by her family.
She is survived by her three children: Ana Gancarz (Brian), Joe Gaspar (Angela) and Nelson Gaspar (Clarise), and grandchildren Traci Spencer (Jose and their child Emily), Adam Gancarz, Paul Gaspar (Laurel and their child Mackenzie), Marc Gaspar, Colin Gaspar (Kecia) and Claudia Fernandes, as well as other members of the Gaspar and Bemposta families and friends. She was predeceased by her father Arnaldo, mother Diolinda, sister Rosa Maria and brother Augusto in Portugal, and by many extended family members and friends.
Born in Lisbon, Portugal on February 21, 1933, Mariana grew up caring for the other children of her neighbourhood, which led to her considering entering the Catholic Church as a nun. She worked in the fabric section of a major department store in Lisbon, and that led to the modeling of the store's clothing at fashion shows.
She married Abel Gaspar in 1956, and gave birth to Ana in 1957 and Joe in 1958. In 1967, the family moved to Canada and settled in Winnipeg, sponsored by Ana's godmother Ilda and her husband Americo Tome, joining a growing and vibrant Portuguese community. Mariana was a dedicated wife, mother and homemaker. In 1970, their youngest son Nelson was born. To help make ends meet, she put her sewing and fabric skills to work at different clothing manufacturers as well as in the home during the evenings. At age 51, after years of being a homemaker, Mariana re-entered the workforce and landed a job in the housekeeping department at the Health Sciences Centre, overcoming barriers in language and writing. Before her retirement at age 60, she made many friends and acquaintances on the job.
In the last 7 years of her life, her health declined due to kidney disease and she became a dialysis patient. She continued to touch the people who cared for her and was loved by all of them for her friendly smile, laughter and compassion.
Many people benefitted from Mariana's gift for crochet and knitting, as well as her love of cooking and lively gatherings with family and friends. Her sense of humour was legendary and she was always the life of the party. She willingly sacrificed for her family, and especially cherished the times spent with her grandchildren and great-grandchildren.
Thank you to her home care workers, the staff in the Dialysis Unit and 5th Floor Unit 5 at Seven Oaks Hospital for their professional and compassionate care. Though her time was short at River East Care Home, the family would like to thank them for their excellent care of our mom.
She will be always loved, never forgotten, deeply missed and forever in our hearts.
Deus fez uma maravilhosa mãe,
E deu aquela querida mãe á nós.
Beijinhos!
A private family funeral will be held at Cropo Funeral Home on Wednesday, Sept. 15 at 2 p.m. with interment on Thursday, Sept. 16. Family and friends can watch the service on a livestream at www.cropo.com; please view the link through Mariana's obituary page.
In lieu of flowers, if desired, donations can be made in her memory to the Kidney Foundation, Seven Oaks Hospital Dialysis or the charity of your choice.
Livestream Login:
Event ID: CropoFSthomas
Password: BJA95L