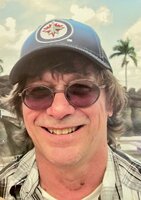 RANDOLF PAUL NATUIK
RANDOLF PAUL ( RANDY) NATUIK
On August 20/2021 Randy Natuik passed into eternal life at the age of 65 years after a year long battle with cancer.
Randy was predeceased by his parents Walter and Hedwig, his brother-in-law Walter Demski and his former wife Diane, mother of their children.
He is survived by his daughter Krista and son Cory, sister Jane (Sandy), brothers Phil ( Alice), Joseph, and John(Joanne), his cousin Terry - always 'there' when needed (thank you Ted), his very good friend Elaine, fellow workers Tim and Don from CN, along with many relatives in the extended Natuik, Rebeck, Ludwick and Demski families.
"Rad" was born in 1956 and raised in Narol, Manitoba. As a boy he enjoyed the fun and camaraderie of school and church. His life was filled with sports, working in the garden, carpentry, friends and family.
Rad came to love the world of cars, cherishing his '56 Ford and '69 Plymouth Satellite; the beginning of a life of tinkering with automobiles.
Randy made many friends with a quick infectious laugh and sense of humour. He enjoyed getting together with friends to laugh, share stories and listen to music. The music of his youth, with energy and lyrics that made you feel something.
Randy had the impish mix of charm and complication. Under his seemingly tough exterior was a huge heart. He was always sharing stories and jokes.
He was the first one to lend a hand when one was in need, day or night. As an active member of the Knights of Columbus, Narol Council, he always wanted to make a difference, by offering a helping hand.
Rad spent his career at CN Rail. He was very proud to work at CN, and spent many years as a car-man at the Transcona Shops and Symington Yards. He spoke fondly of his time at the railway and retired a few years ago.
He was a life long lover of sports. He followed the Jets and Bombers, following the professional football, hockey and baseball leagues. Randy spent many Saturday's curling at the east St. Paul rink. For several years he took the time to make and maintain skating rinks in Narol, which were enjoyed by many.
Randy loved to travel. Whether it was a road trip or cruise on a ship, Randy was 'up for it'
Randolf was a proud survivor of alcoholism. He worked hard to overcome his addiction and make each day clean and sober for the last 18+ years.
His love for his children Krista and Cory was undeniable. In the space between the words his heart beat for them, cheering them on.
"I'm just a man", he would often say.
That's enough for us, Randy. More than enough. Rest in peace.
A Funeral Service will be held 1:00 pm Saturday, September 04, 2021 at Corpus Christi Catholic Church, 5819 Henderson Hwy, St. Clements (Narol).