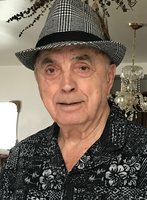 VINCENZO DI LELLO
Vincenzo DiLello
It is with great sadness and heavy hearts that we announce the peaceful passing of our Brother, Father and Nonno Vincenzo DiLello on Thursday June 3rd, 2021 at St. Boniface Hospital at the age of 86 years surrounded by his family.
Vincent was born on December 22nd, 1934 in Colledimezzo, Italy. He was predeceased by his parents Rosaria and Antonio, Brother Carlo, and Grandsons Brock and Colton.
He is survived by his Wife Evelyn, Sons Tony (Claudette), Gino (Gina), Daughter Rita (Dave), and his five Grandchildren Brennan, Chad, Kaemin, Ty, and Alex Marie.
Left to mourn Vincent's loss is his Brother Giovanni (Anna), Sister in law Maria of Italy, Sister Elsa (Eugenio) of Vevey, Switzerland, Sister Rina, Brother Franco (Tiziana) of Winnipeg as well as numerous Nieces, Nephews, and Cousins in Canada and Italy.
Our Dad came to Canada in 1957 with his best friend Dominic Tella and worked on the railway in Kenora, Ontario till 1959 when he moved to Winnipeg. He went to school and took a Masonry course to become a Bricklayer. He worked for several construction companies and supervised many job sites. He worked on various hospitals, schools, apartment complexes, etc. He was a perfectionist. In 1961 he married his wife Evelyn and had three lovely children whom he was very proud of for all their accomplishments. Dad was a good provider for his family and worked very hard.
Dad was a fantastic cook. He made the best homemade spaghetti sauce from tomatoes that he grew in his garden. We would gather for dinner on many occasions whether it was for a plate of pasta, homemade lasagna, chicken parmigiana, etc. He also baked his own bread and homemade biscotti which were to die for. There was nothing Dad couldn't do. He took great pride in maintaining his yard but most of all he had a huge passion for his garden which he kept extending as the years went by, always digging it by hand. Dad would plant all sorts of vegetables, but he wouldn't keep them all for himself as he would share them with his friends and family.
Some of Dad's favorite pastimes included raising Canaries, taking care of dogs, lawn bowling, riding his Vespa and playing Italian cards which in his younger years he could be seen hanging out at Enzo's Sports Bar and later graduating to the VLT's at McPhillips Street Station Casino which came to a halt when Covid- 19 hit. However, he still enjoyed a good game of Scopa with his kids or Brother Franco.
Dad also had a huge passion for WWE Professional Wrestling where he spent every Monday and Friday night tuning into their weekly programming. Above all he enjoyed visiting his daughter's house to watch the monthly pay per views in the company of family especially his Grandson Chad who received professional wrestling training even though his Nonno didn't want that for him because it was a dangerous sport, however they shared a very special bond between each other.
Dad was worse than a woman when it came to clothing. He had his Daughter beat with 4 closets full of designer clothing, shoes, and a collection of hats for every occasion.
He loved going for walks and could be seen many times walking the Garden City Mall hanging out with friends or grabbing a coffee. Dad also enjoyed traveling to Acapulco, Mexico, as well as Italy.
He was a very independent man who did everything for himself and never wanted to lean on anyone unnecessarily and even if you tried to help him it was never to his standards as he was always set in his own stubborn ways.
The family would like to thank all the Doctors, Nurses and Staff at St. Boniface Hospital Intensive Cardiac Care Unit and the Acute Cardiac Unit for all of their hard work, care, and compassion for our Dad during these challenging times.
If tears could build a stairway and memories a lane, I would walk right up to heaven and bring you home again. – Author Unknown
Rest in Peace.