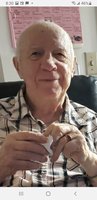 STANLEY POLAK
It is with heavy hearts and great sadness for us to announce that Stanley Polak passed away peacefully at West Park Manor Personal Care Home on Saturday May 1, 2021 at the age of 92.
Shortly before Stan's birth, his parents and siblings immigrated to Canada from Nowy Targ, Poland in 1928. Stan was born January 1, 1929 in Lintlaw, Saskatchewan. The family had a farm near Kelvington, Saskatchewan where Uncle Stan grew up. As an adult, Stan worked at several mines and logging camps throughout Manitoba and Ontario. He was proud that he was also part of the crew that built the Kenora (Ontario) Hospital.
After suffering a back injury, Stan worked for many years in the beverage/hospitality industry working as a bartender/greeter/escorter at the Bell Hotel in Winnipeg.
Stan was a man who enjoyed his own company, most times a party of two was one too many. He liked to read detective paperback books, watching boxing from the 60s and 70s, especially the heavyweight division. Stan's favourite TV station was the weather station, which nicely sums up this uncomplicated guy. Stan enjoyed going for weekend car rides in his 1978 Chrysler Le Baron, especially to Lockport, solo of course.
Stan suffered with dementia and was cared for by his nephew Milton and wife Karen, until more care than we could provide was needed. Special thanks also to our family member Avril Remnant for being our relief caregiver when we needed it. We always made sure Stan was well cared for. Staff at West Park Manor did an exceptional job in making Stan comfortable and well-cared for. For that, we would like to thank the staff at the Care Home from the bottom of our hearts.
Stan was the "last man standing" of his nine siblings. He was predeceased by his father Tony (1936), mother Mary (1955), siblings Bernice, Ralph, Mildred (1983), John (1993), Walter (1994), Rose (1997), Louie (1999), Mary (2006), and Jean (2015). Stan is survived by sister-in-law Mary (Walter), as well as several nieces and nephews in Manitoba, Ontario, Saskatchewan, and British Columbia.
It was Stan's wish to not have a funeral service, and cremation has taken place. In lieu of flowers, donations in memory of Stan to the Alzheimer's Society Manitoba 10-120 Donald St. Winnipeg MB R3C 4G2 will be appreciated.
Rest in Peace Uncle Stan. We will miss you.