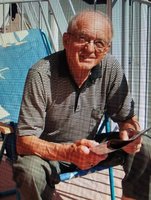 WALDEMAR KARASINSKI
WALDEMAR JERZY KARASINSKI
January 9, 1935 – April 21, 2021
On April 21st, Walter suddenly passed away at the age of 86.
Walter was born in Warsaw Poland in 1935, but was raised in Pabianice by his grandparents, living through the struggles of wartime in his early years. After serving in the Polish Air Force as a young man, Walter immigrated to Canada in 1958 where he was reunited with his mother. Walter started a career as a welder in 1965, later becoming a Foreman until he retired in 2000 after 35 years of service. In 1969 he met and married his wife Krystyna in Winnipeg, where they built a wonderful life together raising their two children, Tricia and Daniel, and sharing 51 years together.
Although he faced challenges while growing up during a difficult time in history, Walter was a resilient and optimistic man whose heart was full of gratitude. He was the kindest, most generous and loving husband, father, and grandfather who adored his family, always putting them first ahead of all else.
Walter's thirst for knowledge was insatiable as he consumed books endlessly, and his ability to build a deep understanding of so many topics was remarkable. He was an avid collector who enjoyed philately and was a passionate notaphilist, taking pride in his extensive collection of special bank notes which spanned decades. Walter enjoyed spending time gardening during the summer, and embodied a do-it-yourself attitude such that he could build and fix nearly anything around the house. He had a passion for travel and dreamed of visiting many places in the world, but his favorite destination was Hawaii where he and his wife enjoyed many trips.
Whether at his job or at home, Walter had an incredibly strong work ethic and took enormous pride in providing a beautiful home for his family. He taught his children the value and importance of hard work, dedication, and honesty. He was unique in his ability to make immediate connections with strangers, whether it be a bank teller or store clerk; people were always moved by his genuine demeanor.
Walter struggled with debilitating respiratory health issues that kept him homebound for his last several years. He passed his time reading about history and politics, and was fascinated with technology and Google Street View which allowed him to 'travel' to all the places he had dreamed about going, but never had a chance to visit.
Even in his final days, he expressed gratitude that God allowed him to wake another day. He will be missed immensely, and we know he is resting peacefully now. Walter will be remembered as a proud husband and father who was loving, hard-working, kind, and thoughtful.
Walter is survived by his loving wife Krystyna, daughter Tricia (Kevin), son Daniel (Kate), and grandchildren Lily and Oliver.
In lieu of flowers, donations can be made to Canadian Lung Association.