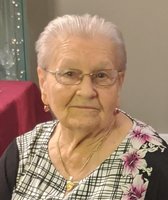 JADWIGA OSTROWSKI
JADWIGA OSTROWSKI (nee CHREBELA)
It is with great sadness and heavy hearts that we announce the sudden passing of our Ciocia (Auntie) Jadzia.
Jadwiga was born in Brzeg, Poland on August 9th, 1935. She was predeceased by her husband Wladyslaw and son Janusz in 2013 and other son Andrzej in 2017. She leaves to mourn her nieces Basia and Dorota, great nieces and nephews and many relatives and friends in Winnipeg and Poland. Her kind and loving heart and sweet presence will be greatly missed. A special thank you to her home care workers and neighbours who helped and supported her day to day.
Mass of Christian Burial will be celebrated at 10:00am on Friday April 9, 2021 at Holy Ghost Parish, 341 Selkirk Avenue. Interment to follow at Holy Ghost Cemetery 4381 Main Street.
This service can be viewed online at www.holyghost.ca